Top News Stories
Blog
Posts Tagged "technology"
October 05, 2017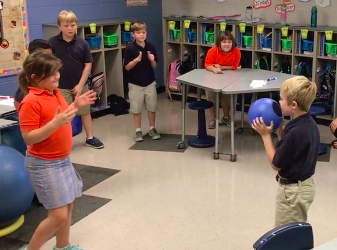 Earlier this week on the hit TV show "Shark Tank," the creator of Qball got three sharks to invest in his innovative classroom invention, but Mrs. Greenlee's 4th grade class has already been enjoying their Qball since August!
Qball is a soft, ball-shaped, wireless microphone that can be connected to any sound system to make communicating in the classroom simple and fun.
Students and teachers simply toss the Qball to each other and speak into it to allow everyone to hear clearly and engage in classroom discussion. Mrs. Greenlee's class uses it for discussion, review, and overall instruction, and she loves that it allows movement to engage kinesthetic learners and amplifies sound for auditory learners.
"I love that I have yet ANOTHER reason to do something non-traditional in my classroom! Having the Qball allows me to engage those otherwise "quiet" students, but also meet the needs of those that need to move while they learn," said Mrs. Greenlee.
Though it was originally designed for the classroom, the sharks are hoping to apply the Qball to corporate settings as well.
Teachers at Nashville Christian are always looking for new ways to teach students at all learning levels and to create an atmosphere where learning is fun! Click below to see Mrs. Greenlee's class using Qball to practice multiplication tables.
Mrs. Greenlee's 4th grade Using Qball from Nashville Christian on Vimeo.
January 21, 2017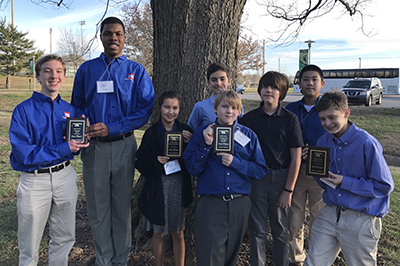 On January 20th 2017, the NCS TSA took part in the Middle Tennessee Regional Conference. TSA stands for the Technology Student Association and they compete in three STEM related competitions throughout the school year. This was the 3rd year that the High School TSA team competed and placed at the Regional Conference. This year's High School Quiz Bowl team, comprised of Kobe Word, Dominic Stephens and Maggie Shivers, placed 2nd after losing a close match in overtime. Quiz Bowl is a game show type competition where students are asked STEM related questions. The team looks to carry on their winning performance to the State Conference in April.
For the first time ever, NCS was able to take a Middle School team to compete this year. Six students competed in three events, with all three events placing and bringing home hardware. Emma Nguyen took part in Digital Photography and placed 3rd. Mikey Dubois and Cavin Phung took part in Technology Problem Solving also placed 3rd. McClure Gill, Griffin Moore and Tate Allen took part in a competition called Inventions and Innovations where teams came up with an invention or a process to help solve a problem. The team then pitches their idea to an "investor" Shark Tank style. The NCS team's water filtration device brought home a 2nd place plaque.
The High School and Middle School teams are now preparing to compete in the State Conference in Chattanooga in April. The State Conference will offer a larger venue and more students will be competing in a larger number of events. The teams will compete in the same events as they did in Regionals plus a handful more. 15 or more students are looking to make the trip and compete in events like Flight, Video Game Design, Forensic Technology and Stem Animation.
NCS also recently purchased two brand new Vex Robotics kits for Middle School and High School. Vex is a partner with TSA and will hold a competition at the State and National conferences this year. NCS looks to take both High School and Middle School teams to compete this year.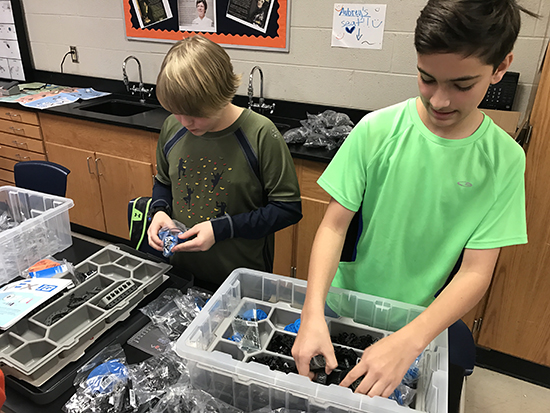 April 10, 2016
Imagine students building manufacturing prototypes from their own design plans, writing and producing their own technical videos, and engineering and building solutions to a proposed problem using minimal classroom supplies. Imagine students answering STEM questions about flight, structural design, and leadership protocol, and holding state level offices in an international organization. Now imagine students competing and winning awards at the regional and state levels! This is the reality of our Nashville Christian School chapter of the Technology Student Association, TSA - only in its second year.
This year's TSA (Technology Student Association) State Conference was another success! Nashville Christian Junior Blake McKinney was the 2015-16 State President and is running for a national office for next year. Junior Maddie Spitzer was elected next years Sergeant-at-Arms for the State. Maddie and Maggie Shivers placed third at state for HS Problem Solving. Blake, Maggie and Maddie also placed third in HS Digital Video at the state level. Kenny Nguyen and Dominic Stephens also attended and competed at the state level in technology bowl and HS manufacturing prototype. We are so proud of these students and how hard they have worked this year. This is a huge amount of recognition at the state level for such a new, small chapter! To learn more, read Amanda Breeden's recent interview with Maddie Spitzer here.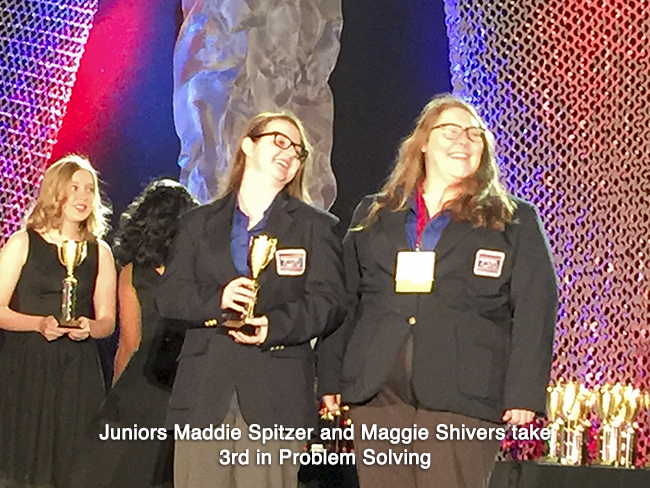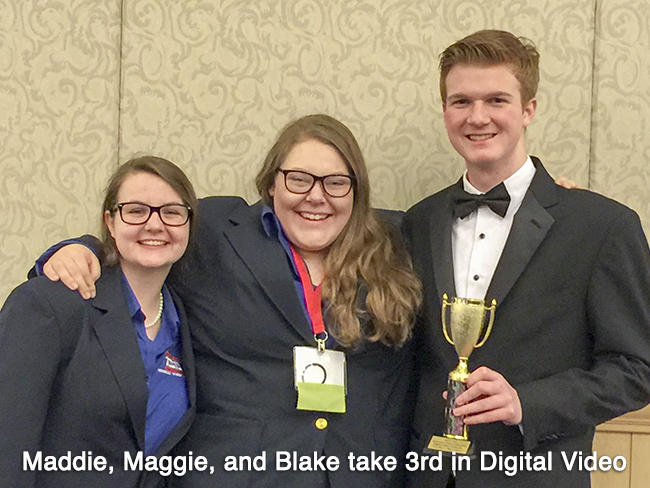 Our chapter is very excited about competing at the National Conference again this year and helping our own Blake McKinney run for a national office! We are currently fundraising for the conference - a great opportunity for these students to compete against other students from across the nation in STEM-based events. TSA members will be selling Krispy Kreme doughnuts to be delivered on Friday, April 29th. To order doughnuts, please see a TSA member or Ms. Shivers. They are $8 a dozen for glazed or $9 a dozen for chocolate, raspberry-filled or Kreme-filled. The TSA will also have a garage sale and are asking for donations. If you have any donations for the garage sale, please give them to Ms. Shivers by Thursday, April 28th!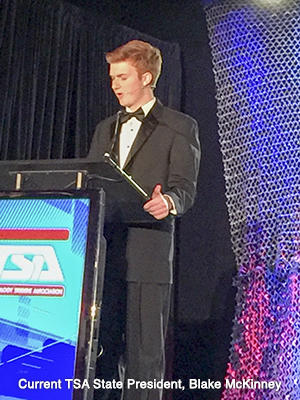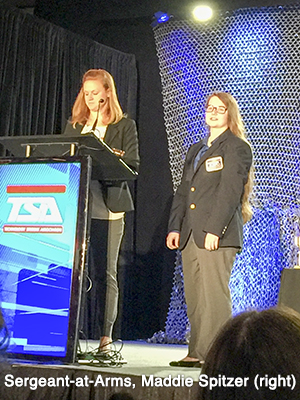 Any students interested in being a part of the NCS TSA, contact Mr. Morrison or Ms. Shivers about joining next year. We would love for more students to experience the thrill of STEM learning and competition!