Top News Stories
Blog
Posts Tagged "award"
August 27, 2019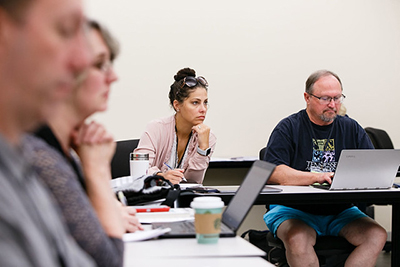 Kayce Green, Fine Arts Director at Nashville Christian School, was selected to attend the 2019 Tennessee Arts Academy this past July. She was one of only 15 administrators chosen out of hundreds of applicants. The Academy, the nation's premier summer teacher training institute for K–12 arts education, invited more than three hundred and fifty K-12 public and private school teachers from across the state to attend the week-long session. A program of the Tennessee Department of Education, the Academy has been held annually since 1986 on the campus of Belmont University in Nashville, Tennessee.
This year the Academy's nationally and internationally renowned instructors came from across the United States to teach a diverse range of classes in music, theater, visual art, and dance as well as special classes in arts leadership, administration and assessment.
There were many special moments throughout the week, starting with TAA's opening performance on July 14th by the cutting-edge ensemble Presidio Brass. On Wednesday night, July 17, the most anticipated event of the Bravo! Awards Banquet and Performance was the presentation of the TAA Lorin Hollander Award to arts and education advocates Jeanette and Bill Watkins and the TAA Distinguished Service Award to the acclaimed Broadway director and choreographer Jeff Calhoun (Newsies, The Will Rogers Follies). Following the awards ceremony, an inspired performance by Broadway star Alton Fitzgerald White (The Lion King,Ragtime) was presented.
Other major highlights of the week included a speech on Monday to the TAA participants by the noted St. Olaf Choir conductor Anton Armstrong, followed on Tuesday by a presentation from the best-selling author and illustrator Peter H. Reynolds. Award recipient Jeff Calhoun and performer Alton Fitzgerald White also addressed the participants. Rounding out the week were performances by Nashville Ballet (72 Steps), Nashville Children's Theatre (Tuck Everlasting), and the percussion ensemble Sympatico. At Friday's concluding Finale Luncheon, the Joe W. Giles Lifetime Achievement Award was presented to the award- winning, long-serving Tennessee visual art educator Donna Anderson, followed by a performance of the Tennessee Arts Academy Chorale, under the direction of Alan McClung. Nashville Christian School was honored as a Tennessee Arts Academy School of Distinction at the luncheon.
The teachers and administrators trained at the Tennessee Arts Academy each year impact over 150,000 Tennessee students all across the state when they return to their individual school districts and classrooms in the fall. The Academy's advanced curriculum, cutting-edge methodology and unique philosophical perspective maximize participants' learning experiences. NCS Fine Arts Director Kayce Green said, "It was enlightening to learn a great deal on how much the public schools and state standards are researched, written, applied, and documented in the state systems compared to private schools. This conference allowed me to see what works across the board, what we are doing well, and how we can improve. I was able to compare our fine arts opportunities with other schools and systems, and I personally had the distinct opportunity to help with defining teaching standards across the state and finalizing the provisions and prerequisites for schools both private and public to be able to apply to become Tennessee Arts Schools. I also spent some time working towards writing and applying for fine arts grants and scholarships. I was very encouraged about the fine arts program we offer at NCS and look forward to its continued growth and development."