Top News Stories
Students Toss Around New Technology with Qball
October 05, 2017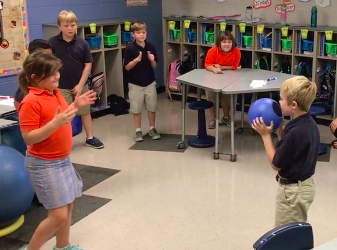 Earlier this week on the hit TV show "Shark Tank," the creator of Qball got three sharks to invest in his innovative classroom invention, but Mrs. Greenlee's 4th grade class has already been enjoying their Qball since August!
Qball is a soft, ball-shaped, wireless microphone that can be connected to any sound system to make communicating in the classroom simple and fun.
Students and teachers simply toss the Qball to each other and speak into it to allow everyone to hear clearly and engage in classroom discussion. Mrs. Greenlee's class uses it for discussion, review, and overall instruction, and she loves that it allows movement to engage kinesthetic learners and amplifies sound for auditory learners.
"I love that I have yet ANOTHER reason to do something non-traditional in my classroom! Having the Qball allows me to engage those otherwise "quiet" students, but also meet the needs of those that need to move while they learn," said Mrs. Greenlee.
Though it was originally designed for the classroom, the sharks are hoping to apply the Qball to corporate settings as well.
Teachers at Nashville Christian are always looking for new ways to teach students at all learning levels and to create an atmosphere where learning is fun! Click below to see Mrs. Greenlee's class using Qball to practice multiplication tables.
Mrs. Greenlee's 4th grade Using Qball from Nashville Christian on Vimeo.