Top News Stories
Blog
Posts Tagged "professional development"
February 18, 2020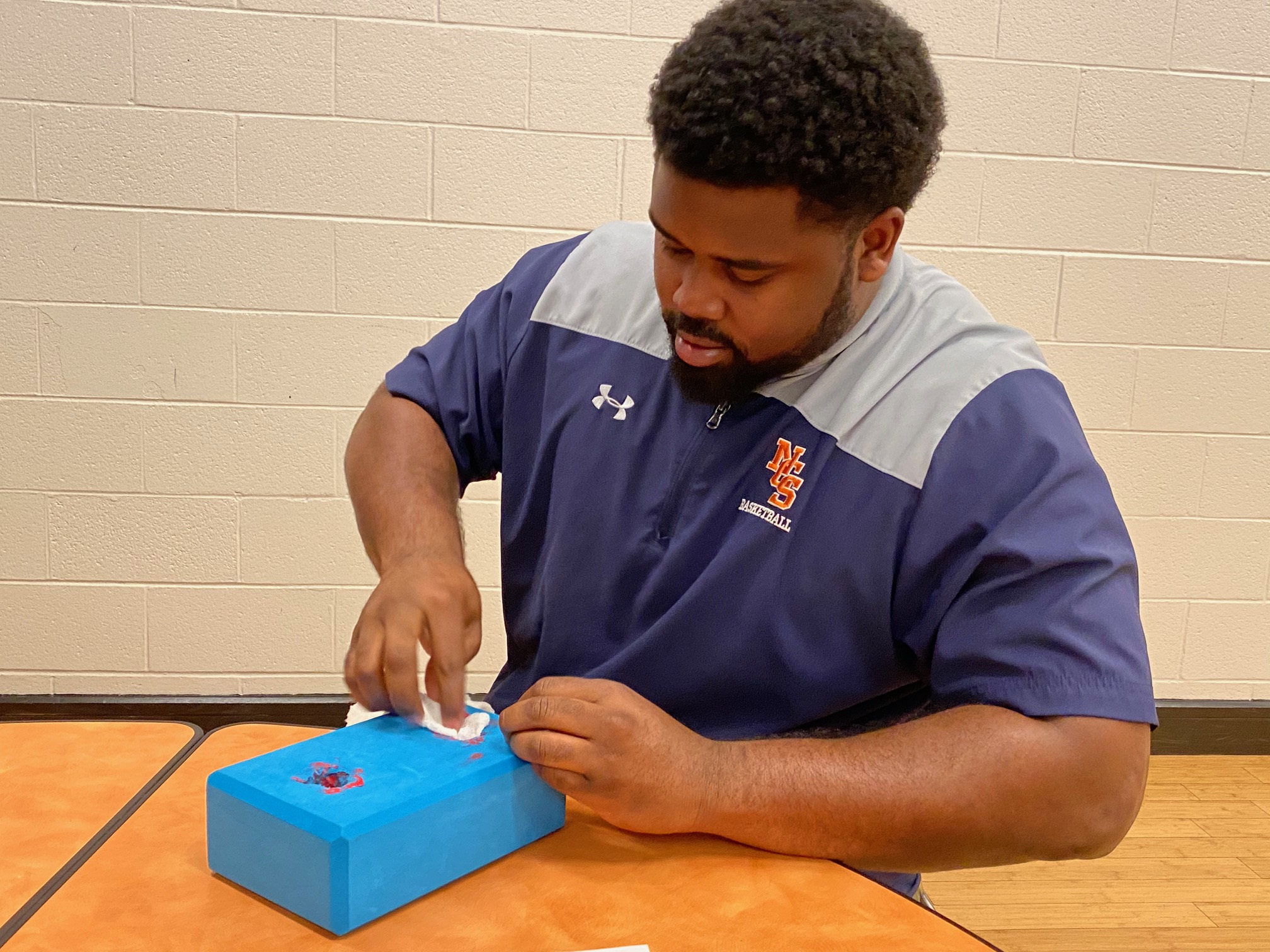 At Nashville Christian School, the safety of our students is of the utmost importance, and we have made many additions and changes to our campus to ensure that safety. Today, we took another step towards providing the safest possible environment for our students by training with the Vanderbilt University Medical Center Trauma team and the Stop the Bleed® program. In the wake of the shootings at Sandy Hook Elementary, it was discovered that many lives might have been saved if severe bleeding could have been controlled until help arrived. In response, surgeons from the American College of Surgeons formed a group with other experts in the field of emergency medical care and Stop the Bleed® was eventually born.
When a life-threatening injury occurs, a person can bleed to death in five minutes or less. With estimated emergency service response times at a minimum of six minutes in Nashville, knowing how to "stop the bleed" can save a person's life! All faculty and staff at Nashville Christian took part in training today provided by Vanderbilt University Medical Center Trauma team. Everyone who participated learned how to use pressure, pack a wound, and apply a tourniquet.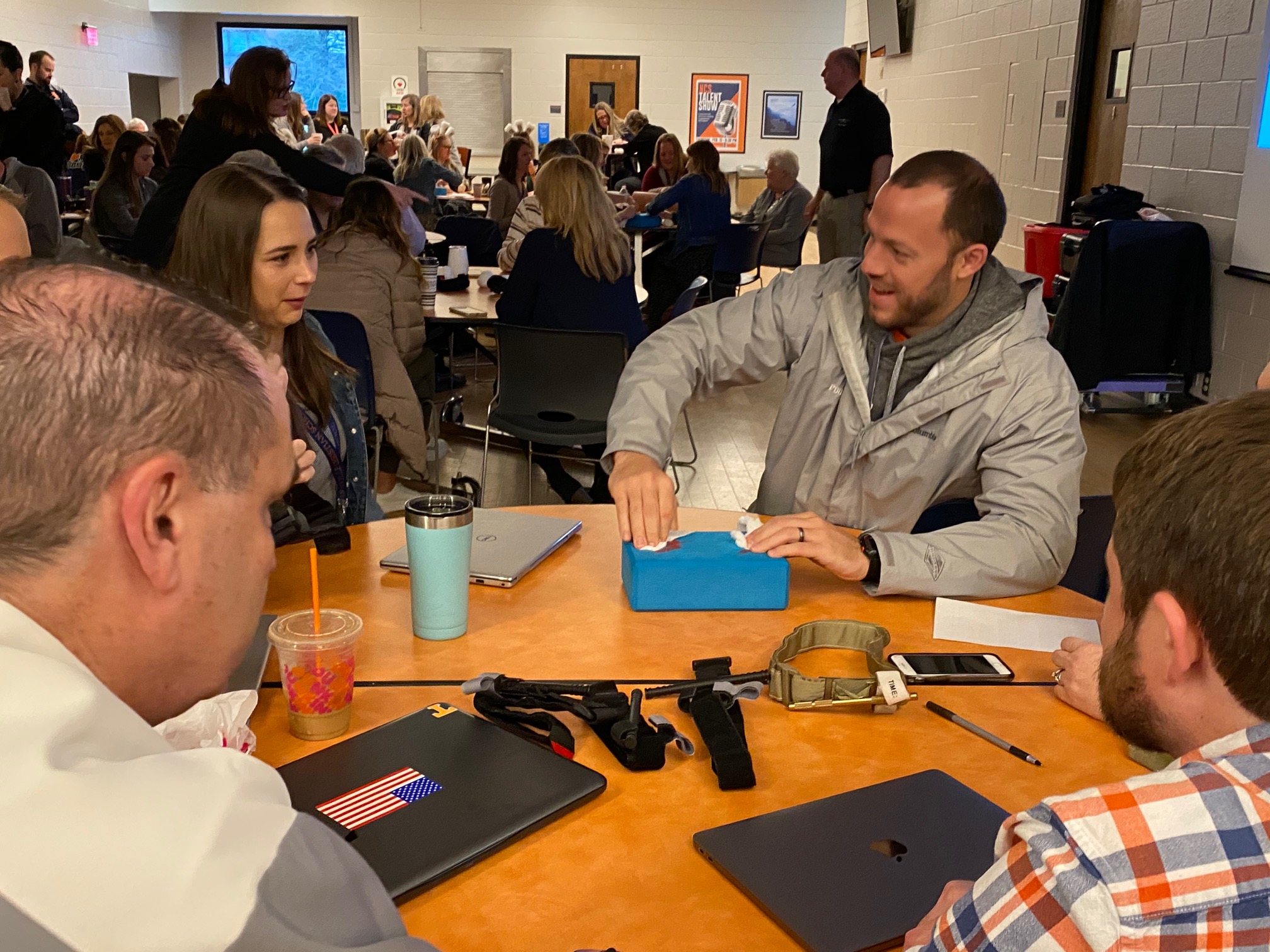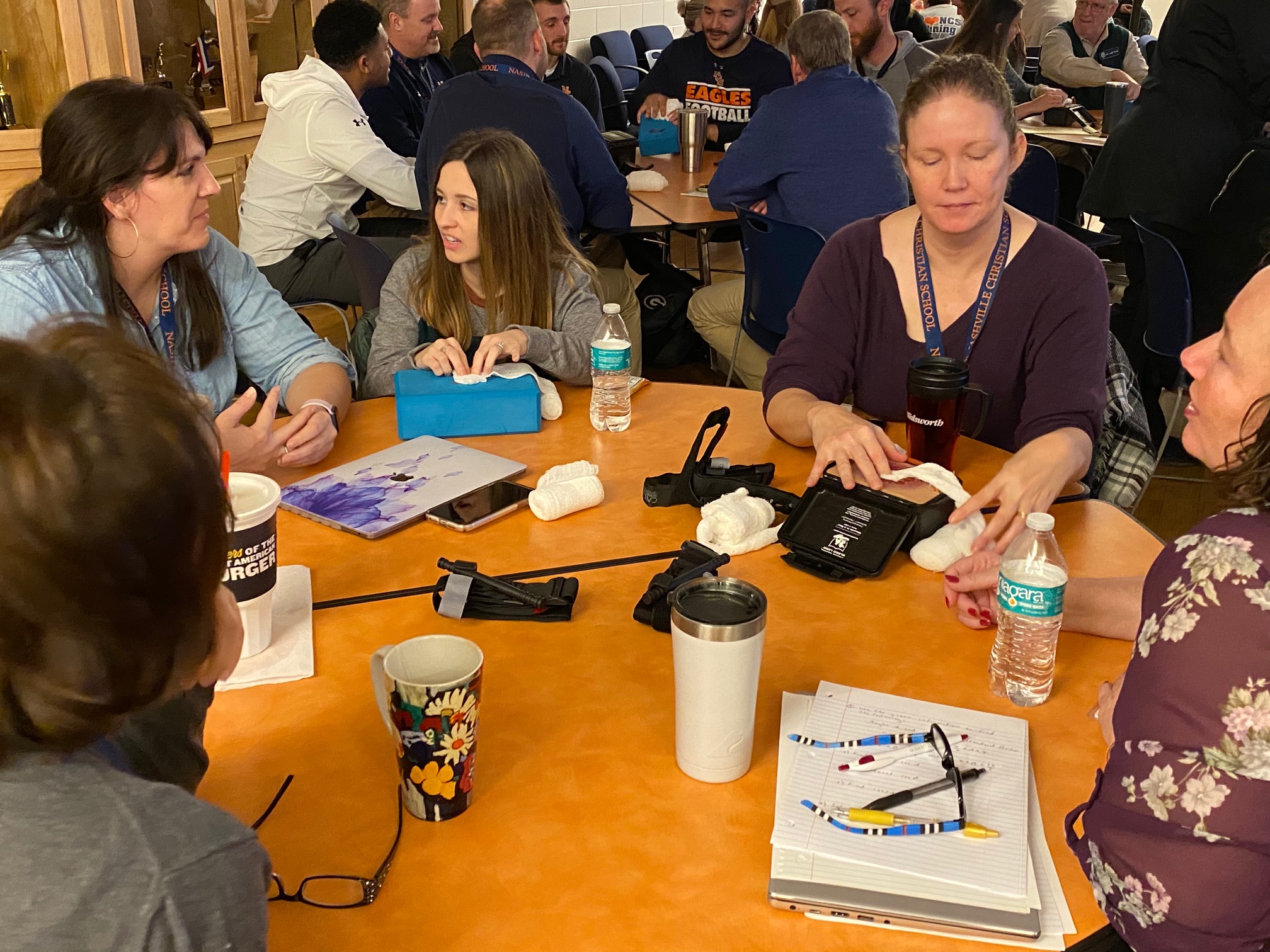 Thanks to the Eagles Parent Association, Nashville Christian also became the first school in middle Tennessee to supply every classroom with a Stop the Bleed® kit. The kits include gauze, gloves, scissors, a tourniquet and other essential items. Now families can feel a little safer knowing that every staff member is trained to take life-saving steps in the event of severe injury, and every room is equipped with a trauma kit.
See Fox17's live coverage of this morning's training by clicking here (timestamp 2:44:45 and 3:27:02). Tune in to Fox17 news at 4:00pm and 5:00pm tonight to see the full story they did highlighting Nashville Christian School's efforts. For more information about this training, go to stopthebleed.org.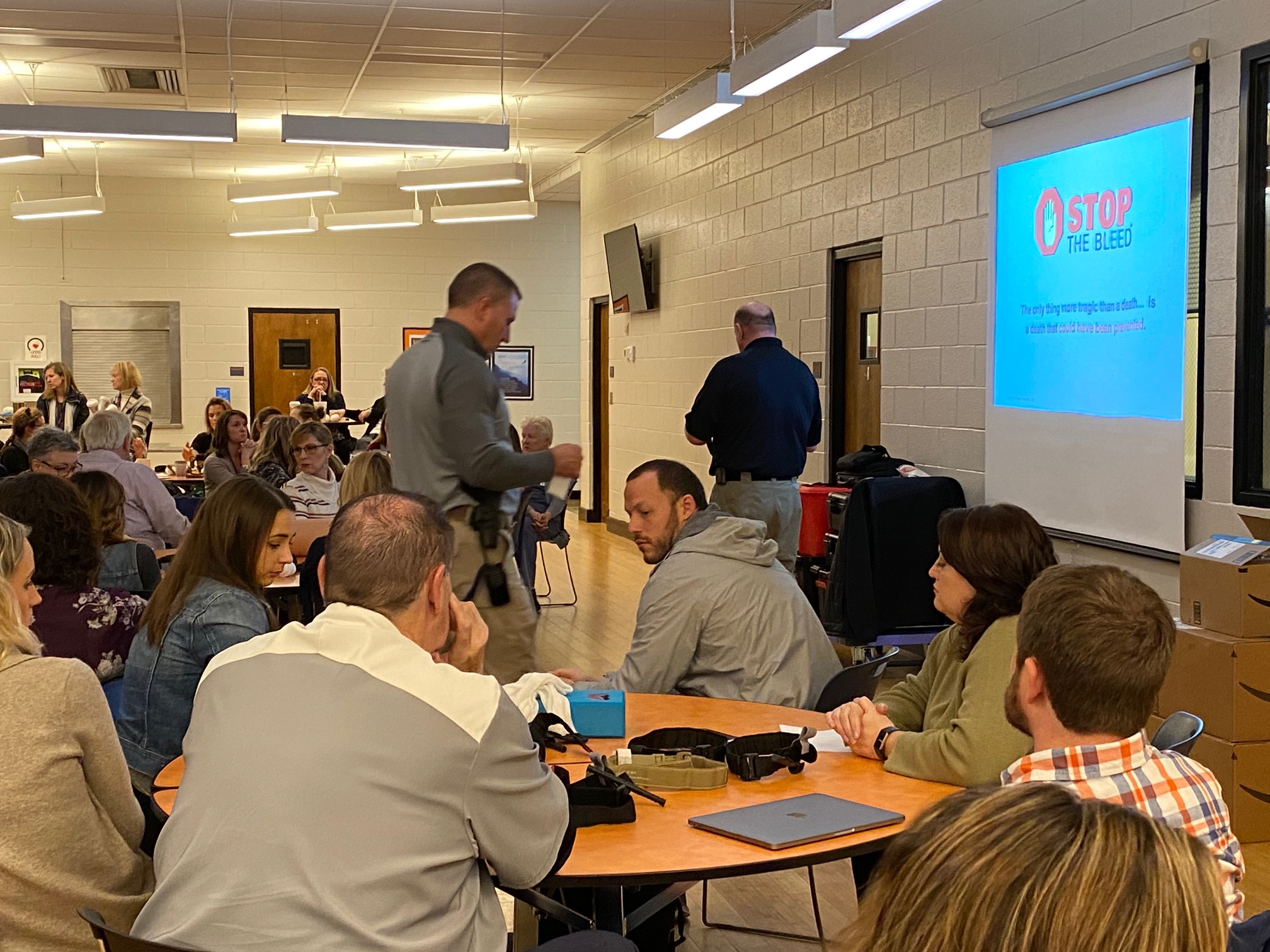 October 23, 2019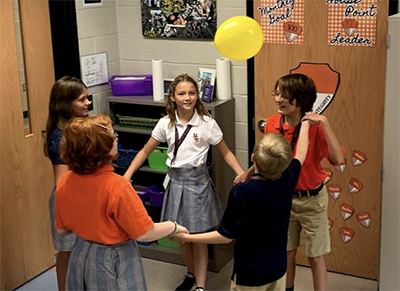 Last summer, the NCS teachers began training in Cooperative Learning through Kagan Cooperative Learning Workshops. Cooperative learning is a way to increase student engagement by organizing lessons so that students are involved in showing what they know by speaking because we know that we "retain a great deal more of what we say than what we hear." Cooperative learning structures also support social/emotional development and classroom management. When using cooperative learning structures the students have positive interdependence, individual accountability, equal participation, and simultaneous interaction. This picture shows a team building game with a balloon. Through team building, students come to know, like, and respect their teammates. In the process, a group of virtual strangers becomes a powerful learning team.
What Does it Look Like?
A cooperative learning structured class would include healthy noise rather than just a quiet class. Instead of students being told to "keep your eyes on your paper" the students are engaged with one another by helping their partner or group to solve the problem. Students may be up looking around at what classmates have accomplished and produced rather than sitting quietly.
Basic Principles
When cooperative learning is properly implemented, it is a powerful approach resulting in positive outcomes. This success is based on four basic principles. When these principles are in place, cooperative learning produces positive interdependence, individual accountability, equal participation, and simultaneous interaction. As these principles are implemented in the classroom, we, as teachers, unleash the full potential of cooperative learning. This empowers NCS to create classrooms where students work together, acquire social skills, care about each other, and achieve more. This helps NCS educators be effective teachers where students learn to their full potential.
Positive Outcomes
Cooperative learning has the potential to be a solution for four different crises: achievement crisis, achievement gap crisis, race relations crisis, and social skills crisis. Kagan says, "Cooperative learning provides in the school a surrogate, stable community in which prosocial values and skills are nurtured and developed." In addition to these positive outcomes, cooperative learning also can improve communication and language acquisition skills, self-esteem, increased motivation, decreased discipline issues, and improve critical thinking.
Our teachers here at NCS are using cooperative learning strategies in their classes. Check out these strategies in action in the videos below!
Kagan Cooperative Learning Strategies - Part 1 from Nashville Christian on Vimeo.
Kagan Cooperative Learning Strategies - Part 2 from Nashville Christian on Vimeo.
Kagan Cooperative Learning Strategies - Part 3 from Nashville Christian on Vimeo.
October 08, 2018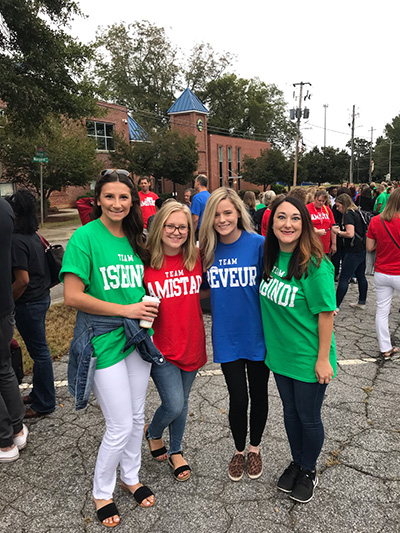 I recently had the opportunity to attend Ron Clark Academy's professional development training with some fellow NCS teachers. In many ways, the experience is simply indescribable. However, after being asked to share about this amazing experience, I decided to try my best.
The Ron Clark Academy is a non-profit middle school in Atlanta, Georgia where students come from a wide range of economic backgrounds. This school is performing at such a high level of academic rigor and student engagement that it is revered among many educators. Possibly the most successful piece of RCA's intentional and revolutionary style is the sense of community held between their students, faculty, and parents.
Walking into the building is similar to visiting Disney World for the first time. The excitement and magic are tangible not only between the incoming teachers but also among the students who welcome you at the doors. Loud music plays as you walk in on a red carpet, and students greet you while they dance around together; always with a smile and a firm handshake. They help you get through their "Harry Potter" themed building while asking pertinent and personal questions about your life. There were many times I forgot that I was speaking to fifth and sixth-grade students instead of seasoned conversationalists and professional adults.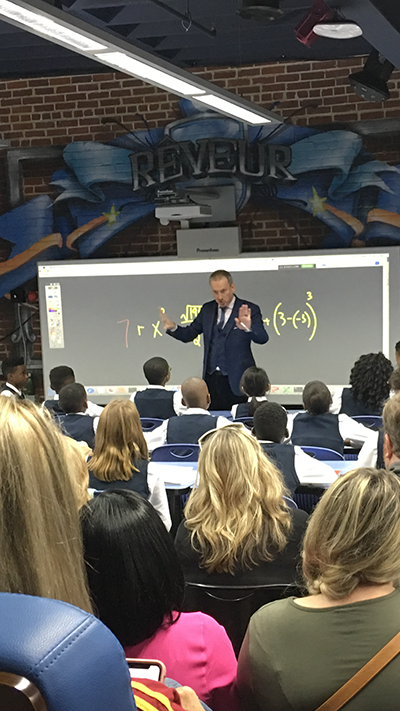 I could go on and on about the "experience", but what I truly seek to focus on and pursue is how these methods can be brought into my own classroom and into our beautiful community that is already present at Nashville Christian School. We might not have a fire-breathing dragon in the auditorium or a two-story slide in our entryway, but there are so many incredible ways we can bring magical and intangible items with us into our classes.
Change always starts at the top with teachers who are excited and passionate about teaching. This is the reason the RCA students were happy and excited - their teachers started the trend! My goal is to be more intentional with my students about raising the bar academically and giving them challenges that create grit along with their learning. I want to encourage and cultivate social skills from making eye contact, to speaking directly and listening actively. I desire to have conversations with my students that go past the surface level and move into deeper concepts. I will choose to engage my kids through movement, discussion, and creativity to help them achieve more. I want to create a bigger sense of belonging for every child, not only in my class but also within the school building.
This experience will stay with me long after the school year ends, and I hope it will continue to change the way I approach teaching for years to come.