Top News Stories
Blog
Posts Tagged "academic"
May 08, 2019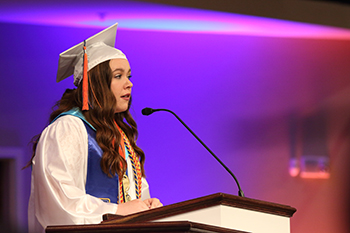 This year's valedictorian, Abby Shivers, is ready to head to the prestigious University of Chicago in the fall to double major in neuroscience and psychology with a minor in Spanish. The University of Chicago had a very selective 5.9% acceptance rate this year (tied with Yale University), but Abby will get to go for free with over $748,988 in college scholarships awarded to her! We recently sat down with Abby to talk about her journey through high school and her plans for the future. Here's what she had to say:
What made you decide to go to the University of Chicago?
I was really torn between Emory and the University of Chicago for about a year and a half. When it came down to it, Emory was closer to home, but the University of Chicago was more academically rigorous, and they have a lot of opportunities for research and internships. They have revamped their entire career advancement program, and when I get there, I'll have a college counselor and a career counselor. They have more undergrad internships with Chicago-based companies available for U of Chicago students than they actually have students at the university. All of their internships guarantee that you will get actual work experience, and they are all paid internships.
At what point in your high school career did you realize you were in the running for valedictorian and how did that drive your decision-making?
I always had the mindset that Sydney Cantrell would be the valedictorian because she was ahead of me in math. It wasn't until the end of my sophomore year that I realized if I took all the hardest classes available, that I might be able to pass her. I knew I wanted to apply to a strong academic school, and I knew taking all the hardest classes would help me towards that goal as well.
What was the college application process like?
U of Chicago's application process is a little different from the rest. This year, they changed to where they don't require standardized test scores, though you can send them in if you feel they are a good reflection of you as a student. I ended up sending mine in. They also look at your transcript to see if you are taking the most advanced classes offered at your school and how you did. They look at your common application essay, which goes to every college, but they also have their own writing supplement with two questions. First is the "Why U of Chicago?" essay where you explain why you want to go to their school and what makes you a good fit for them. When I was doing that one, I made sure to mention specific classes and campus events I knew they had that I wanted to participate in. The other writing portion is called the "U of Chicago Supplement," which is one of the things they are known for. They give you some very strange prompts to choose from. The one I ended up doing was, "Find x." That was all it said. It was so vague, I thought this was an opportunity for me to show them how I could take nothing and make it go to something.
How did you feel when you found out you got accepted?
I wasn't expecting to get in. I knew I had the capability. I had the scores, I had the numbers, I had extra-curricular activities. But with hard colleges, if you're not the exact type of puzzle piece they're looking for, you're not in. I knew the day I would find out and that it would be afternoon. I was getting ready to go home, and I knew I hadn't received an email, but I decided to log in to my portal and see, and it said "status update." I clicked on it, and it said, "Congratulations," and I just started screaming. It was a really big shock.
In what ways did Nashville Christian prepare you that made a difference?
I think the major thing that influenced my application was the ability to be involved. At really big schools, it's hard to be involved in a lot of different things and still try to get good grades. Here I can do a lot of things, TSA (Technology Student Association), National Honor Society, Spanish, Thespian Society, and be able to do them all well. And Mrs. Harper. She's a really good writing teacher. I always hated writing, but my junior year I ended up getting really good at writing in her class, and I just always loved her as a teacher. During the application process, she sat down with me and really helped me go over my essays.
So you were awarded quite a lot of scholarship money. Tell us about that process.
I was pretty scared about money because U of Chicago is very expensive. But they are very good about giving merit-based scholarships. They gave me quite a bit of merit-based scholarship money. I also applied for a big scholarship called the Elk Most Valuable Student Scholarship. I made it all the way to the national level, and they gave me $1,000 per year. But through that process, your district also looks at the applications and gives local scholarships. For our county, they chose three males and three females, and I was chosen as one of those for $2,000. The other big scholarship I applied for was a Scarlett Family Foundation STEM Scholarship. They ended up giving me $15,000 per year.
How did you find scholarships?
Our college counselor, Mrs. King, uploads a lot of scholarships through Naviance, a college-planning tool that we use. Then some weekends I would spend a couple of hours looking up scholarships, and I applied for a lot of those. That's how I found the Elk Most Valuable Student Scholarship.
What advice would you give to younger students who are driven and want to go to a prestigious school?
You have to try really hard. And you have to take ownership. Once you get to your junior and senior year, all of your classes will be college level. So you have to have self-awareness. You have to take a lot of time outside of class. Right now, I'm getting up at 5:00am every morning to do AP Calculus review because the exam is in a couple of weeks. There's a lot of outside effort you have to put in so you have to have a certain level of commitment. And definitely go ahead and start looking at colleges your sophomore and junior year to figure out what would be a good fit for you.
What are you looking forward to the most about going to college?
Probably just being in Chicago itself. It's a very "foodie" city and that's exciting. The school is really close to Hyde Park, which is nice. And I'm just excited to get going with my future.