>
News & Announcements
When record-breaking rain flooded Humphreys County, leaving thousands of families without even the most basic needs, the giving spirit of the Eagles was overwhelming. Nashvill...
NCS Hosts First X-Country Meet
This year, we are celebrating 50 years of Nashville Christian School, but in that 50 years, we have never hosted a cross country meet…until now! On Tuesday, August 17th, our a...
On April 27, we had five athletes participate in the Great 8 Invitational Track Meet. Since 2000, the Great 8 Invitational has seen the best eight high school athletes from mi...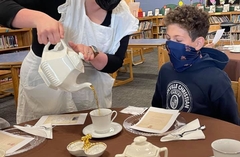 Friday, April 16th was Titanic day in Mrs. Coradazzi's class! They debated the ethics of taking artifacts up from the ship, researched passengers, and calculated wages of the ...
We recently began a new program to bring some of our alumni back to campus to speak to our students about their experiences and successes. In March, we invited Ray West, a gra...
Originally set for stage back in May 2020, Frozen JR. was temporarily put on hold due to COVID restrictions. Fast-forward to August 2020 when the Nashville Christian School st...
Congratulations to these six awesome Eagles continuing their football careers in college! Martease Edwards and Carson Guthrie are going to Aurora University. Darian List and M...
Kindergarten through fourth grade students have been visiting the middle school science lab for hands-on learning opportunities that correlate with their topics of study in th...
Our mission is to be a
CHRISTIAN, AUTHENTIC, DYNAMIC
school equipping students to be global leaders.