>
News & Announcements
On October 26th, the NCS seniors spent the day career shadowing. This one-day event gives them the opportunity to spend the day with someone employed in a possible career area...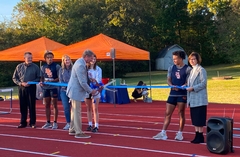 The Ribbon Cutting Ceremony to officially open the Track Training Area was a fun and successful event! As the guests arrived, we had our track coaching staff and some of our m...
At this year's Homecoming game on October 8th, we were excited to have our alumni family back on campus. At halftime, we had the honor of inducting several more of our Hall of...
Each year, our students take part in the PSAT test in October along with a few million other students in the U.S. Our students take this test for a variety of reasons. Undercl...
65 students participated in the One Act Weekend with sold-out performances of Shrek the Musical JR and Digging up the Boys. Read more...
When record-breaking rain flooded Humphreys County, leaving thousands of families without even the most basic needs, the giving spirit of the Eagles was overwhelming. Nashvill...
NCS Hosts First X-Country Meet
This year, we are celebrating 50 years of Nashville Christian School, but in that 50 years, we have never hosted a cross country meet…until now! On Tuesday, August 17th, our a...
On April 27, we had five athletes participate in the Great 8 Invitational Track Meet. Since 2000, the Great 8 Invitational has seen the best eight high school athletes from mi...
Our mission is to be a
CHRISTIAN, AUTHENTIC, DYNAMIC
school equipping students to be global leaders.