Top News Stories
Blog
Posts Tagged "international"
August 09, 2022
A few weeks ago, 9 students, parents, and faculty took a trip to Germany, Austria, and Switzerland. It was a wonderful trip filled with sightseeing, new foods, and new experiences.
After a stressful day of long flights and plane hopping, we landed bright and early in Vienna where we met our tour guide for the trip. Our first day was spent exploring the main city, napping in parks, and fighting jet lag. We also spent time marveling at the magnificent architecture of Vienna. The center of the pedestrian area featured a beautiful gothic style church, St. Stephen's Cathedral. Our second day was spent taking a bus tour of the city and learning how to dance the Vietnamese waltz. To end our time in Vienna, some of our group attended a classical concert.
On our way to Munich we made a quick stop in Salzburg to enjoy the city and while there visited several filming locations of the movie, "The Sound of Music." We made our way to Munich and spent time exploring the city. We also visited the Dachau concentration camp, which was the first concentration camp built by Nazi Germany.
We left Germany and started making our way to Lucerne, Switzerland. We made a stop to explore Linderhof Palace and we drove through Liechtenstein, a country of only about 38,000 people. Our time spent in Lucerne was perhaps my favorite part of the trip. The views were gorgeous and the city was wonderful. We took a trip to the top of Mount Pilatus and rode the steepest cogwheel railway in the world back down. After our journey down the mountain, we rode a boat back into Lucerne where a group of us spent the evening enjoying a Swiss folk show and fondue.
We spent the last few days of the trip traveling from Lucerne to Frankfurt. We traveled through the Black Forest region of Germany and learned how cuckoo clocks were made. We also stopped to visit Heidelberg castle and explore the town of Heidelberg. We ended our trip in Frankfurt.
I am so glad I decided to go on this trip. It was such a fun and wonderful experience. I got to try new foods and learn about new cultures. For me personally, it was my last big trip before college and it was worth it. As I mentioned before, Lucerne was my favorite part of the trip, but each city we visited had their own charm. The best part of the trip was having fun with everyone and making new friends. It was certainly an adventure I'll never forget. I encourage anyone who is interested to go on one of these trips, you won't regret it.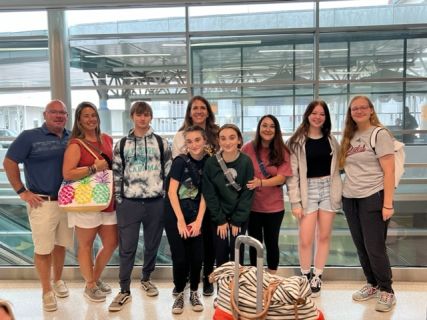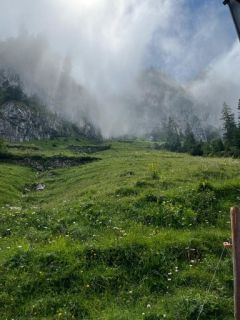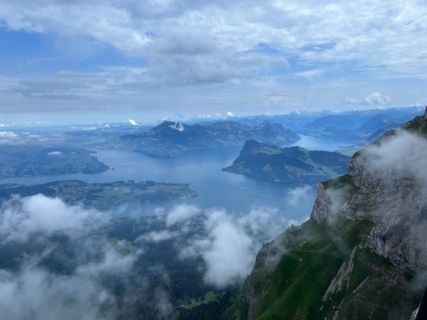 August 09, 2022
There is some beauty so incomprehensible that we think it must only exist in fairytales. On our trip to Italy and France, we discovered that such beauty was just as real as our own flesh and blood. After seemingly endless flights, we arrived deliriously disoriented at Paris's Charles De Gaulle airport. I was so excited that I didn't sleep a wink the entire flight. Landing in Paris seemed surreal. We couldn't believe we had actually made it! We spent our first day exploring Paris and visiting the iconic Louvre Museum. As we walked through the gilded streets of Paris, I marveled at how such a place could even exist, let alone the fact that I was in it! Our second day in Paris, we visited Versailles, saw the Eiffel Tower, took a night boat ride on the Seine, and visited Shakespeare and Company. Thanks to the protection of Andrea, our ridiculously charismatic tour director, we managed not to get flattened by the wild bus drivers of Paris.
The next day, we spent the morning on the train traveling to Milan. After a game of musical train chairs at each stop, we arrived in Italy. Unlike the crisp, cool climate of France, Milan was simmering with blissful Italian sun. I could have sworn Andrea, a Neapolitan, breathed a sigh of relief as we left the land of the clipped French and entered into the land of the warm, bubbly Italians. We visited the Duomo di Milano and took a walking tour through the picturesque streets of Milan. The next day we packed into the bus with our beloved adopted Italian grandpa bus driver, Valter. On the way we sang karaoke at the behest of our tour director, and got a lesson in Italian geography. After about four hours and a few bathroom breaks, we arrived in the beautiful city of Florence. When I say, I've never encountered such beauty in my life, I need you to take it entirely literally. There is not a single street that is less than picturesque. We visited the Cathedral of Santa Maria del Fiore and explored countless shops filled with the most lovely things we could imagine. The only thing that could compare with the beauty of Florence's architecture was the beauty of its police officers. But my favorite part of the whole trip was seeing Ponte Vecchio at sunset. Walking along the river with the warm sun sliding down the horizon is the most gorgeous memory I possess. I once again found myself asking "how could such beauty possibly exist." Before we left, we got a birds eye view of our beloved city at the Piazzale Michelangelo.
As sad as we were to leave Florence, the excitement of Rome called us. After yet another bus trip, we arrived at our final city. Nothing can prepare you for the unimaginable history baked into the streets of Italy's capital city. We visited the Forum, the Colosseum, the Trevi Fountain, and the Pantheon. On our final day in Italy, we traveled to Vatican City. The opulence of Saint Peter's Basilica and the resplendence of the Sistine Chapel inspired awe and wonder. I had never seen such magnificence in my life.
After a tearful goodbye, we boarded the plane to take us back to Nashville. As sad as I was to leave, I knew that the memories I made and all the new stories I had to tell would last a lifetime. After all, is there anything sweeter than traipsing around Europe singing along to Beyoncé and Lady Gaga with your newfound friends and your charismatic tour director? If there is, I have yet to find it.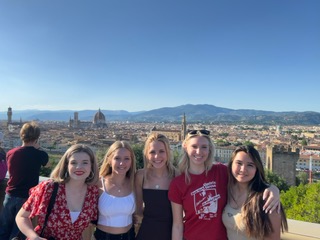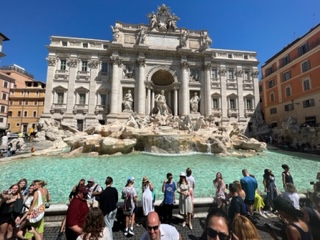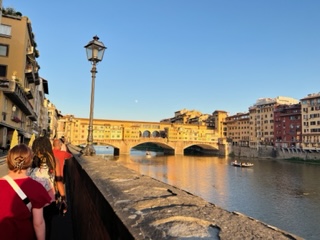 July 29, 2019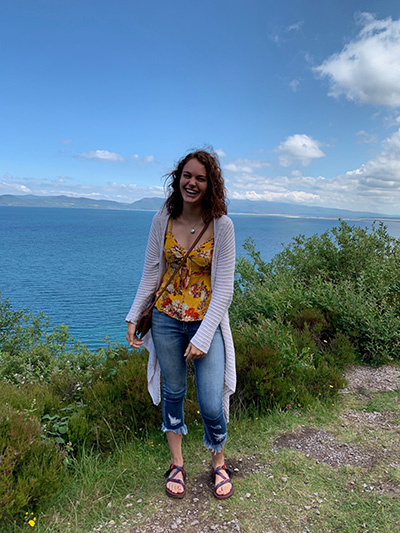 15 days. 47 people. Innumerable hours traversing Ireland and the United Kingdom by bus. Less than innumerable bathroom breaks. Nashville Christian students, teachers, parents, and faculty set off to Scotland, Ireland, England, and Wales this summer to explore some of the notable sites these countries have to offer. Here's what you missed on the 2019 NCS International Trip.
We started off in Ireland on a tour our bus driver Francis called the "ABC tour" (another bloody castle tour). We saw many castles, all of which were striking and worth exploring. To get a unique view of Ireland we did a jaunty tour at Killarney. We piled into the horse-drawn carriages and enjoyed picturesque views of the Irish countryside. The color green seemed different in Ireland: brighter, cleaner. No one could deny how beautiful the country was.
After our adventures in Ireland, we took a ferry to Wales. We went to an unfinished castle and struggled to find a staircase that actually led anywhere. Getting lost in a castle in Wales was a treat. Speaking of treats, at nearly every stop, somebody (or everybody) bought some ice cream. This sweet treat was the featured dessert of our trip. It seemed like every city had the best ice cream in the world.
Now in the UK, we boarded a new coach and started our trek. We drove through Wales and stopped a few times to enjoyed the views before we arrived in Edinburgh, our home for the next few days. With our free time in the city, we shopped, hiked, and ate. A few of us climbed Arthur's Seat, an extinct volcano. Our tour guide Margaret left us for a few days to have tea with the Queen. We helped her with her fashion choices before the big day, too. Personally, Edinburgh was one of the best stops for me, and I really enjoyed goofing around with friends and teacher. That was the best part of the trip, honestly. I was able to bound with my old teachers on a more personal level and also got to know people from school that I had very few interactions with before this.
In the last days of the trip we saw Stirling Castle and Windsor Castle. We also explore Anne Hathaway's cottage and Shakespeare's birthplace, as well as English poet William Wordsworth's house and garden. I loved seeing the homes of people I have learned about in history and English class. It was a fascinating way to connect the past to the present. Walking Wordsworth's garden, I understood why he was inspired to write so much poetry about the value of life and living it truly. I never wanted to leave.
All in all, this trip was one of the best of my life. I got to bond with everyone, and I saw some of the magnificent wonders this world has to show us. It inspired me to keep exploring. I encourage you to go on one of these trips. I learned a lot about the United Kingdom and its history, but I learned even more about the people I so often interact with without truly getting to know. I think it's a great opportunity for anyone who can take advantage of it. I'm truly glad that I did.