Top News Stories
NCS Competes at TSA Regional Conference
January 21, 2017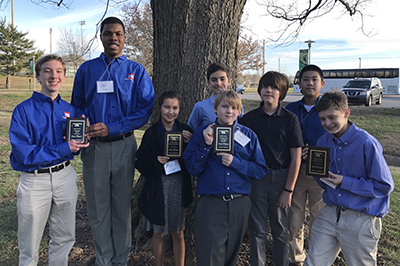 On January 20th 2017, the NCS TSA took part in the Middle Tennessee Regional Conference. TSA stands for the Technology Student Association and they compete in three STEM related competitions throughout the school year. This was the 3rd year that the High School TSA team competed and placed at the Regional Conference. This year's High School Quiz Bowl team, comprised of Kobe Word, Dominic Stephens and Maggie Shivers, placed 2nd after losing a close match in overtime. Quiz Bowl is a game show type competition where students are asked STEM related questions. The team looks to carry on their winning performance to the State Conference in April.
For the first time ever, NCS was able to take a Middle School team to compete this year. Six students competed in three events, with all three events placing and bringing home hardware. Emma Nguyen took part in Digital Photography and placed 3rd. Mikey Dubois and Cavin Phung took part in Technology Problem Solving also placed 3rd. McClure Gill, Griffin Moore and Tate Allen took part in a competition called Inventions and Innovations where teams came up with an invention or a process to help solve a problem. The team then pitches their idea to an "investor" Shark Tank style. The NCS team's water filtration device brought home a 2nd place plaque.
The High School and Middle School teams are now preparing to compete in the State Conference in Chattanooga in April. The State Conference will offer a larger venue and more students will be competing in a larger number of events. The teams will compete in the same events as they did in Regionals plus a handful more. 15 or more students are looking to make the trip and compete in events like Flight, Video Game Design, Forensic Technology and Stem Animation.
NCS also recently purchased two brand new Vex Robotics kits for Middle School and High School. Vex is a partner with TSA and will hold a competition at the State and National conferences this year. NCS looks to take both High School and Middle School teams to compete this year.