Top News Stories
Blog
Posts Tagged "luminous"
August 31, 2016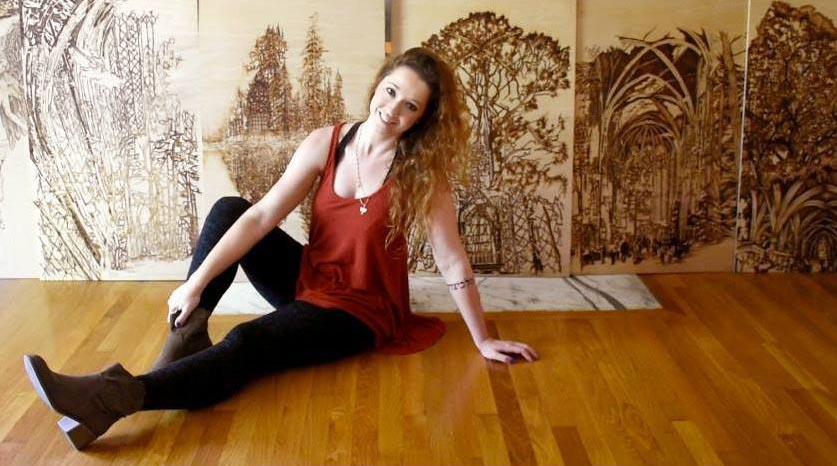 Cassi Wright began mastering her artistic talents starting in the 6th grade at Nashville Christian School. Since then she has earned a Bachelor of Fine Arts degree from Watkins College of Art, Design & Film, finishing with her senior thesis, The Hallowed Woods. NCS Director of Alumni Relations Karen Whelan recently caught up with Cassi to talk about where her passion for art is now taking her...
I looked at your thesis on your website, cassiwright.wordpress.com, and am fascinated with how you combine your art with your faith. Can you share how this came to be?
My faith was increased when I started having dreams at night from God. I knew these dreams were from Him because scriptures would be spoken to me in the dreams. The art I make comes from being inspired by what I learned from studying these scriptures. The dream that inspired my senior thesis was from a scripture I had never read before. In this dream I was walking down a narrow path lined with tall trees. It was sunrise, and light was peeking through the treetops. I could smell a strong scent of cedar, and I heard a man's voice behind me, and he said, "This is the glory of Lebanon" over and over, and I repeated that phrase as I walked. I woke up from this dream feeling inspired and curious about what was spoken to me. I immediately looked up the phrase and came to find a specific passage from the Bible: The glory of Lebanon shall come to you, the fir tree, the pine tree, and the box together, to beautify the place of my sanctuary; and I will make the place of my feet glorious. —Isaiah 60:13 This word gave meaning to what I had seen in the dream and inspired my writings on my senior thesis. My senior thesis writings and research can be found at cassiwright.wordpress.com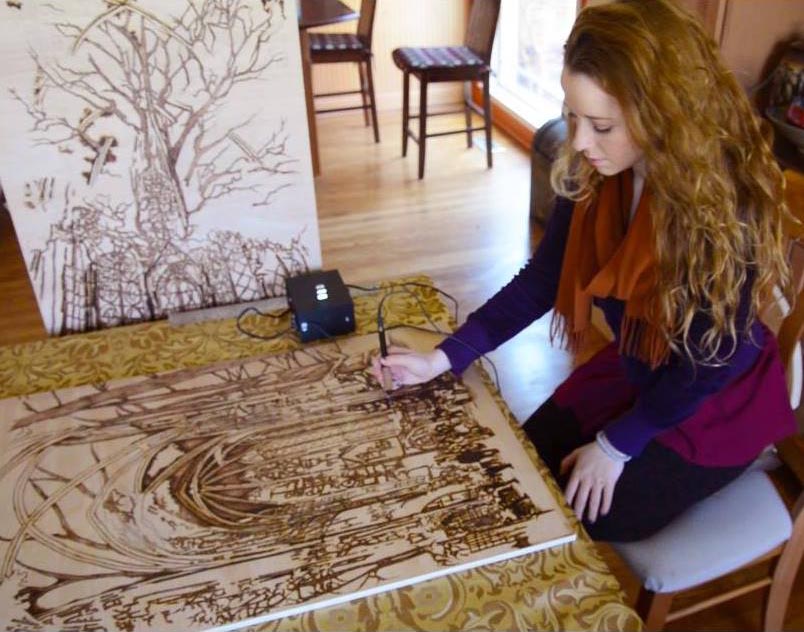 I noticed your most recent medium of art is pyrography? Tell us about that.
I am a self taught pyrographer and I have been using this medium for almost 12 months now. Pyrography is a combination of greek words that mean "writing with fire." I have found the practice is very similar to the process of painting with water color. Just like in watercolor painting I build up layers of shading with pigment I also build up layers of burn in pyrography. I was able to pick up the practice of pyrography so quickly because I had spent so much time doing water color paintings. I found the practice after having the Isaiah 60:13 dream. The dream made me want to work with all kinds of wood and in researching art practices that use wood pyrography resonated with me the most.
Do you have a favorite medium?
Pyrography is by far my favorite medium. I love the different wood grains I get to work with and the smell of the burning wood. But this practice has meant so much to me because I am getting to work with fire. Why fire resonates with me is because of my belief about baptism. In Matthew 3:11 and Luke 3:16 we are told that our Messiah will baptize us with the Holy Spirit and fire. What I love so much about this verse is I get a picture of how baptism should look. That this baptism changes everything and my life will never look the same. It is like in pyrography once fire touches the wood it is changed forever, there is no erasing with this practice. I think about a forrest fire. When we see forrest fires we think about loss. But something pretty incredible happens after that loss. Everything touched by the fire bursts with a new life. Our life in the Holy Spirit should look like this where the old self is changed by His fire and new life in Him can begin. We cannot remain the same if we experience His purifying fire through the baptism of His Spirit. I believe that this is how the life of a Christian should be. I love Pyrography because the process reminds me of my baptism and how change by fire is irreversible.
Is your art on display anywhere?
My series, "The Hallowed Woods", will be on display in the Brentwood office of Dr. Joseph Mclaughlin, Associate Clinical Professor of Psychology and Human Development at Vanderbilt University and Child Psycologist.
What impact did NCS have on you?
There are a lot of ways NCS has impacted me.
One of the ways was NCS encouraged me to become a master in my talent. I was allowed to take art everyday from 6th-12th grade. Not many schools let students customize their schedule to their interests, I am extremely grateful that they recognized my talents and allowed me to pursue them during the school day.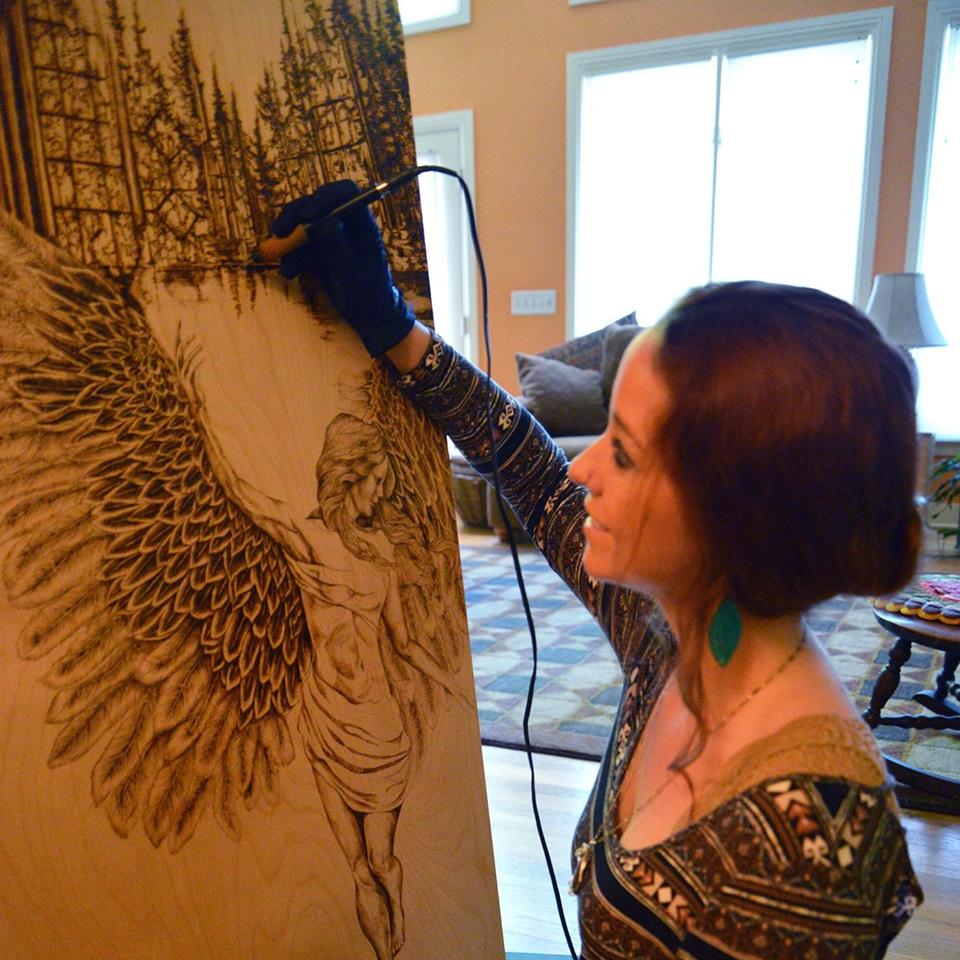 Have you stayed in touch with any friends or faculty from NCS?
I have stayed in touch with Donna Torrez and see her as someone who has discipled me in faith and practice as an artist. I have always been inspired by her walk and ability to hear Holy Spirit in her day to day life. Donna was the first person I encountered who as an artist used her work to spread the good news. Studying under Donna gave me a desire to hear the Holy Spirit in my own life and invite Him to work through my art.
What lies ahead for Cassi Wright and Cassia Tree Studio?
What lies ahead for me is putting all of my time and energy into my work through my business Cassia Tree Studio. I am self employed working full time doing creative jobs like custom painting, woodburnings, photography, logo design and Illustration. I have been asked to display my work at different conferences and churches in the U.S. and I plan to travel and do those for a while. I find a lot of joy in meeting new people and sharing my creative experience with them. I love the connections that I make and the stories people share with me about how Holy Spirit speaks to them. My heart's desire and what I am saving up for is a trip to Israel. I would like to set up a creative space there to raise up the next generation in creating art from a relationship with God's Spirit.
Is there anything else you would like to share with us...a memory at NCS, those who influenced you the most...anything at all?
There were so many incredible people who impacted me at NCS it would be hard to write about all of them. The best way I can think to do it is by sharing a few names of some staff members and a word about what I learned from them.
Donna Torrez- A lifestyle of Worship and communion with the Spirit
Kristen Hooper (Brown)- Praying through the scriptures, Asking God for Wisdom (lesson on Solomon in 7th grade)
Greg Hines- The Value of Researching the Scriptures, Having a voice and answer to why I believe what I believe
Brian Tipps- The value of asking good questions and searching out others hearts
Stephanie Harper- Story telling and developing my voice in writing
Karen Shivers- Finacial responsibility and Planning, Strategy
Natasha Fincher- Endurance, goal setting, and work ethic
Mr.Carlucci- the value and power of story telling and memorization
Eric Fruechtemeyer- Authenticity and Honesty
Connie Jo Shelton- Passion and Vision