Top News Stories
Blog
Posts Tagged "baseball"
October 11, 2021
At this year's Homecoming game on October 8th, we were excited to have our alumni family back on campus. At halftime, we had the honor of inducting several more of our Hall of Fame Athletes. The alumni athletes are the cornerstone of the Nashville Christian School athletic program. We were excited to celebrate many of the athletes from the 90's in a special induction ceremony. See those most recently inducted below:
Mark Smith - Golf
Scott Moss - Football, Baseball
Tim Cooper - Football, Track & Field
Jay Harris - Football, Baseball
Jeremy Moore - Football, Basketball
Chris Amonette - Basketball, Football
Byron Page - Football, Baseball
Brandon Shanks - Football
Jody Duncan - Wrestling, Football
Stephen Elizer - Football, Baseball
Chris McCall - Football, Basketball
Jon Parsons - Football
Shane Sanders - Football
Brad Shanks - Football
Brent Morris - Football
Patrick Moss - Football, Basketball, Baseball
Kerry Byrum - Football
Winston Gaffron - Football
Michael Perkins - Football
Craig Bedore - Golf
Justin Graff - Football
Mike Mundy - Football
Ryan Perkins - Football, Track
Drew Tyner - Football, Basketball
Josh Vanatta - Football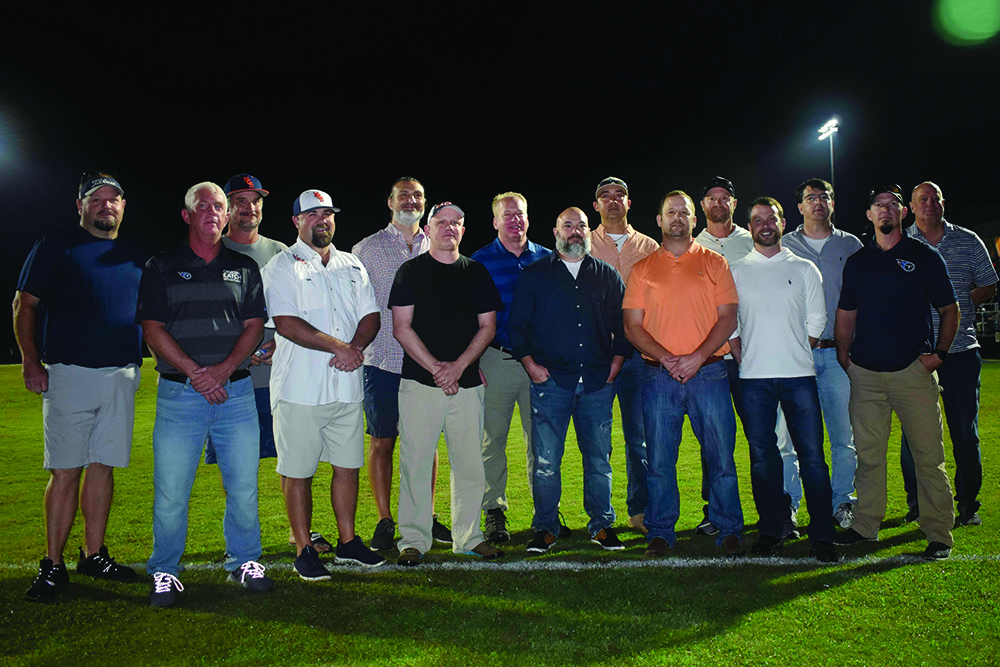 Our next induction ceremony will be on January 14th between the boys and girls basketball games vs. DCA. Stay tuned for more details on that event!
April 20, 2016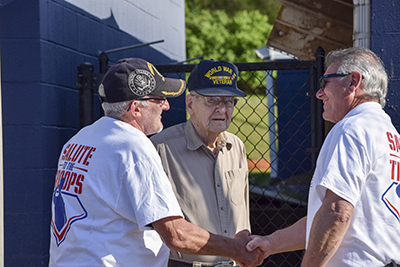 On April 15th, the Nashville Christian baseball team wore their RED, WHITE and BLUE uniforms and honored friends and family who have served or are currently serving in the military. All of our special guests were presented and introduced before the start of the game against Mt. Juliet Christian Academy. Each was given a special commemorative "Salute to the Troops" NCS t-shirt.
After the invocation, everyone turned to the flag for the national anthem, a powerful image of what they stand for and the freedom they risk their lives to protect. We then took a moment of silence to remember those who have fallen in the line of duty.
To great cheers from the crowd, Smokey White, an alumni grandparent, volunteer and special friend of NCS, threw out the first pitch. The baseball families then served the military and their families a wonderful dinner. It was a beautiful day for baseball and celebrating our service men and women. See below all those who were honored:
Ronnie Bennett – Army 1968-1970, Grandfather to Kyle Travis – Served in Vietnam
George Carney – US Army 1971-1999 - Retired Lt. Col with Purple Heart
Rex Dorris – US Marine Corps 1983-1987, Father to Nathaniel Dorris
Bobby Downey – US Army 1961-1963, Grandfather to Austin Bishop – Served in Germany
Randy DuBois – US Navy
Jody Duncan – US Marine Corps 2000-2005, NCS alumni - Combat Veteran and served as infantry fireteam leader
Jerry Gilchrist – US Air Force 1969-1973, Father to Harrison Gilchrist – Vietnam Veteran Air Rescue Recovery – Pararescue
Curtis Groves – Marine Corps, NCS alumni
Kevin Hopkins – US Army 1983-1987 – Uncle to Noah Thompson
Tim Jarrell – Army Forces 1989–1997, Father to Hayden Jarrell
Donnie Keeton aka Popi – Navy 1951-1955, Father to our Mrs. Connie Jo Shelton, President of NCS and former head football coach at NCS - Served on the U.S.S. Shelton db 790 and served off the coast of North Korea in the Korean War
Matthew Kinnard - Navy, currently serving as Petty Officer, 2nd class, US Navy, Brother of Chad Kinnard, NCS alumni - Assigned to the US Decatur, a Navy Destroyer based in San Diego, California
Andrew Liberty – US Army – Cold War, was at the rise of the Berlin Wall 1972-1976
Wayne Marlin – Army Reserve 1966-1972, Grandfather to Stetson Marlin
Aric McClintock – 2010 - present
Nick McCabee – 2010 – present
Jason Overbay – 2nd Marine Corps – NCS alumni
Mark Phillips – Army Military Police 1986-1989 – Stationed at Fort Campbell 101st Airborne Division
Bates Southhall – WWII Veteran Army 1944-1945, Great-great uncle to Stetson Marlin - Served in the 36th Infantry 142nd Regimen Company G and was a Corporal. He served in Italy from 1944 to 1945 and was a Prisoner of War in the Bosges Mountains of Colmar, Germany from Sept. 30, 1944 thru April 12, 1945, was present on D-Day
Carl Tinsley – WWII Veteran Army 1943-1945, Great-grandfather to Bryce Collier - Served in South Pacific on Tarawa Island and Makin Island, was present on D-Day
Leonard Walker – Army Reserve 1964-1970, Grandfather to Brady and Ben Simpson
Justin Watkins – Army National Guard 2007 – present, NCS alumni
Kirby Watkins – Army National Guard, NCS alumni
Margaret D. Weatherman – Colonel for the Air Force Legal Operations Agency and currently serves as an adjunct professor for the Air Force Judge Advocates School Staff Officer Course, NCS alumna
Smokey White – Army Airborne 1958-1962 – 82nd Division and 101st Airborne Division
Michael Wilson – Army, NCS alumni – deployed to Iraq once and Afghanistan twice – played baseball at NCS as 3rd baseman and outfielder
From Mt. Juliet Christian Academy:
Jimmy Alford – US Army and US Marine Corp. – coach of Mt. Juliet baseball team
Jim Green – Army
Tish Samuels – US Navy 1994-1998
Tay Samuels – US Air Force 1992 -2009
Salute the Troops from Nashville Christian on Vimeo.