Top News Stories
Blog
Posts Tagged "journalism"
October 03, 2018
With bullying, school shootings and teen suicide on the rise, NCS senior Tollie Boone was inspired to create this powerful spoken word and song in response – Only Yesterday.
"When I started writing this, it was just a short little poem that I really thought nothing about. It was just something to get off my brain to help me fall asleep. After I finished writing, I realized that this world isn't as safe as it was when I was younger. I used to be able to go outside and not have to worry if someone was going to hurt me. Now in today's society, we have to increase security and make rules more strict. Keeping people out only invites more problems in. The only way we can help someone is if we ask. We can't keep ignoring one another thinking that one day we will say something to them. That 'one day' we have now might not always be there. Galatians 6:10 says, 'Therefore, as we have the opportunity, let us do good to all people…'"
Only Yesterday - Tollie Boone from Nashville Christian on Vimeo.
May 08, 2017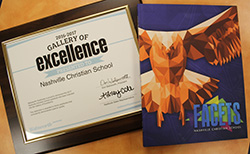 Congratulations are in order for the yearbook staff! The 2016-2017 yearbook has been chosen by the employees at the Walsworth printing plant to be included in Walsworth's Gallery of Excellence! This is the 4th time the Nashville Christian School yearbook has been included in the gallery, and it means that our yearbook will be one of the example books used by Walsworth's sales representatives to show their schools and workshops. It will also be displayed at regional, state, and national conventions and workshops, and parts of the book may also be used as examples in Walsworth's educational materials. Congratulations Cate Maclellan, Matthew Magrum, Warren Hanson, Sara Wilson, and Karen Montesinos!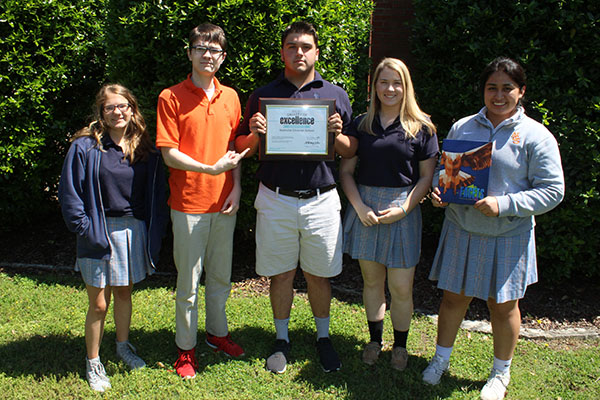 December 17, 2015
Feeling clueless about what's going on in the Nashville Christian community? We have the cure - Eagle Eye, Nashville Christian's student-led news magazine show! Eagle Eye is the latest way, using current technology, for you to stay informed about all things Nashville Christian.
The Media & Broadcasting class has put the finishing touches on its latest edition of Eagle Eye, and the video is now available for viewing. Click below and hear what's happening at Nashville Christian School.
NCS TV: Eagle Eye from NCS Student News on Vimeo.