Top News Stories
8th Grade Renewal 2019
May 20, 2019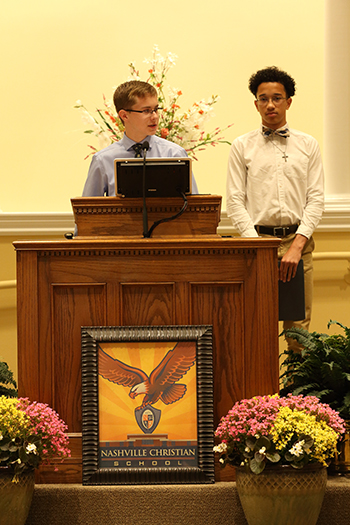 8th Grade Renewal is always a special celebration for our middle school. It is a time to celebrate our graduating 8th grade class, say goodbye to middle school, and recognize them as new high school students. Brett Posavac and Donovan Smith were chosen to represent the middle school student body as leaders of their class through their excellent academic accomplishments. Both students spoke during the ceremony of their memorable middle school experiences. They talked about the accomplishments of their classmates, overcoming struggles, and the amazing middle school memories that were created. They also encouraged their classmates to continue to support each other as they proceed through the next four years of their academic careers.
Donovan Smith was also the winner of The Eagle Award. This award goes to an 8th grader who has lived out our school's mission throughout the year. Our mission is to be a Christian, authentic, dynamic school equipping students to be global leaders. The winner is chosen by the middle school faculty and staff and here's what Donovan's teachers had to say about him:
Donovan always has a smile and goes above and beyond what is asked. He is eager to learn and never hesitates to ask questions to be sure there is full understanding of the content. He seeks others who may be struggling with making friends and goes out of his way to be sure he is making a difference in our world. Donovan Smith is a Christian, authentic, dynamic leader who is making a difference in our world.


Congratulations to all of our graduating 8th grade students!