Top News Stories
Blog
Posts Tagged "elementary"
January 24, 2020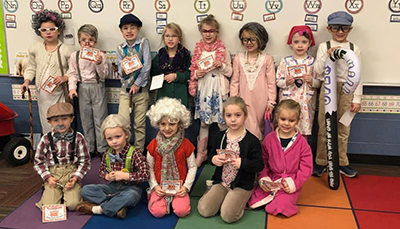 We recently celebrated our 100th day of school in the elementary grades (only 80 more to go – YAY!). Each class did something special to celebrate. Some students wore shirts with 100 things on them, some brought 100 small items to share, and kindergarten students followed tradition by dressing as 100-year-old people! The 5th graders actually celebrated their 1,000th day of school! 180 days per year for kindergarten through 4th grade and 100 days of 5th equals 1,000 days! To celebrate, they did lots of "grand" activities including dressing grandly in top hats, boas, bowties and fancy costume jewelry. As a special treat, Mrs. Shelton invited all of the students to a balloon party in her office, and the "Grand Finale" was spent with the grand fifth graders popping all 100 balloons.
One special activity we wanted to share with you was how some of our students reflected on the past 100 days. 4th grade teacher Shelley Greenlee asked her students to write one word that described their 100th day at NCS. Here's what some of them had to say:
Family – Family is my one word. I chose family because this school treats everyone like family. I think of my friends as brothers and sisters. NCS makes me feel at home. The spirit of this school is amazing. NCS is home, family, sweet, calm, awesome, warm, nice, and cool, and I love it. – Bella Petty
Awesome – The only word I can use is AWESOME. I could do a million other words added to that, but awesome is the best word that fits how amazing the past 100 days have been. I loved the school the minute I stepped into this room. -Will Fiala
Fun – The whole class is fun, the whole grade is fun, even the whole school is fun. The high schoolers are so nice. Like if you say hi to them, they usually say hi to you or ask how your day is going. – Bekton Ost
Excellent – There are a million reasons why I chose this word, but the main reason is because it is just the best! Mrs. Greenlee has taught me sooooo much! I love my new school, and I always will. – Kingston Wells
Loving – I chose loving because the students at this school have stepped out of their way to make me feel like I belong here. – Eli Wells
Happy 100 days of school!