Top News Stories
Blog
Posts Tagged "basketball"
February 05, 2018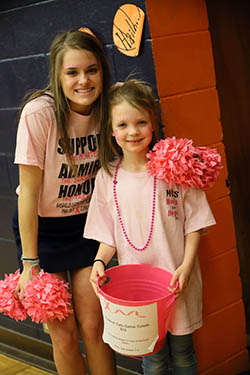 On Friday, February 2nd, NCS hosted our 9th Annual Hoops "4" Hope Pink Out! Each year, 10% of the proceeds from the night goes to the Susan G. Komen Foundation and the rest helps with the medical expenses of someone in the NCS family currently fighting breast cancer. This year's beneficiary was Elaine Hyde. Elaine works for Tucker Photography, and was taking pictures throughout the night's events.
We had several different ways people could give. Participants could purchase a "NCS Hoops 4 Hope" t-shirt, enjoy some dinner at the Soup Supper, buy a $5 ticket to compete in the halftime "GOTCHA" game, or pay $10 for a ticket to play in the "Heads or Tails" game. This year's winner of the "Heads or Tails" game was 3rd grader Maddie Friedberg. Maddie was so excited she jumped for joy and received hugs of congratulations from friends to go with her brand new 32" TV!
Several breast cancer survivors were present at the game. All survivors received a Pink Out t-shirt and a small gift and were honored at center court between games. The honoree, Elaine Hyde, was so moved when we were able to present her with a check for $2,400 to help with her medical expenses!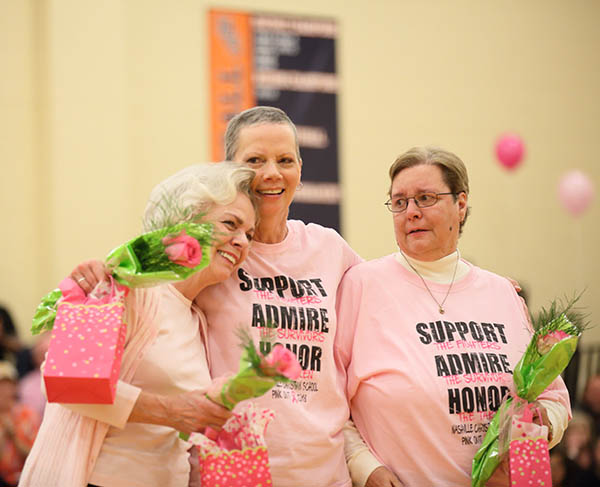 "I feel very unworthy but oh so blessed by the friendships that I have acquired from a business connection - does not feel like business, feels like serving family and simply being a part of something greater than myself or a job. I go over to the school and I am accepted with love and respect in spite of my scarves, hats or boy hair. In fact, it was at your school the night of Coming Home that Ashley Page helped me step outside my fears and work without my hair, but my new hair growth, which was much thinner than at Pink Out. She was incredibly encouraging and made me believe it was ok to be me and not hide inside my ball cap. I am a person who is usually in the background. When Ashley told me about Pink Out, I knew I wanted to photograph it and meet those that were participating. Having a personal understanding of their journey, it was important for me to be there as the photographer. Then about a week later, she refined the invitation to be the recipient, and I turned her down. She gently pressed, and I gave it some thought and prayers for several days. Anyway, you know how that played out. The monies raised floored me. I still don't know what to say. This I can assure all those involved, every cent will be applied to my cancer debt. Thank you simply is not good enough. I don't know what words are," said Elaine.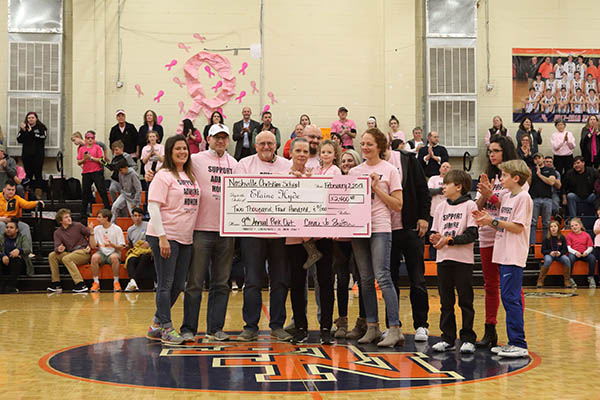 Thank you to everyone who gave and supported the Hoops 4 Hope Pink Out!
December 27, 2016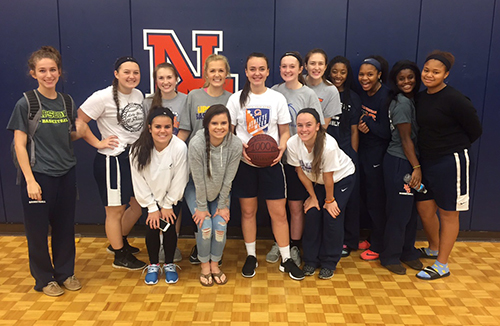 Congratulations to senior Sonja Shelton on scoring her 1000th point this season! She joins a very prestigious group of talented basketball player here at Nashville Christian, and we are so proud of her achievements both on and off the court. Here is what Coach Brandon Wood had to say about Sonja:
"Sonja is a 4-year starter that's made first team all district the past two years. She's also led the team in scoring and steals the past two years and leads the team in points, assists, blocks and steals so far this year. Sonja is a very skilled player and has played every position in her 4 years, from point guard to post. As a freshman and sophomore, Sonja guarded the other teams best player in almost every game. Sonja was a good scorer then, but by putting extra time in the gym working, she has turned herself into a great scorer. In the end though, I believe she would trade every point for a district championship with the team, and that's really what makes her special."
Congratulations again Sonja, and thank you for all you do for your teammates and Nashville Christian School!
Sonja Shelton 1000 Points from Nashville Christian on Vimeo.