Top News Stories
Interview With the Cast of Steel Magnolias
December 05, 2017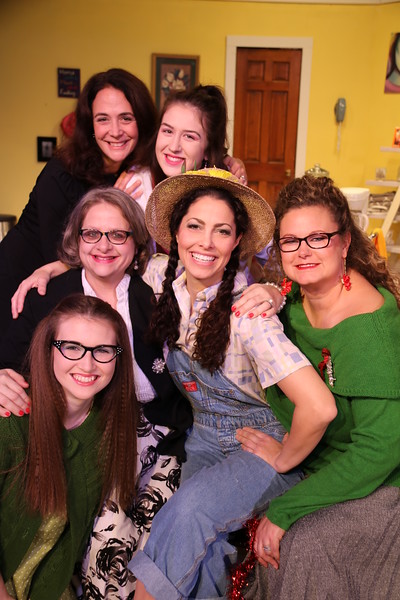 This year, the Fine Arts Department added an additional show to their schedule with a special presentation of Steel Magnolias. Faculty and staff were invited to audition for the show and the final cast included Nicole Arnold as Clairee, Julie Shaver as Truvy, Kathy Gupton played M'Lynn, and Kayce Green doubled us as director of the show and Ouiser. The role of Shelby was played by senior Makenna Paszek and Annelle was played by junior Tollie Boone.
Their performances did exactly what they were meant to do, drawing "laughter through tears" from mesmerized audiences. We interviewed the cast members about the experience:
What made you decide to audition for this show?
Makenna: I decided to audition for the show because my mom had said she really loved the movie and thought I would make a great Shelby. I hadn't heard of it before auditions, but decided to watch the movie and fell in love with the story.
Tollie: The movie is one of my all time favorites that I love watching with my mom. Also I wish to continue in acting as a career and I had never done a straight show before and so I thought this would be the best show to learn another way to act.
Nicole: My decision to audition for the show was based on the enjoyment I get from being on stage and the insights that putting myself back in "acting shoes" gives me when I direct students. Reminding yourself of all the apprehensions and challenges that your students face helps you to relate to them more when mentoring and instructing.
Kathy: Steel Magnolias is one of my favorite movies. My friends and I quote lines from it all the time. When I saw that NCS was planning to do a high school/faculty production of it, I knew that I wanted to be a part of it.
Julie: Actually, Kathy Gupton signed me up for the audition and printed out a monologue for me to use! ☺
Kayce: I wanted to just direct but in the audition Nicole and Trisha made me read for Oiuser.
What was the best thing about the experience?
Makenna: Throughout auditions, rehearsal, and the show, I grew in my relationships with the other cast members. Having a small cast means a lot of bonding. It was really great to see the faculty members outside of their jobs. We all became super close during the time spent on this show. They all made it a wonderful last show for me.
Tollie: Getting to know the teachers involved during and after the show and being able to go to them if I need anything.
Nicole: The best thing about the experience was the camaraderie developed between the cast and the support that we were able to give one another.
Kathy: Getting to know the other cast members better and being able to work with them on the stage was the best experience. I literally laughed my way through every play practice. I also enjoyed watching myself grow and improve from beginning to end.
Julie: It sounds cliché, I know, but the best thing was definitely the camaraderie among the cast and crew. What an amazing group of people!!
Kayce: The best thing was the therapy it provided when it comes to how and when to grieve. I think that was the biggest part that everyone that was in the show and in the audience related to. Everyone has had to grieve, and we are never done grieving the loss of a loved one. The more opportunities we have to experience such a strong emotion together, the more people realize how much we all have in common.
What was the biggest challenge?
Makenna: The biggest challenged I faced was being pushed as an actress. I have never done a show as serious as this one was and I had to overcome some obstacles. I had to really get in the mindset that diabetes is something that seriously affects some people in the world and it wasn't something I could take lightly. This show was a very emotional one for sure.
Tollie: Having to act like I was pregnant was probably the hardest thing for me. It was so uncomfortable sitting and even standing. I had to learn how to walk with the belly and it was just an overall strange experience.
Nicole: The biggest challenge was balancing time and schedules while being a mom, teaching, directing the elementary show and working on our JTF performance.
Kathy: Learning all the lines and cues and ways to deliver the lines was a challenge. Trying not to laugh when Makenna and I were doing the scene where we argue after she tells me she is pregnant may have been the biggest challenge. There was a time during the last week of practices where we could not look at each other and say our lines at the same time without laughing. Thankfully Mrs. Arnold gave us some exercises to do to get through the giggles. While not necessarily a challenge, effectively portraying M'Lynn's grief in the last scene was something that I worked the hardest on.
Julie: Definitely learning my lines: I didn't realize how many lines Truvy had in the play! Oh! And all the late nights at practice. I am usually in bed by 8:30!
Kayce: The challenge for me was seeing this from both perspectives. Being on the stage as a director, while acting was totally challenging. Two hats, one very specific and one very broad, figuring out the story and telling it and also, designing it so others can tell it was very hard. It was like plotting the map and then manning a portion of the ship was very difficult.
Anything else you want to say about your experience or that you want people to know?
Tollie: Another thing I loved about this show was being able to perform it for my bible teacher Coach McPherson and his wife and seeing their faces all smiling while watching the show. Being able to put a smile on their face was very heartwarming.

Nicole: I want people to know that we have very talented faculty and students and we need to get more people on campus to experience the impact of quality live theater.
Kathy: I think that everyone can identify with each of the characters in some way or another. I see people that I know in each of the characters and the other actors did a phenomenal job of bringing them to life. I hope that the play and characters touched everyone in some way that was helpful for them. The theater department does an amazing job. There were nights that they did not leave until after midnight to get the stage and costumes completed. It is hard to fully cover everything that they did to prepare for the play. A huge shout out to Kayce's amazing direction and set design skills and Mrs. Arnold's spot-on costume design!
Julie: It was truly an amazing first acting experience. I really appreciate my castmates and especially Kayce's expertise and advice!
Kayce: I would like to say thank you to my husband and my daughter. They are my world. Thank you to: Kathy Gupton, whose calm, reflective, and quietly strong M'Lynn broke my heart in auditions. Julie Shaver's clear, unapologetic Truvy, who steers us all along, Tollie Boone for her artist's heart, Makenna Pazeck for her brilliant, fiery stubborn portrayal of Shelby, and Nicole Arnold, whose Clairee is beautifully timed, and is certainly the yin to my Ouiser yang. And to God, for the incredible way he steers my life every day. He is in and behind every story that we tell. Everything leads back to Him.

Steel Magnolias from Nashville Christian on Vimeo.