Top News Stories
Praise and Thanksgiving 2017
November 22, 2017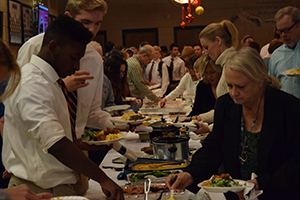 The Praise and Thanksgiving service was once again a special time for the Nashville Christian family to worship and share a meal together.
After a short morning of classes, students, parents, staff and friends dropped off their delicious dishes and gathered in the gym for a special program. The first graders were dressed in their newly-designed handprint turkey shirts for their reading of Psalm 100. We also enjoyed performances by the NCS Entertainers and the Middle School Chorus.
Our special speaker this year was a new Nashville Christian parent, Dennis Ferrier. Mr. Ferrier is a reporter with Nashville's Fox 17 and has won multiple prestigious awards for his investigative work. He told us the story of Black Hawk pilot, Michael Durant, and his hero, Gary Gordon. Gary Gordon knew from the age of 10 that he wanted to be a military hero and set out to research how to do it. Mr. Ferrier encouraged everyone, even the very youngest Eagles, to make their own mission statement and to ask for guidance and help from the Lord as we set about serving Him.
After some final words and a prayer, everyone headed for the tables full of Thanksgiving favorites – turkey, ham, dressing, sweet potatoes, pumpkin pie, and so much more. Following the feast, the leftovers were packed up by a group of students and staff and taken to the homeless. It was a wonderful day of reflecting, expressing thanks and serving others. Here are some photos from the day: