Top News Stories
Art Show 2019
April 12, 2019
Art Wee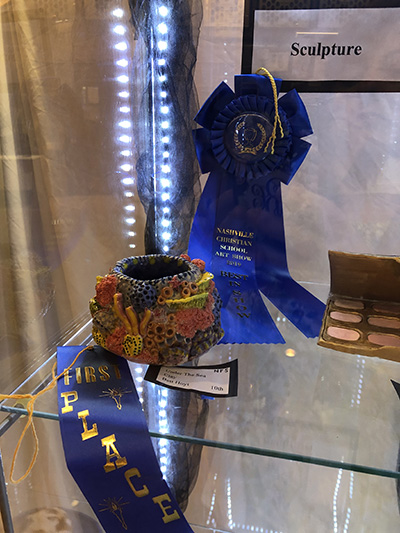 k is always highly anticipated each year as the gallery walls go up in the commons and student work from all year is put on display. This year's artwork did not disappoint, and there were many notable pieces.
Sophomore Bett Hoyt took Best in Show with her incredibly detailed underwater seascape pottery piece titled Under the Sea. Senior Annmarie Alexander has won multiple art awards during her time at NCS including thousands of dollars in college scholarships. She won the Faculty Award with her piece entitled God's Canvas. Earlier this year, her piece Yellowstone won her a $12,000 scholarship from the Scholastic Art Show in the Cheekwood exhibit.
Because of a power outage at the school, we were unable to have the Visual Arts Reception and Awards as planned. However, we wanted to make sure to recognize all of our winners:
Art I - Madison Turner
Art II - Lexi Hardaway
Art III - Allie Grace Greenlee
Art IV - Tollie Boone
Congratulations to all who placed this year! You can see all of the high school artwork on display in the slideshow below.