Top News Stories
"Stand" Shows NCS Students the Other Side
October 19, 2017
On Monday, October 9th, several of our English students had the privilege of watching a powerful performance of Stand, a new play by Jim Reyland that brings a new perspective to homelessness. Stand has only two characters: Mark, a salesman, and Johnny, a homeless man struggling from years of drug addiction. It is a true story based on Reyland's relationship with John Robert Ellis, a homeless man he befriended and tried to help for nearly a decade before Ellis was killed by a hit-and-run driver in 2011.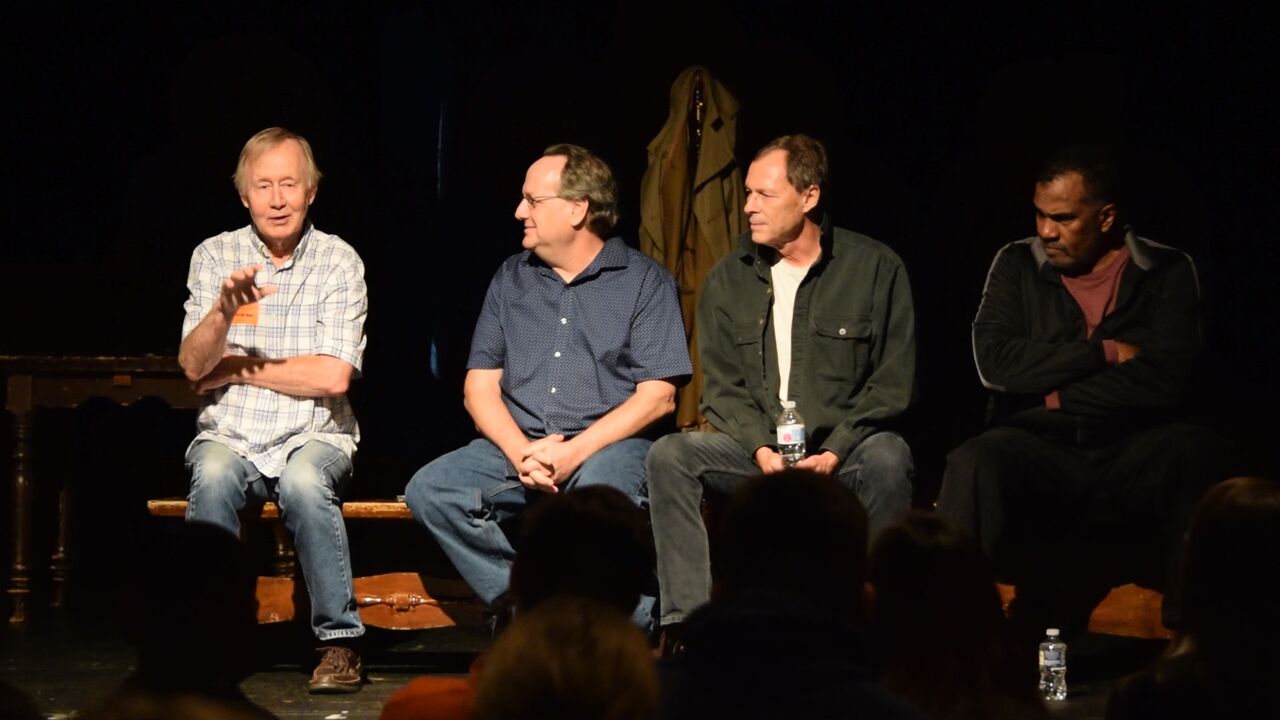 The show is part of TPAC's Humanities Outreach in Tennessee and ticket sales benefit Room in the Inn, a Tennessee organization that offers emergency services, transitional programs, and long-term solutions to help people rebuild their lives. The Founding Director of Room in the Inn, Charles Strobel, was in attendance and spoke to our students after the performance and answered their questions. Here's what some of our students had to say about how they were impacted by Stand.
The thing about the play that was so impactful to me was the realistic portrayal of recovery, showing how it's more of a two steps forward one step backwards kind of process rather than a straight line constantly going upwards. I liked how the two characters helped each other equally, and the relationship they shared. – Jolie Harper
I like that the man [Mark] stepped out of his normal routine and helped the homeless man. I learned that sometimes we need to step out of our comfort zone and help others. – Hampton Taron
It was super eye-opening as to how we should treat others no matter the circumstances they are in. - Anna Jones
I thought the play was very deep on how you may think you are better than homeless people, but you are really just the same but with more money. And other people who may be homeless don't always have the childhood and conditions it takes to be successful, and they end up that way, all by things they can't control. - Hope McWright
I learned that homelessness isn't easy to get out of. It is not necessarily about being lazy, but about falling into a cycle of hopelessness. Homeless people aren't treated with the same respect as other people are and that was really impactful to me. –Annmarie Alexander
I found the fact that the man took a lot of time to befriend and take care of the homeless man very impactful. I see homeless people people all the time, but this man had the courage to help him on a personal level. – Riley Griffin
Addiction is a serious thing, and its not easy to walk away from as people may think. Also, homelessness is a serious thing that many people ignore, but there are those who recognize it like Mark did. What we don't realize is that the homeless can help us too. They give us a whole different view of life. – Ben Simpson
The act of helping someone is where the real worth is, not whether or not they've recovered. It's a 'journey is more important than the destination' type situation. – Nate Lewis
This was my second time seeing Stand as I first saw the play on a drama field trip freshman year. I believe that this time I put more thought into the idea that it may not have been Jonny's fault for the situation he was in. I took away that some people may have genetic traits that simply make them more likely to become addicted to substances and that substance abuse may be less of a choice and more of a trap people fall into. – Dominic Stephens
"Stand" performed at NCS from Nashville Christian on Vimeo.
Charles Strobel encouraged students that the best way they can help right now is to support the larger systems which are already in place and change the conversation about the homeless. Room in the Inn currently has 190 congregations in Middle Tennessee that provide food and shelter, a downtown campus, and over 6,500 volunteers. To learn more about how you can help Room in the Inn, go to roomintheinn.org.