Top News Stories
First Grade Visits the Capitol
April 15, 2016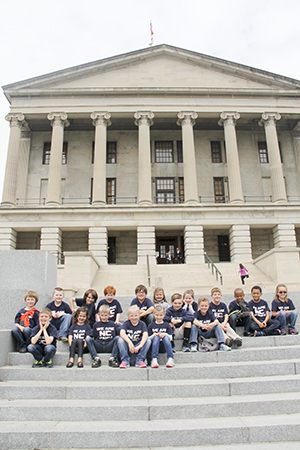 In 1st grade we learn all about Tennessee. We identify the Mayor and Governor, and explain their roles in government. We learn about rules and voting for laws on a state level. Through geography, we identify the three Grand Divisions of Tennessee, and how they represent the stars on our state's flag. Then students are taught to identify where Nashville is on the map.
Each year I enjoy taking my class to see firsthand where these important politicians work and where they meet and vote for laws that help us. This year, the Secretary of State Tre Hargett spoke with us for a few minutes as our tour began. We got to walk through the Governor's office and see the beautiful paintings. Upstairs in the Capitol we met Representative Mitchell. Representative Mitchell gave each student a Tennessee Blue Book, and to our class he gave a Tennessee flag and American flag! He then asked Senator Dickerson to come out and speak with the students and take a picture. Both men kindly took time to speak with my students and answer their questions. The students all were intrigued to find out William Strickland and Samuel Morgan are both buried in the north wall and south wall of the Capitol. As we were leaving, Governor Haslam was also heading down the outside stairs and waved at our class!
Both 1st grade students and parents had a terrific time listening and learning about our state's history. I love that at such an early age these 1st graders can begin to learn about their state and walk the halls where history is made.
Capitol Visit from Nashville Christian on Vimeo.