Top News Stories
NCS Students Have Heart
February 23, 2018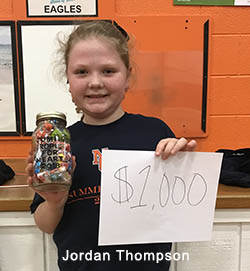 We had a successful two weeks of fundraising for the American Heart Association with Jump Rope for Heart! We demolished our original goal of $2,000. Our final count is over $8,000!!! I am so proud of each of our elementary Eagle students for exceeding our goal!
Jordan Thompson was our top fundraiser for the entire elementary school! She raised $1,000 for the American Heart Association. She received a special prize of a jar full of candy and got to pick the PE activity for her class! Great Job Jordan!
Each grade level class had competitions to see who could raise the most and have the most students register. Our Kindergarten Eagles alone raised over $2,000!!! Super proud of them! Thank you so much to everyone who donated to a great cause!