Top News Stories
Students Raise Funds and Get a Unique Reward
October 20, 2017
In an attempt to motivate our students in kindergarten through fifth grade, I (Lauren Brasel, Elementary Principal) offered the students a reward they would surely remember. We set the goal for our Entertainment Book and Smart Card fundraiser at 500 items. The deal was if the students sold 500 items then I would sleep on the roof of the NCS Lower School Building. Boy were the students motivated! They surpassed the goal and raised over $4,000 dollars for the additions to the playground. UH OH! It was time for me to follow through with my end of the bargain.
Weeks went by. Nights were too hot, too rainy, or too fall breaky. Finally, the perfect night arrived after fall break. The warmest night that week was 47 degrees but I knew I was running out of time before the temperature dropped too much.
On the chilly evening of Thursday, October 19th, after eating with my family at Chili's, my family and I went to prepare the site. My husband raised the ladder. The tent went up. All of the blankets, pillows, fuzzy boots, snowsuit, and obviously a craft project (I had to make the most of my time on the roof) went up to the roof, and then l finally climbed the ladder.
Visitors and callers with great concern checked on me as I enjoyed the view from my tent of the football stadium and the kitchen exhaust. With lots of camping experience, I was able to power through the night. I learned that the Eagle Campus is very quiet on a Thursday night, until...the Dumpster Man comes to empty the nearby dumpster at 2:30am. What a fright!
After sleeping in on Friday morning, I awoke atop the Lower School and was ready to clear the playground balls from the roof and greet the students. Mrs. Shelton brought a much needed warm-up via Starbucks at 7:00am. The students were astonished as they arrived to school as it was unexpected to see their principal on the roof, with a cup of coffee, in her robe waving. After the bell rang, all of the elementary students assembled outside for the announcements. First graders lead the Elementary Eagles in the pledges and prayer (and everyone had a good chuckle about Mrs. Brasel participating from the roof). After a brief discussion of whether or not they believed I actually slept on the roof, the tent came down, the blankets, boots, and snow suit came down, and finally I came down the ladder.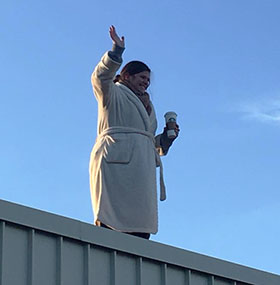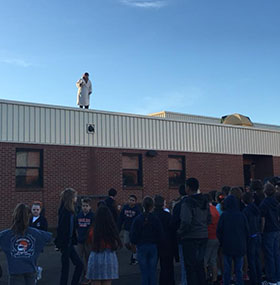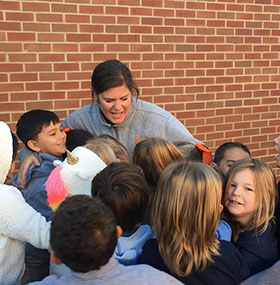 It was a fun experience, and I would do it all over again for the kids! Thank you to everyone who participated in the fundraiser and for your commitment to Nashville Christian School.