Top News Stories
Chapel Speaker Tim Shaw
September 21, 2017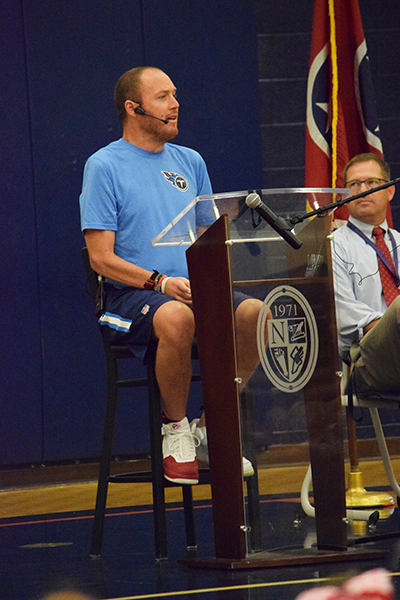 We had the incredible privilege of hearing from Tim Shaw at chapel on Wednesday, September 20th. Tim is a former linebacker for the Tennessee Titans and the brother of Nashville Christian's strength and conditioning coach, Andrew Shaw. He was diagnosed with ALS in 2014 and has been sharing his story and his faith around the country ever since.
Tim spoke to our kindergarten through 12th graders about how each and every one of us is made in the image of God, and that makes us awesome! He also shared one of his favorite verses, Colossians 3:23, which says, "And whatever you do, do it heartily, as to the Lord and not to men." (NKJV) He encouraged everyone to embrace his or her God-given gifts, to be authentic, and to not worry so much what other people think. It is only important that they be pleasing to God.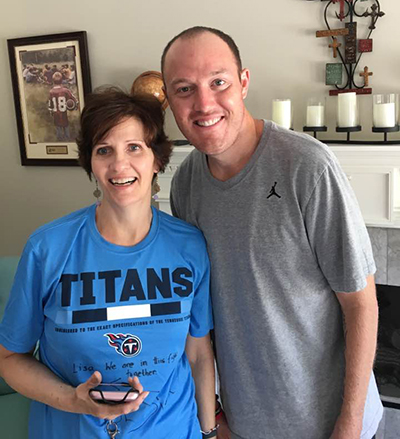 Lisa McPherson is another member of the NCS family who has been diagnosed with ALS. Lisa is the wife of NCS boys basketball coach, Mike McPherson. Mike and Lisa have made a strong connection with the Shaw family, and they have encouraged one another through their struggles over the past couple of months.
To help raise funds and awareness for the ALS Association, the NCS football team and many other students, staff and family members will join Tim Shaw and participate in the one-mile Walk to Defeat ALS this Saturday, September 23rd at Lipscomb University. To join team Eagles Against ALS, or to make a donation on their behalf, click on the link below.