Top News Stories
Meet This Year's Student Directors
September 26, 2016
Caroline Armstrong, Abby Shivers, and Maggie Shivers are some of Kingston Springs most talented teenage residents who have been working hard as first-time student directors for the upcoming one-act weekend at Nashville Christian School. The two productions, both featuring Roald Dahl's famous work, are Fantastic Mr. Fox and James and the Giant Peach Jr.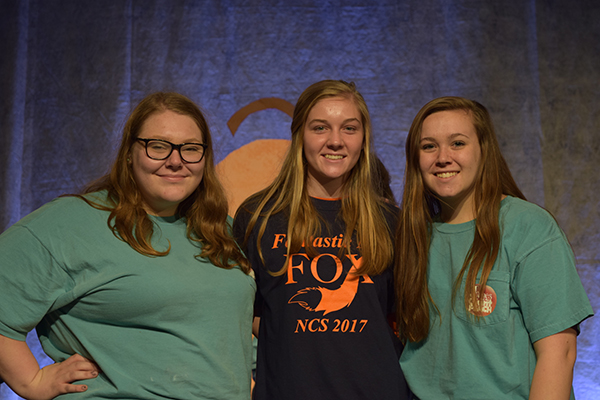 Caroline Armstrong is a senior and is new to the drama program at NCS and is the student-director for Fantastic Mr. Fox. Caroline is no stranger to foxes or any other wild animal for that matter. Her family owns Armstrong Animal Adventures, a company that provides animal education programs for children. When asked why she wanted to direct, Caroline explained, "I originally wanted to direct for the experience; however, after I started, I learned how much fun it was to work with such a diverse group of people. I love to work with the kids and help them further their knowledge and skills."
Abby Shivers is a sophomore and has been a part of the NCS drama program since elementary school. While typically found on the stage in a starring role, she took her first turn at directing the middle school production of Willy Wonka and the Chocolate Factory Jr. as a freshman. Now she is undertaking the direction of James and the Giant Peach Jr. with her older sister, Maggie. "It's definitely different directing than it is actually performing on the stage. I'm used to just memorizing my lines, learning choreography and music, and then performing on stage. There are so many more responsibilities for a director! Instead of just worrying about yourself, you have to organize the whole show. Every week, working around actors' schedules in order to plan out the week is so much harder than one would think! Then, following up everything with microphone lists, prop lists, costume lists…so many lists!" Abby shared.
Maggie Shivers, the second half of the directing duo for James and the Giant Peach Jr., is a senior who has been on the stage even longer than her sister and makes great contributions to set design with her artistic abilities. Last summer Maggie was selected to participate in the iTheatrics Summer Broadway Workshop in New York City. Maggie shared, "I wanted to direct a show before I graduated from high school, and as a senior this was my last chance. I wanted to have the opportunity to lead and work with younger kids in our drama department. I will take the memories and lessons from being in charge of this show, and being able to direct with my sister will give me a great memory as well."
The Nashville Christian School One-Act Weekend takes place on Saturday, October 1 and Sunday, October 2. On Saturday, Fantastic Mr. Fox will be at 2 pm and 6 pm, and James and the Giant Peach Jr. will be 4 pm and 8 pm. On Sunday, Fantastic Mr. Fox will be at 2 pm and James and the Giant Peach Jr. at 4pm.
Tickets may be reserved by going to: http://www.nashvillechristian.org/fine-arts/one-act-weekend-2016.cfm