Top News Stories
An Interview with Maggie D. Weatherman (class of '78)
April 25, 2016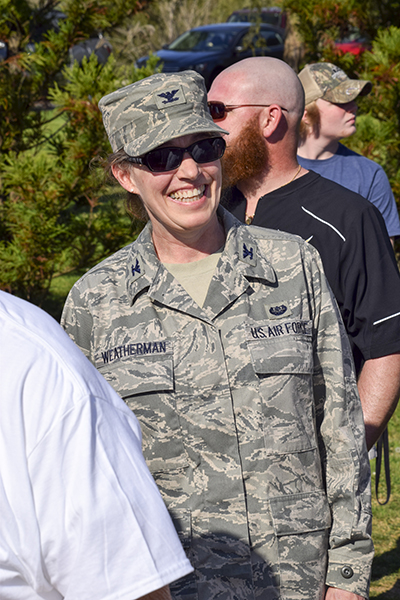 As Director of Development and Alumni Relations, I was excited to get the chance to interview 1978 graduate, Maggie Weatherman when she recently visited our campus for the baseball team's Salute to the Troops.
LUMINOUS: It was so nice to meet you at the NCS baseball game honoring our military. I believe you were the only Colonel present. What inspired you to join the military?
MAGGIE: My father, a career Air Force pilot and Silver Star recipient, was my main inspiration. Growing up a military brat gave me an appreciation for the military.
LUMINOUS: Tell us more about your military career.
MAGGIE: I entered the Air Force Judge Advocate General's Corp in 1988 and was stationed at Seymour Johnson AFB in North Carolina as a 1st Lieutenant JAG. I soon found I loved being in the courtroom and trying cases. I served as a prosecutor, defense counsel and senior defense counsel while on active duty. I also met my husband who was an active duty pilot. After having my first child I went from active duty to the Reserves. While serving in the Reserves I've had 14 different assignments, deployed to the Middle East, traveled all over the world, tried many cases as a senior attorney, and met lots of amazing people. It's been an incredible journey. I am extremely blessed to have had so many great opportunities and develop so many lifelong friendships.
LUMINOUS: In addition to your career, you also coach a swim team and a mock trial team. What else do you enjoy doing?
MAGGIE: I'm involved with my church and really love working in the children's ministry. I'm involved in some local organizations and enjoy helping the kids in our community. I enjoy working out, running 5ks, gardening and traveling with my husband and daughters. And in the fall, I enjoy Tennessee football!
LUMINOUS: I enjoyed taking you on the tour of our campus. I know a lot has changed since 1978! What was it like being back on the Nashville Christian campus?
MAGGIE: It was definitely a trip down memory lane. It was great being back in a place with so many fond memories.
LUMINOUS: How did attending NCS impact you?
MAGGIE: During my Junior year we had a teacher, Mr. Widick, who took us through the book of Acts. Studying Paul, his love for Christ and his unending perseverance still impacts me to this day.
LUMINOUS: You mentioned that you plan on being an annual donor to NCS, which we greatly appreciate! Can you share why you feel it is important to support NCS?
MAGGIE: First I want to thank the baseball coach the team and the fans for honoring veterans. It was a very humbling experience. Second, it was such a blessing to hear the heartfelt prayer before the game. With so many schools being forced to erase all mention of Christianity, I believe it is extremely important to support schools that proudly proclaim they are Christians.