Launching a Legacy at NCS
To continue the process of educating and molding the lives of students and families in the Nashville Christian School community, we are pleased to continue our efforts to grow and enhance our facilities. Our plans to provide greater function, security and campus aesthetics while providing more space to learn and play are vital to Launching a Legacy at NCS.
During the summer of 2020 we completed a much needed middle school expansion. This addition included two classrooms that facilitate interactive learning, a STEM lab, and a flexible learning space for small group instruction.

The new project will continue to enhance the educational experience for students at all levels while maintaining the intimate, familial atmosphere we have cultivated over the years. This phase includes building an Event Center and renovating the Gibson Building, which will house a dedicated wrestling gym, the new Student Success Center, and eleven new classrooms.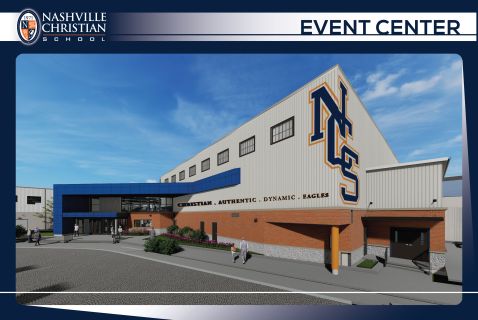 The NCS Event Center will serve the entire student body while providing our student-athletes with facilities consistent with those of Division II athletic programs. A new entrance, retractable seating, flexible design and storage space will allow for multiple space configurations. The Event Center will strengthen our legacy by allowing us to host tournaments, community events, school events like Grandparents Day and Graduation, music programs, parent-education programs and whole school chapels.

The Gibson Building is a central part of the Nashville Christian campus. It is our hope to continue Gibson's legacy by renovating the locker rooms, expanding training facilities for all of our students, and providing a two hundred seat arena for our wrestling program. The second floor will include dynamic space for 11 classrooms and more fluid practice space for our fine arts program.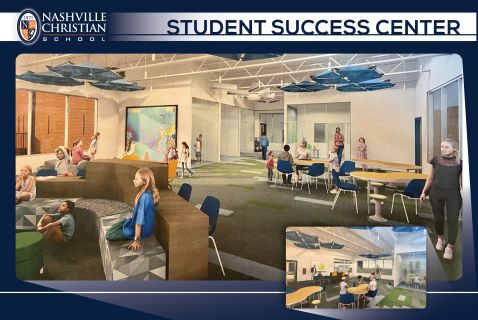 The space located between the Gibson Building and Lower School will house a new Student Success Center. Home to the LIFE program, it will feature non-traditional classrooms to address a variety of learning styles and strengths. Outfitted with state-of-the-art technology, the Student Success Center also will provide flexible space for collaborative learning and small group or one-on-one tutoring. The Student Success Center will have outside access, allowing independent learning consultants to provide additional services to our students, including those not in the LIFE program.
Our Construction Company, R.C. Matthews, has a live feed camera at the construction site. We encourage you to click here as often as you wish to view the progress.