Top News Stories
Gaining Knowledge Using Gumdrops
September 30, 2017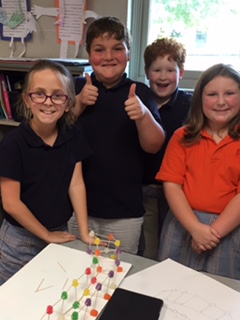 Building gumdrop bridges was the highlight of the week for 3rd grade. The challenge presented to each group was to build a bridge using only 50 gumdrops and 100 toothpicks that would hold 300 grams (120 pennies) of mass without falling through the six-inch gap it had to span.
Designing, building, testing and rebuilding with a peer group chosen by the teacher was also part of the challenge as I, the teacher, had the intention of the students building relationships with those outside their normal peer group.
We tested our bridges first over the gap. Then we added 50 pennies on a paper plate for 20 seconds. All five bridges were able to make it through the first round. The next round of testing was 100 pennies for up to 20 seconds. All the bridges held the 100 pennies, but two of the bridges lasted less than 5 seconds with that weight. For the final round, we added the extra 20 pennies to make the mass 300 grams. Clearly this mass was too much for one of our designs. It crumbled under the pressure. Of the two remaining bridges, the obvious winning design was able to hold the mass for one minute and could have lasted longer, but that was long enough to prove its strength and win the challenge!
Making group posters to document the process is on our agenda for this week.