Top News Stories
NCS Stars Shine Bright at the Junior Theater Festival
January 17, 2017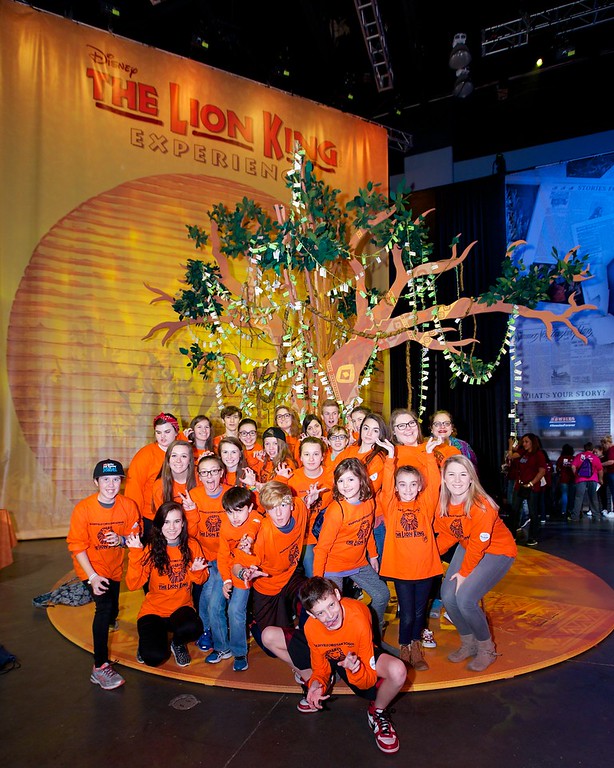 The cast of this year's Junior Theater Festival group consisted of Nashville Christian students from 3rd grade all the way up through 12th grade. The group competed by performing The Lion King Jr. While performing their 15 minute abridged version of the show, our students were judged by two Broadway professionals and were scored on choreography, acting, singing, voice, and storytelling.
The Junior Theater Festival (JTF) is the world's largest celebration of young people and musical theater. Produced by the Junior Theater Group and under the educational and artistic supervision of iTheatrics, JTF brings students, teachers and Broadway professionals together to celebrate outstanding student musical theater productions. Events include adjudications, workshops for students, meeting Broadway celebrities, awards ceremonies and the largest collection of musical theater professional development under one roof. Since its inception in 2003, JTF has grown from 650 people in attendance to over 5000 attendees.
The weekend was filled with educational classes for both students and teachers ranging from technical production, dance, acting, music theatre performance, and how to be a good audience. In the evenings, our group enjoyed a first-time viewing of the live film of the Broadway musical Newsies, recorded in Los Angeles and coming to theaters the second week of February. Our students were also able to participate in an up-close-and-personal question and answer session with many Broadway professionals including the writers of Broadway musicals like Thomas Schumacher, the head of Disney Theatricals, and the Tony-award-winning director and choreographer of Newsies. NCS junior Ryan Leflar got to shake the hand of Newsies choreographer Jeff Calhoun and ask him a question that was answered live on stage. They also had the opportunity to meet and get a book signed by Mary Pope Osborne, author of the Magic Tree House books.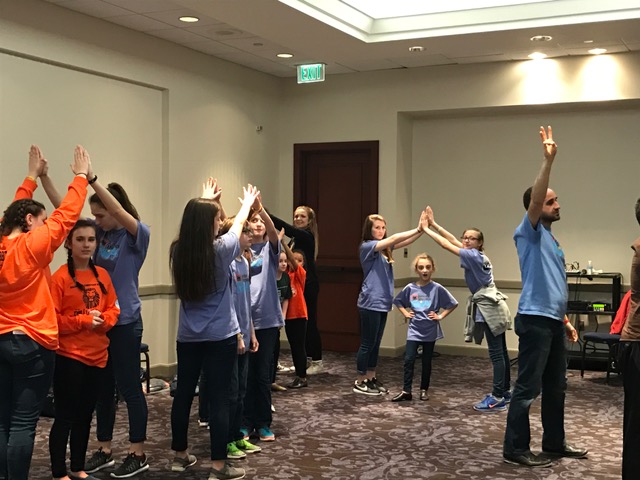 Two students were chosen to represent Nashville Christian on the main stage for the Broadway All-Stars. Hope McWright performed in the number "I Like To Move It" from Madagascar. Jack Forte performed as a lost boy in "I Won't Grow Up", from Peter Pan. Jack and Hope were also chosen as All-Stars and have received invitations to participate without further audition, in the Broadway workshops in New York this summer.
A group of Nashville Christian performers and directors were nominated to go into a pool to be chosen at random to create and perform numbers in less than an hour, called Broadway Slam! Maggie Shivers was chosen out of the actress pool and won the honor of singing one of the lead vocals in the song "Fame" in front of 5000 screaming fans. Justin Litrell was chosen out of the actor pool to perform "Tradition" from Fiddler on the Roof.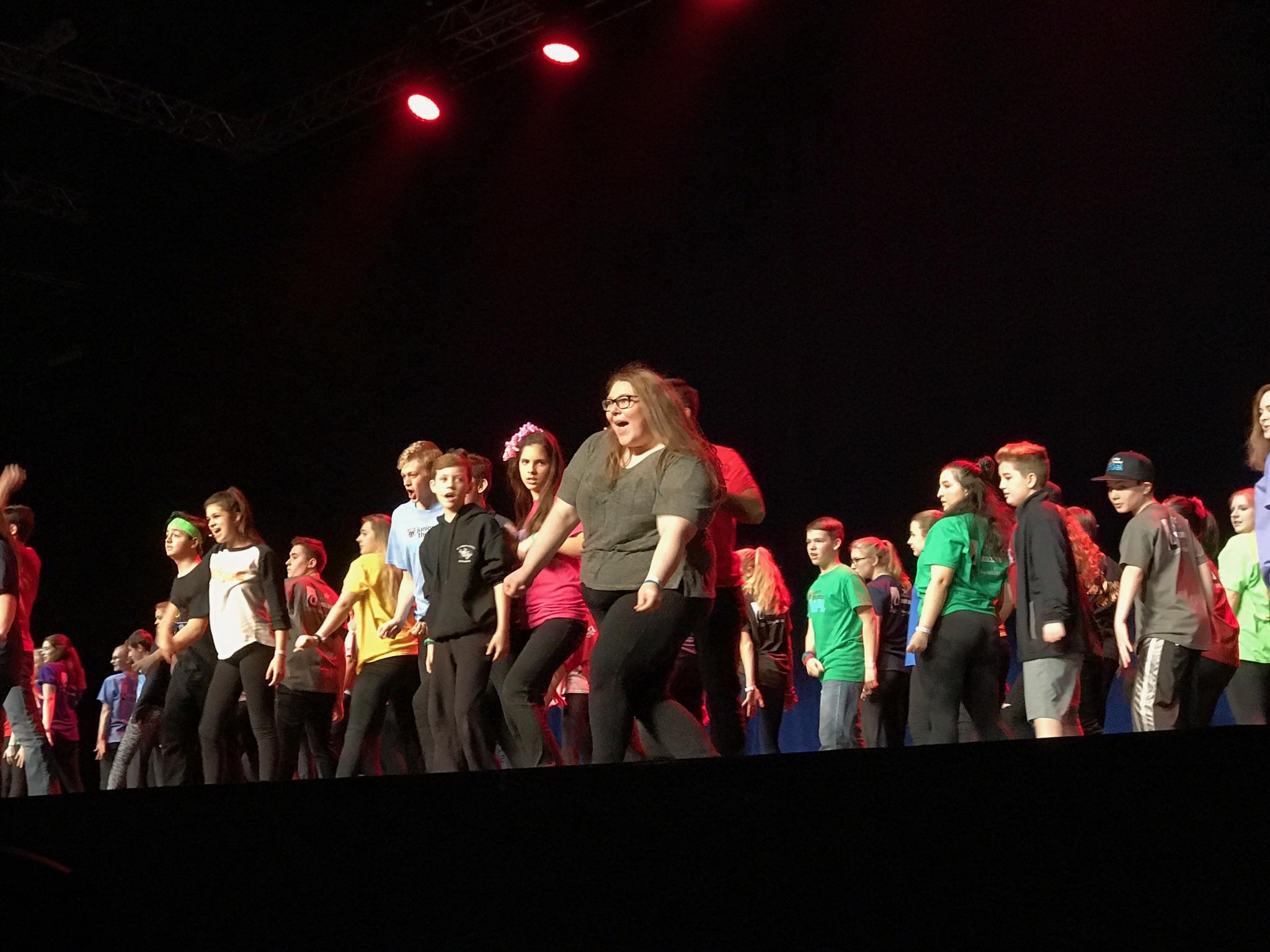 Here's what some of our students, teachers and parents had to say about this amazing theater experience:
It was very gratifying to see our students from elementary, middle, and high school all working together to accomplish a wonderful performance. The older, more experience actors were role models for our elementary students and were so encouraging! - Trisha McWright, NCS Teacher and Parent

I was a Lost Boy in the song "I Won't Grow Up", from Peter Pan. It was a very interesting and exciting experience. When we first got into the room, they separated us into groups and were put into a room with a choreographer and music director. We only had an hour to learn a song and dance, and it was hectic at first, but we got it fairly quickly and were ready in no time at all. As for performing on the big stage, it was a little hard to hear the music over all the cheering from the crowd, but other than that it was amazing to be able to get up and perform in front of an audience that big. – Jack Forte, 11th Grade

JTF was so amazing, I couldn't even believe it was happening in real life! - Finn Shaver, 3rd Grade.

There is something almost magical about the entire JTF experience. These kids love to perform, love to sing, love theater itself. Being able to see these students work together from practicing and preparation to performing to encouraging each other and celebrating after their performance was amazing to witness. One of my favorite parts of the JTF experience is when the students come together on the last day to process the weekend with their teachers. I loved listening to each student's perspective and the way they were encouraging to each other and respectful of each other's points of view. As a parent, I also appreciated the encouragement and respect that the teachers gave the students. I know they carry these words of encouragement with them. - Kathy Gupton, NCS Teacher and Parent

JTF was a tremendous experience for Kate. In addition to helping her hone new skills, JTF deepened her appreciation for the creative arts and the theater community. - Kathleen Pearson

With this being our first year to attend JTF, Taylor as a participant and myself as a chaperone, we weren't sure what to expect. Once we arrived, it was like we had been going for years. It warmed my heart to see the older students embrace the younger ones and take them under their wings to help them prepare for their performance and guide them through it. No one told them to do it, they just did. We may have been a small school theater group, but we were big and mighty with what we brought to the show, from our strong performance to our outward appearance and kindness to each other and those around us. I feel so blessed that Taylor had this opportunity to experience and learn so much about theater and grow in her relationships with her fellow thespians. - Les Dahl

As a parent, my view of the JTF program was inspiring and powerful. I witnessed many practices and then the performance. I enjoyed seeing the children improve. They worked with tired bodies and weak voices to get their 15 minutes on stage just right. It finally began to click and fall in place. For that 15 minutes, all the postures and voices blended to allow the audience to see Lion King the NCS way. - Melanie Frizzell, NCS Parent

JTF was like entering a whole new world. You were surrounded by the theater vibe! Everyone there was so welcoming and accepting. I can easily say that it was one of the best theater experiences I have ever had. – Madison Gupton, 7th Grade