Top News Stories
Mary Poppins Performance is a Sellout!
April 05, 2016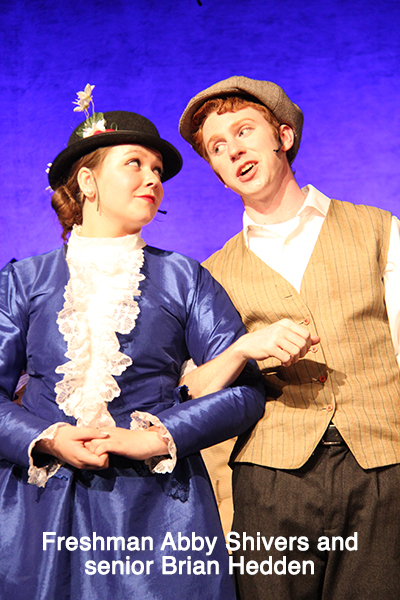 At the beginning of April, students from kindergarten through 12th grade put on an amazing production of Mary Poppins! There were more than 60 students involved including many who had never participated in a fine arts performance previously.
NCS Drama teacher, Nicole Arnold said of the production, "This show was particularly special because of the range of students involved and the level of performance demanded of the actors. We had a preschool student all the way through seniors on stage and the kids had to work harder than they have ever worked before. The production team was able to transform the entire MPR into a performing space so that the the audience was surrounded by the cast at several times, in multiple ways. The message of the show concerning the flight of childhood was especially poignant for me as we had such a large group of senior thespians graduating this year."
Coach Kayce Green has played the role of Mary Poppins and assisted in the production and choreography. She said, "Mary Poppins was such a showcase of the many talents of this school. From the smallest cast member to the oldest, each child went above and beyond their own fears to tell a story that so many know and love. It was a joy to spend time and help create a story that is so personal to me as well. I was astonished at the commitment, the ingenuity and the sheer talent to put on such a massive show full of so many larger than life characters. I was so proud and humbled to watch my daughter Scout get to be part of something so moving. The young men who decided to be part of the show as chimney sweeps, many of whom were stepping onstage for the first time and taking such risks, filled me with such joy every performance. It was a testament to a phrase in one of the title songs, 'If you reach for the stars, all you get are the stars, but we found a whole new spin. If you reach for the heavens, you get the stars thrown in.'"
The show was so well-received that for two performances, the reserved seating was sold out and for one show they sold out the entire room! If you missed the show, we hope you will join us this weekend for our latest productions, Willy Wonka Jr. and Godspell Jr., both of which are student-directed performances. You won't want to miss these stellar shows!
Mary Poppins 1 from Nashville Christian on Vimeo.