Top News Stories
Meet Alumni Sarah Willmore '13
May 04, 2018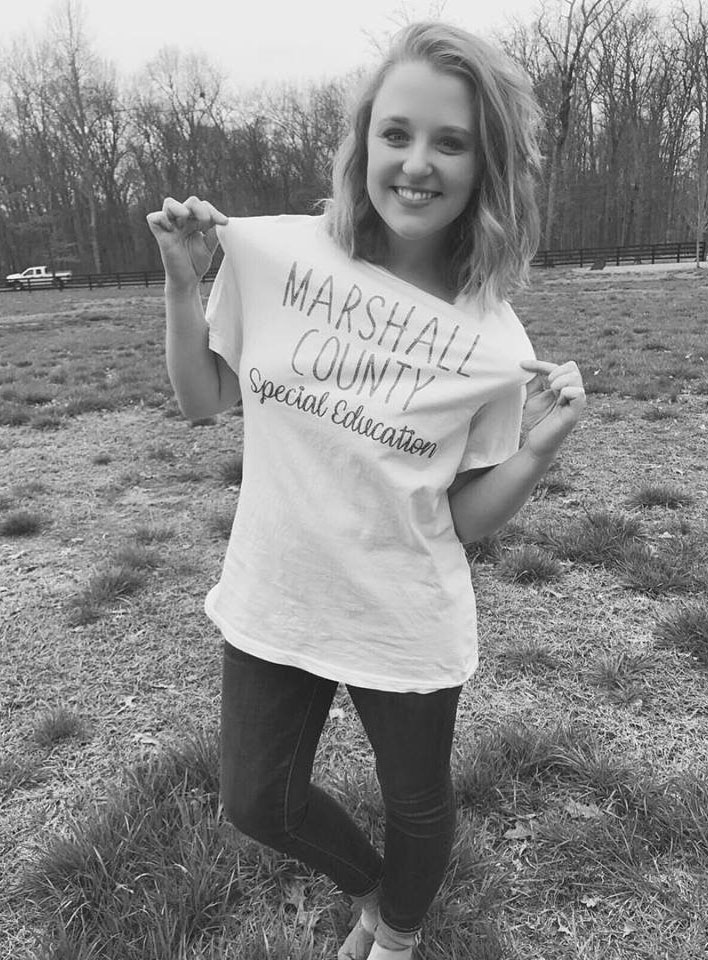 We recently had the opportunity to catch up with NCS alumna, Sarah Willmore, class of 2013. Sarah was very active in her class at Nashville Christian. She was an Alpha Omega, played soccer and cheered. Sarah is now a teacher in Marshall County and was voted Teacher of the Year! She was also working the day of the Marshall County shooting that killed two students and injured 18 others. Here's what she shared with us:
How/when did you make the decision to become a teacher? Where and what do you teach?
For as long as I can remember, I have wanted to be a teacher. When I was a senior at NCS I started considering special education. I went on the New York mission trip and asked to be placed in a special education room and instantly fell in love! I went back with the group a few times and still keep up with the teacher I was paired with, who even helped me get the job I have today! I loved seeing how inclusive NCS was with students of all abilities and wanted to bring that same atmosphere to low income public schools. Right now I am teaching 2nd and 3rd grade special education in Marshall Co., Kentucky. I teach individuals with a combination of intellectual and behavior/mental health disabilities.
How frightening it must have been when you realized there was an active shooter at the high school in your county! We heard you knew the boy. How has this affected your day-to-day life?
January 23rd was absolutely the scariest day of my life. I was walking in the hallway that morning and greeting all of the children. Our school is a bus hub for the entire county, so high schoolers get dropped off at our school to get on the bus for the high school. Looking back, I don't remember noticing Gabriel Parker, and that makes me feel very guilty. I just remember around 8 o'clock when we usually start the pledge and dismiss the children to their rooms, I saw teachers running down the halls. They were in tears and they just kept screaming "there's a shooter". At first I was very confused and had no idea what to think. I didn't know if they meant in our building, or what was going on. Once we kind of got an idea about what was happening, we had no clue of the severity. Teachers were still trying to get ahold of their children that were there, and no one knew that nearly 25 kids were shot until about 10:00 A.M. We also were told that there could potentially be more than one shooter since it was unusual that so many students were shot and only one hand gun was used. Of course, that was just a vicious rumor that started over social media, but it was horrible to sit there for an entire day not knowing what was going on. Many of our students had relatives that were shot and we were not allowed to tell them what was going on. My kids kept asking, "did something bad happened, why are so many kids leaving school". And you just had to tell them that they were safe right where they were. This event changed my life in a lot of ways. First of all, it made me realize that I am not only committed to teaching these kids every day, but I also am volunteering myself to protect them when they enter our school building. What is happening in this world inside our school buildings is beyond scary. We have several parents in our district that are extremely violent, and some of my students are too, and make constant threats to themselves and others daily. I have learned to be vigilant and always take threats seriously. I pray that our students with mental health needs get the help they deserve in our school system before it is too late! The event has also just shown me that life is often way too short.
On a positive note, you were voted Teacher of the Year! Being a first-year teacher, how has this impacted you?
I was beyond excited to win Teacher of the Year! For me it was a way of God telling me that I am exactly where I need to be, changing the lives of these sweet students. There were days where I felt like giving up, or felt unsuccessful. The kids are hard to deal with at times and unpredictable due to the nature of their disabilities, even being violent at times. There were days where I went home covered in bruises and bite marks, crying about how difficult my day had been. The parents are very unreliable and in horrible situations too, and social services often doesn't help us out as much as we would like. I had one student who had to receive a full set of dentures at nine years old because his personal hygiene was so neglected. Then there were days where I felt like if I gave up I would be abandoning my students. This school is 99% below the poverty line, so I often buy materials for them, including basic needs, out of my own paycheck. It is tough and exhausting, but then something makes it all worthwhile like a student finally mastering a standard they've been working on for weeks, crying when they have to leave your room, or just running up and giving you a hug. It was humbling to know that my hard work and dedication to these students didn't go unoticed. I love being the person in the lives of my students who they can rely on, and I am 100% confident that I am where God wants me to be, serving the students of Benton, KY.
What are some special memories you have of NCS?
I have more special memories at NCS than I can count. I went to NCS from kindergarten all the way up to my senior year of high school. When I was in elementary school, my mother was battling breast cancer, and we were overwhelmed with the support we received from my school family. We were so well taken care of, and that is a big reason on why I want to take care of my students during their hard times. I have never forgotten the outpouring of love and support I received, and it has inspired me to act the same in the lives of my children. From grade school on up to high school, my best memories are with my best friends Emma and Amanda who I still talk to almost every single day. They were the biggest blessings in my life, and still are! I am so thankful that NCS gave me my forever friends. All of my college friends have always said "I never stayed close with anyone from high school," and I feel so lucky that I have. My graduating class was the most tight-knit group I have ever known to come out of a high school. I still talk to many of them daily, and even spent a lot of time with them this weekend or any time that I am home. I am so thankful for my NCS family and know they will be in my life for many more years to come. Of course many of my other smaller memories also surround cheerleading and soccer, traveling to New York city to represent NCS in the Macy's Thanksgiving Day parade, and going to New York for the mission trip.
How did your time here affect your life and decisions you have made?
I am very thankful for the time I had at Nashville Christian. The values that they planted in us are still deep in my roots. I think that the largest lesson that I got from Nashville Christian that is still very much present in my life is to serve others, and to live with a serving heart. I believe that God's love is best shown through the service and love that you give unto others. All throughout college, and now in my adult life, I have shown the love of Christ to others, specifically to those who are less fortunate with severe disabilities and little to no family support. Students with special needs, or anyone with special needs, are often not sure of their own worth. Showing them how they are fearfully and wonderfully made spreads beyond just the individual that you are motivating. Then it inspires them to serve Christ through serving others in their own ways! Nashville Christian prepared me not only in my spiritual life, but in academics too. I felt way more prepared than my peers going into college, and thanks to Mr. Atkins and Mrs. Harper, I was able to whip out a college paper with no complaints! Nashville Christian shows you how to set a strong work ethic! If it weren't for the hard-working academic skills I developed at NCS, I don't think I would have had the motivation to complete two bachelor's degrees in only four years!
Is there anything else you would like for us to know about you?
My teaching degrees are in elementary education (K-5) and special education (K-12). I plan to remain in Kentucky while completing my masters in Functional Mental Disabilities and then move back and bring my teaching talents home to Nashville! In college, I helped an individual with Down Syndrome open her own fashion boutique in Murray, Kentucky and worked under Anthony Kennedy Shriver for Best Buddies Kentucky and Best Buddies International Young Leaders Council.