Top News Stories
An Interview with Daniel Bituli
August 24, 2015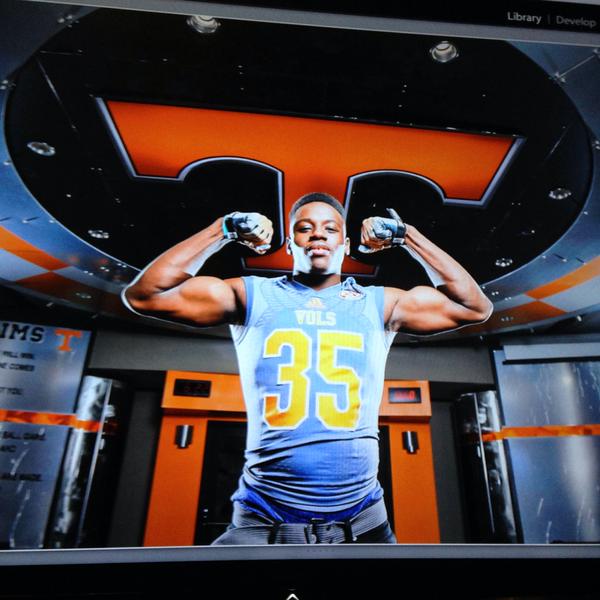 Daniel Bituli has been recruited by the top football programs across the country from Oregon to Miami, but it was his home state of Tennessee that won him over in the end. Daniel has committed to the University of Tennessee but it's his Nashville Christian football team he is focused on right now. We recently sat down with Daniel to talk about his goals and dreams for this year and in the future as a Tennessee Volunteer…
Why UT?
They have a great future. It's kinda close to home to where I can come back and spend time with my family and friends but far away enough too. UT has some really good recruits coming in, and I've already built a relationship with some of them, so it's a nice feeling that I'm going to school, and I know some of the players and how they work.
Your parents recently visited UT for the first time, what did they think?
Oh they loved it. They thought it was a great school. I'm glad they enjoyed it, so that definitely helped me choose. They spoke to the man who does chapel for the team and obviously my dad is a very religious person so he really enjoyed that. They liked the facility in general. We saw the psychology facility and it was really good, and the way they set up your schedule really works out.
So you want to major in psychology?
Psychology and social work. I love to be around kids, and I feel like both of those majors would help me in assisting kids, so that's why I chose it.
What are you looking forward to most about college?
Getting a good education, winning a bowl game and eventually a championship. Oh, and unlimited food. I'm definitely excited about that.
Have you gotten a lot of feedback from UT fans?
Oh my goodness yes. I'm grateful for it. They see my talent, and it's a really good feeling that so many people say so many good things about me. I love that.
Why make your commitment to UT now?
I wanted to get it done before the season so my teammates and I would not get too distracted by all that. We have a bigger picture of trying to get to state right now. So I wanted to make my decision and then try to focus on the important things for our team right now.
Tell me about Nashville Christian football. It's your senior year, so what are your hopes and expectations for this year?
Winning the state. That's all. I want to make my teammates happy, win first in district, go undefeated and, God willing, win the state championship.
What do you think it takes to make a successful football program?
First off you have to have great coaches who really care about you as a player. Coach Brothers knows what he's talking about. He's smart on and off the field. He disciplines you as a player and wants you to think smart. Coach Brothers also knows how to develop a great staff. Coach Montgomery knows the game of football. He played in college and has been coaching a long time. He's seen every level of football. He's sent players to the league. He definitely knows what he's doing. Coach McClary was a beast in college. I wish I could have seen him play. He definitely knows what he's talking about. He's just a cool guy. Every guy in the locker room just loves having him around and having a great conversation with him. Coach Crosby will push you further than you think you can go. He knows defense really well. And Coach Anderson is a great D-line coach. He played in college so he's also seen higher levels of football, and he can relate to us because he's younger.
You also have to have a successful weight program. One of the things I really like about Nashville Christian is we don't really have one of those amazing weight rooms, but we have Coach Crosby who pushes us further than we think we could go. It just shows that you don't need a state-of-the-art weight room to get big. It just takes hard work.
And then there are the players. The players all have a good relationship with each other. We all understand each other. We hang out all the time off the field. The guys on our team have a great work ethic. We push each other. We help each other when we're feeling down. We compete all the time.
And we have an amazing fan base who has supported us through good and bad. Family and friends…all of this is what makes a great football team.
What's going to be the difference this year? How are we going to win a state championship?
Everyone working as a team. We've seen what it takes to make it to the semi-finals. We've worked hard the past couple of seasons, but it just showed us how much harder we needed to work to achieve our final goal. We also need to be smart off the field, keep each other safe, and not make dumb decisions.
Tell me about your teammates.
It's just a good feeling knowing I have my best friends around me all the time. I've needed advice so many times and these guys were always there for me. I only see greatness in all of them, and I always tell them that because I might be getting all this attention but that doesn't mean that they're not good because they're good too. They made me, so I want to help them become whatever they want in life. I sure am blessed to have friends like this, and I thank God for that.
What would you tell young guys coming up about the recruiting process? What have you learned from the process?
Stay level-headed and be humble, because the only reason you're getting as much attention as you are is because of the wonderful teammates you have. To single yourself out would be selfish. You could never achieve your goals without your teammates.