Top News Stories
Abby Varner - "Check Your Game" Athlete of the Week
September 08, 2016
"We are excited to recognize Abby Varner as our CheckYourGame.com athlete of the week for her contributions to the volleyball team last week. She is a great student as well as a great player. I am proud of the leadership and godly example she provides to her teammates and peers at NCS." – Jeff Brothers, NCS Athletic Director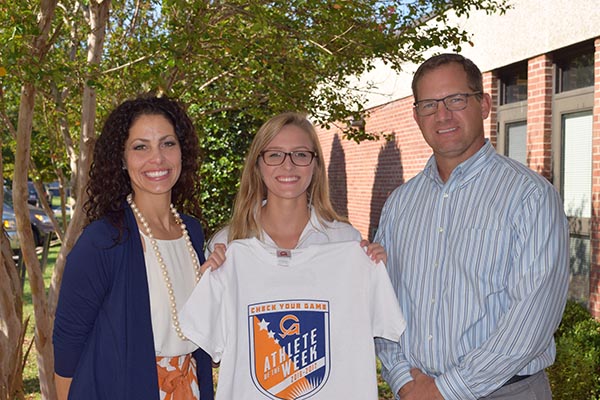 The Check Your Game Athlete of the Week is a program designed to encourage young athletes by not only recognizing their efforts on the field but equally, or more importantly, acknowledging their actions outside of the game.
This program is designed for coaches to use to encourage and inspire athletes to give their best in their sport as well as in life. Coaches might nominate a Check Your Game Athlete of the Week for things like working exceptionally hard, demonstrating outstanding teamwork, overcoming personal obstacles, good educational performance, standing up to peer pressure or anything else that shows great sportsmanship or integrity.
"Abby is the epitome of a great leader. She leads by doing, by encouraging, and by demanding excellence of herself and her teammates. She is studious and excels in the classroom. She is empathetic, positive, determined and extremely faithful. The score, the pressure of the game, the ebb and flow of emotion never dictates her attitude or play. She is composed in the most difficult situations and applies coaching immediately. She has played as an outside hitter with the most consistent stats for the last three years, and then stepped up into a completely different, faster, and physically demanding position as a middle. She has worked hard to change her directional speed, her jump height and has studied to understand this new position to be the best for her team. She plays this position with confidence, making aggressive plays on offense and key blocks on defense. She is consistent in both avenues giving us the ability to run a fast offense and an impressive, set defense." – Kayce Green, NCS Volleyball Coach
Congratulations Abby! We are proud of you!