Top News Stories
Senior Abbie Page Helps Fight ALS
November 04, 2016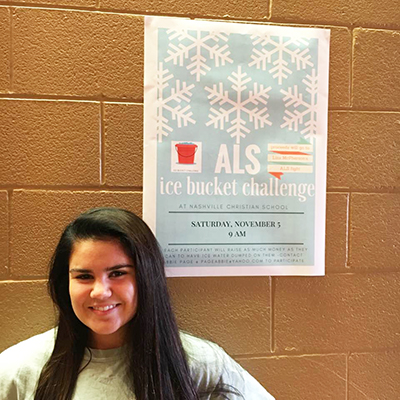 In late October, Lisa McPherson, wife of our high school Bible teacher and basketball coach Mike McPherson, was diagnosed with ALS. ALS is a terminal disease that affects the nerve cells in the brain and the spinal cord causing muscle weakness and eventual failure. Currently, there is no cure for ALS.
The McPhersons learned of a treatment not yet available in the U.S. that showed some promise and planned a trip to a hospital in Bangkok. It was going to be expensive, but Nashville Christian School senior Abbie Page was so impacted by the news, she had to help.
"One day we were sitting in Bible class and Coach McPherson was in tears telling us that his wife had been diagnosed with ALS. He is such a strong person and to see him break down like that really let us know that he needed our help. He told us a little bit about the trip they were going to have to go on, and a little bit about how much it would cost. He asked all of us to keep his wife in our prayers, so for many weeks we did. I prayed almost everyday not only for Mrs. Lisa's health, but also that God would show me a way to help them. I figured even the littlest thing could help. So I decided to put together this fundraiser for Coach Mike and his wife because if I was in their situation, I would want someone to do the same thing for me," Abbie said.
Many are familiar with the popular ALS Ice Bucket Challenge that went viral in the summer of 2014, and Abbie decided to bring it to the forefront once again.
"It was a bit of short notice, but my mom helped me out a ton by getting the flyers out, getting t-shirts made, and helping me organize the whole thing," she explained.
On November 3rd, many supporters from the NCS family gathered on the football field to take the challenge. Several students raised money for the event and got icy cold water dumped on their heads. Meanwhile, Coach McPherson got his own bucket of ice dumped on him on the other side of the world in Bangkok, Thailand.
Abbie was overwhelmed at the show of support saying, "I'm very thankful for everyone who donated and participated in this because it could not have happened without them. Everyone who contributed made a huge difference, and I am so thankful I had so much help from our NCS family with getting this together. Many people were there before to help me set up and some of the participants were some of the football players, the whole girls basketball team, some coaches and administrators, and a few others. There were so many donations and we raised over $2200."
We are so thankful for the loving, supportive Nashville Christian community who helps carry and lift each other up in times of need. Please enjoy this video of the special event, and hear a special thank you from the McPhersons.
Ice Bucket Challenge for Lisa McPherson from Nashville Christian on Vimeo.