Top News Stories
Hoops 4 Hope Pink Out Raises $4000
January 25, 2017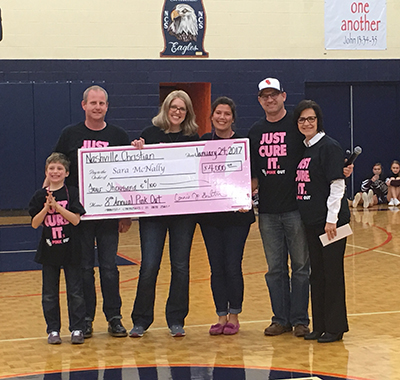 On January 24th, NCS hosted the 8th Annual Hoops 4 Hope Pink Out during our basketball game against East Robertson. The gym was full with friends and family showing support for those who have been affected by breast cancer. This year we raised $4000 to help the McNally family with medical expenses! Sara McNally is the mother of 2nd grader Joseph McNally and is currently battling breast cancer. She and her family were there to receive the check while everyone got to their feet to cheer her on. We also honored all the breast cancer survivors in attendance by having them come to center court for flowers and a gift. Many of the survivors in attendance were previous recipients of the Pink Out donations.
Some of the funds were raised through "Just Cure It" t-shirt sales, and all of the survivors in attendance were given a t-shirt. Before the game, everyone enjoyed the Soup Supper fundraiser which also brought in lots of donations.
Tickets for the Heads or Tails game were sold for the chance to win a flat screen TV. Everyone who purchased a ticket came down on the floor to participate between the girls' and boys' basketball games. Each contestant chose either "heads" or "tails" by placing a hand on their head or their backside. Then a coin was flipped, and all those who chose correctly were still in the game. In the end, breast cancer survivor Gayle Hoots won the TV! She is the grandmother of current senior, Ben Feldman. See the final coin flip below.
PInk Out 2017 from Nashville Christian on Vimeo.
We want to think the sponsors of this great night for their incredible support - Enterprise Electric, Flower Mart, and Nashville Ready Mix. Thanks to all who came out to support this event and helped bless the McNally family in their battle against breast cancer with your generous giving. You are what makes Nashville Christian School such a special place!