Top News Stories
NCS High School Students Make Christmas Special for JE Moss
December 15, 2017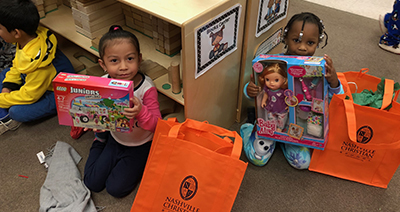 The process of planning this event for the kids was something we were really working hard to achieve and looking forward to doing. We started off thinking of ways to gather and fundraise for all of the items to take to the kids, and this is when we got the idea to involve the whole student body. However, we also wanted to give the students some incentive for helping out with this project. We asked each of the math teachers individually if they would consider giving the students two points on their midterm if they were to donate, and it was a success. Immediately after making this announcement, the items started flowing in, and soon after it was time to pack up and take off.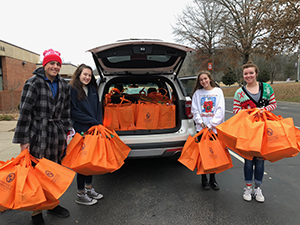 It was 7 AM, but I have never seen everyone so energetic. We were so excited to walk through the doors of JE Moss and see those children. I knew immediately that this was going to be a great experience. We all split up into different classrooms, there were four in total, and got started with our day. On top of the gifts, we provided them with a variety of foods. The classroom Jolie and I were in happened to be most excited about the donuts. The kids were so grateful for every little thing, and the look of pure excitement on their faces was one I will never forget. However, just when they thought it was over, we brought out the presents. Immediately, the kids were screaming and jumping up and down with joy, and you couldn't help but smile. They all got seated and opened their presents only to scream even louder.
This experience was so humbling and inspirational all around. I can't even begin to express how grateful I am for being given the opportunity to be a part of this.
NCS High School Makes Christmas Special for JE Moss from Nashville Christian on Vimeo.