Top News Stories
Going Deeper on the 2016 Spiritual Retreats
October 31, 2016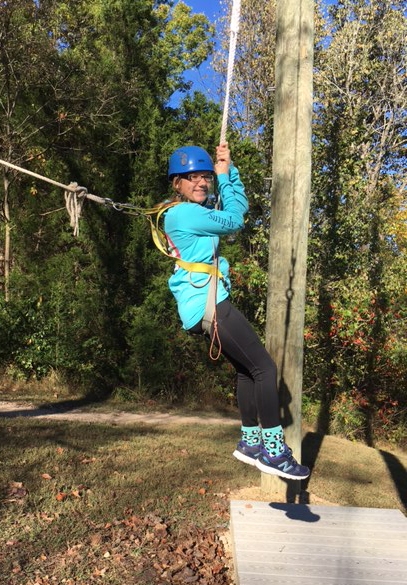 The High School Spiritual Retreat at Deer Run in Franklin, TN was an incredible opportunity for experiencing a deeper connection with God and stronger relationships with peers and adult mentors. Students selected three activities to do from low-ropes course, high swing, paintball, climbing tower, archery, and leap of faith. Campus Minister Brian Tipps said, "I feel humbled by how open our teenagers were to new experiences and seeking God in a variety of activities and settings while at Deer Run. I am proud of them for how inclusive and supportive they were of each other through the challenges presented to them. I also feel grateful that our school's leadership and community of parents promote and support these unique spiritual efforts and opportunities for our teens and adults to build stronger relationships with God and each other."
Here's what some of our high school students had to say about the Fall Spiritual Retreat:
I thought that the retreat was one of the best ones yet! It was really cool how everyone no matter what grade was able to bond with each other and build one another up. My favorite memory will be all the Seniors sitting around the campfire and getting to spend quality time together as a class. - Elizabeth Mays
As I expected, I had a great time on the retreat. I bonded with people I didn't know, and I learned a lot about new people. - Noah Schurman
I had a really good time getting to hang out with all my classmates and teachers outside of school. I never regret going on the retreats. - Katie Cain
This retreat really opened my eyes to the true potential of all the people I thought I knew. With relaxation and free time on our side, we were able to make bonds with people that we never even get to talk to during a normal school day. God moves in mysterious ways, and one way He moves (on these retreats) is through others. - Chandler White
The following weekend, our 7th and 8th graders had their Spiritual Retreat at Camp Lake Benson in Bon Aqua, TN. Once again, it proved to be an incredible time to grow spiritually and bond with each other outside of the normal classroom structures and academic pressures. We took the largest group of student campers and adult counselors in five years, so the energy in the group was noticeably at a high level. The focus was on seeking God through different opportunities during time together.
"The middle school students had a great time on the retreat. They loved the human foosball court, scavenger hunts and team-building activities. They were also able to connect with teachers and staff on a spiritual level discussing what it looks like to seek God in their lives. As one kid said, 'The food was good, the games were fun and I hardly slept,' said Middle School Counselor, Melissa King.
Our students were extremely cooperative and engaged in the activities and devotionals alike, which were all designed to engage their hearts, push their thinking, and encourage them to grow in their understanding of themselves in relationship to God. About 20 of our students indicated they had never participated in a retreat, so we are glad this was a fun and positive first experience for them!
Here are some photos from each of these great weekend events:
Spiritual Retreats from Nashville Christian on Vimeo.