Top News Stories
Megan Moreaux Shares Powerful Testimony at Spiritual Emphasis Week
March 24, 2016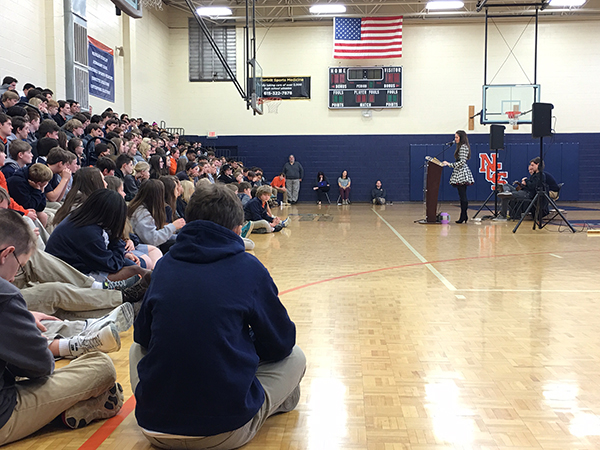 As part of Spiritual Emphasis week, our middle and high school students enjoyed hearing the music and powerful testimony of singer-songwriter Megan Moreaux.
Megan was abandoned by her mother at birth and was raised by her drug-dealing father in California. She was often abused by her father's girlfriend, and found an escape from her traumatic childhood through country music. Though Megan never got involved with drugs herself, she struggled through many abusive relationships and even attempted suicide.
Megan shared that although she was not raised in church and had not heard the gospel, she had an imaginary friend growing up who encouraged her and showed her the right way to live. She now knows that imaginary friend was Jesus who was with her even through her darkest days. Eventually Megan was invited to a Bible study where she came to know Jesus as her Lord and Savior.
Megan now writes inspirational songs of hope, healing and love and shares her testimony with others. Her story really penetrated the hearts of many of our students. Here's what some of them had to say:
I think that Megan was right when she said that the definition of love is when we help and are interested in everybody, even the ones who hate us. We need to be like Jesus and forgive those who hurt us, just like Megan did with both her parents. She broke the chain to her dad's lifestyle, because of Jesus in her life. I think that she is a living testimony to why God is real.

A lot of people use the word love all the time, but I understand her explanation of love. It is when you put stuff aside and do something for a person. I'm the kind of person that really doesn't like to talk about struggles and really get into detail about my problems, but hearing her story today makes me want to really open up more, because her just standing up there sharing her story was really brave.

I feel like she was talking just to me. I have been dealing with a negative relationship and have similar emotional stuff to work through. The way she emphasized God's love being unconditional and how He is always with us really helped me.

I believe Megan's life story was very inspirational. If she can get through that and commit her life to God, then we can get through whatever we are having trouble with, and commit to Him as well. She turned a life that may not have any upside to a life filled with joy and happiness with the love of God.

Megan's story kind of shocked me a little when I first heard it. How could a child know to stay away from all the drugs and alcohol that she was so used to seeing? She had to have somebody. So, when she told us that the imaginary friend was Jesus, it all kind of made sense. God is our father, and it definitely showed in the story that she told us. If we did not have Him in our life it would be a mess. No matter where you're raised, what kind of parents you had, and or where you graduate from college, you need Him. That really stood out to me, and I hope that it did for others.
Megan now has a flourishing singing career and has opened for major acts like ZZ Top, Loretta Lynn, and Martina McBride. She continues to write with some of the industry's top songwriters and shares her story of hope with others. Thank you Megan for being a part of Spiritual Emphasis Week at Nashville Christian School and encouraging us with your unyielding faith and uplifting words and music.
For more information about Megan, and to hear some of her music, go to www.meganmoreaux.com.