Top News Stories
3rd Graders Summer of Service
August 14, 2017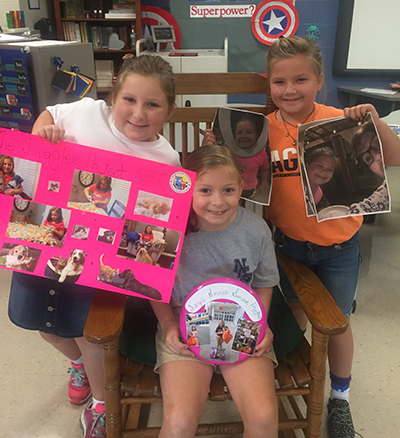 Over the summer, rising third graders were tasked with performing a service project and sharing what they did with their new classmates. Here are their personal summaries of what they did to serve.
Avery: I helped my Mimi water the plants. I pick up trash when I see it. I give school supplies to people.
Brody: I donated money to the poor.
Matthew: I took care of Pudin because she doesn't have a friend. (Pudin is his guinea pig.)
Maddie: I took cookies to my local firemen.
Jace: I planted to help my neighbor.
Ellie: I helped my community by giving sandwiches to the homeless.
Ashton: I helped animals find homes. I also helped people put food in their cars.
Caitlin: I made blankets for homeless people.
Isy: I went to Vanderbilt Children's Hospital to take toys I bought with my kindness dollars.
Trinity: I made blankets for cats and dogs in need.
Sydnie: I am going to the Humane Society to help.
Austin: I helped my grandad plant cucumbers.
Baker: I helped a homeless veteran by giving him a survival kit.
Bolton: We moved this summer and I helped my mom and dad unload boxes.
Joseph: I helped people that need food by collecting 61 cans of beans for the Food Bank.
Elijah: I helped baby animals that were hurt.
Allie: I want to help animals and poor people.
Olive: I helped my neighbor pick her cucumbers, tomatoes, and peppers.
AJ: I helped my grandmother by painting and moving her into a new home.
Isaiah: I gave money to the poor.