Top News Stories
Brittan Jarrell - Athlete of the Week
September 28, 2016
"Brittan has been a steady performer all season for our volleyball team. She has helped lead our girls to the #2 seed in the district tournament and served as a water girl for the football team. She has a servant's heart and a genuine love for her temmates and classmates here at Nashville Christian. " – Jeff Brothers, NCS Athletic Director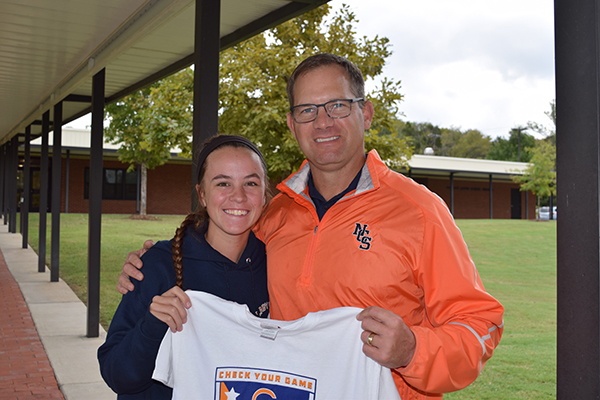 The Check Your Game Athlete of the Week is a program designed to encourage young athletes by not only recognizing their efforts on the field but equally, or more importantly, acknowledging their actions outside of the game.
This program is designed for coaches to use to encourage and inspire athletes to give their best in their sport as well as in life. Coaches might nominate a Check Your Game Athlete of the Week for things like working exceptionally hard, demonstrating outstanding teamwork, overcoming personal obstacles, good educational performance, standing up to peer pressure or anything else that shows great sportsmanship or integrity.
"Brittan is an exceptional athlete and teammate. She is determined, analytical, and hungry to know every aspect of the game. She is a natural leader and risk taker, making excellent offensive decisions and fearless defensive moves. In the last three years, she has played on varsity as the DS/Libero leading in serving aces and secondary in digs per set. Her serve receive for the last 4 years is a 2.6. (Most D1 liberos are expected to pass at a 2.5 or above out of 3.0) This year for the better of her team has moved to the very difficult and demanding setting position and opposite (right side) hitter. She has worked tirelessly to understand the offensive part of the game and to technically perfect her sets. She has helped her team advance their offense to a faster pace than NCS volleyball has seen in the past. While setting for three rotations she leads and maneuvers the Lady Eagles into success, and while passing and hitting for three rotations she helps her team start or finish the offense by being an outstanding passer or a smart controlled hitter. Outside the court she is in high demand as a softball player, she excels in the classroom, and is strong in her spiritual leadership. We are very proud of this joyous, caring young woman." – Kayce Green, NCS Volleyball Coach
Congratulations Brittan! We are proud of you!