Save the Date - NCS Spring Fling Fundraiser!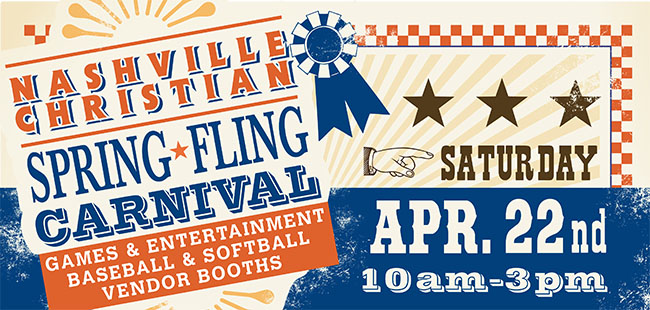 What is Spring Fling?
This is an exciting event at Nashville Christian School, and we can't wait to celebrate with you! Spring Fling is an event to help streamline fundraising for school activities. Spring Fling will include:
Kid's carnival area with lots of unique inflatables, games, face painting and more
Music DJ'd by Kelly Farmer and The Party Patrol with karoke
Shopping at multiple vendor booths selling candles, furniture, clothing, desserts, crafts and more!
Who does it benefit?
Proceeds from the Spring Fling will offset the cost of students' activity fees (sports teams, fine arts performances, etc.) for the 2017-2018 school year.
When is it?
Saturday, April 22nd from 10:00am to 3:00pm
What is the cost?
Entry is free but tickets for games and entertainment will be .25 each, and if you order ahead you will get 4 free tickets for every 20 you purchase. You can also purchase tickets at the Spring Fling. Ticket order forms are available in either office, or you can click here to print.
What do I need to bring?
All families are encouraged to bring lawn chairs and money for concessions (no outside food will be permitted).
What else do I need to know?
T-shirts are available for purchase ($10 each). Orders are due by April 13th. You can pick up order forms for t-shirts and tickets in either office or click here to print.