Annual Fund 2018 - 2019
A message from NCS 4th grader Ellie from patrick sheehan on Vimeo.

Each year, we ask our stakeholders (faculty, staff, parents, grandparents, alumni, and friends) to participate in the Nashville Christian Annual Fund. The Annual Fund is important because it bridges the gap between tuition and our actual operating costs. It helps us keep tuition affordable and covers things like books, art supplies, microscopes, the salary of your child's favorite teacher and much, much more. Some of the things last year's Annual Fund paid for are:
Additional teachers and staff to accommodate our growing numbers and keep class sizes small
A new, full-time Director of Security and increased campus security with more proximity card readers
Lights and headsets for the theater department
Scoreboards for the gym
More playground equipment for elementary
Decking around the new preschool building
Another new bus
Curriculum and professional development for teachers
We're so proud to tell you that each and every one of our faculty and staff (teachers, cafeteria workers, office staff, maintenance, and administration) have shown their dedication to your children by giving $30,000 to this year's Annual Fund. They have demonstrated that when it comes to Nashville Christian, they are ALL IN, and we are asking you to go ALL IN too!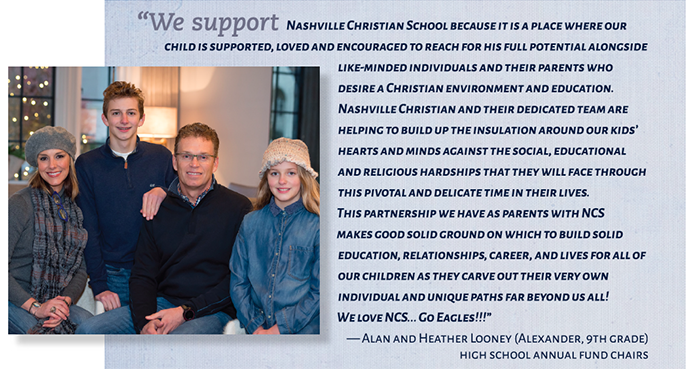 Last year our goal was $300,000 and as usual, the NCS community went above and beyond giving $360,296! Our goal this year is $375,000, and with everyone in, we feel confident we can meet this goal.
NCS parents Alan and Heather Looney and Jason and Amanda Ricciardi are all in!

Your gifts to the Annual Fund are essential to our school and community and will have an immediate impact on our current students. Your investment in a high-quality, Christian education will be a tremendous blessing as we gratefully watch your children grow up to become successful professionals, leaders, parents and servants who make a difference in their communities and give back to NCS themselves. George Walker, class of 2017 said, "I chose to donate to Nashville Christian because they do so much to help the students and the community. They teach the loving ways of God and show them the ways to best succeed in life, whether it is academics, sports, the workplace, or even the military."
Every single gift to the Annual Fund, regardless of the amount, is greatly appreciated. It is my hope that you will partner with us in helping students realize and pursue their full potential—spiritually, intellectually, physically, and socially—while learning to establish and grow their relationship with God. You can go ALL IN with us using the enclosed envelope, or give online at ncsannualfund.org.

How Do I Give?
Give online at www.ncsannualfund.org
Mail a check to Nashville Christian School, 7555 Sawyer Brown Rd., Nashville, TN 37221
Give a stock gift and avoid capital gains taxes
Check with your company's HR department to see if your employer has a matching gift program
Make your gift in honor or in memory of a loved one
Contact Karen Whelan at whelank@nashvillechristian.org or 615-356-5600 for more information.