Top News Stories
Drew Taylor, Athlete of the Week
September 22, 2016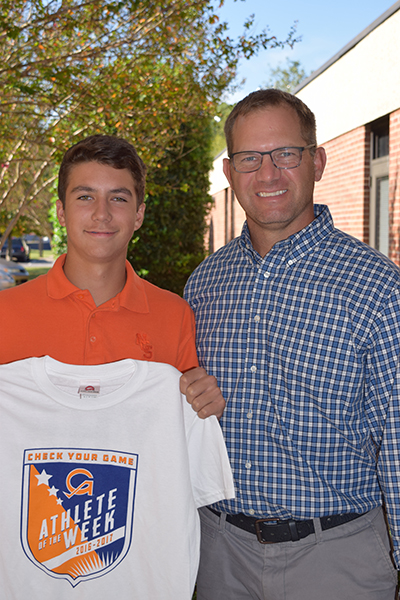 Congratulations to sophomore golfer Drew Taylor on being named this week's (September 19th - 23rd) Checkyourgame.com athlete of the week. Drew overcame a tough first hole score to regain his composure and finish the district golf tournament in 5th place to qualify for the regionals. Drew is a fine student and a great ambassador for Nashville Christian School. We are very proud of his accomplishments so far this season. Here is what his coach, Kevin Forte had to say:
"I want to congratulate Drew on being chosen for the 'Check your Game Athlete of the Week.' Drew is fine young man, who lives out his faith daily in the way he carries himself and interacts with people. I think his situation in the district golf championship this week speaks volumes about how Drew handles not only golf but the challenges life puts in our path. Drew has put a ton of time and energy into working on his golf game this past summer and has put himself in position have a successful run in post season tournament play. However, on his opening hole of the district championship he was faced with making a twelve on a par 4. At that point it would have been easy to get angry and give up. But Drew was able to quickly put it behind him, move on to the next hole and continue to play out the rest of round. At the end of the day, Drew played his remaining seventeen holes in two over par and was able to capture the fifth and final qualifying spot to advance to the regional championship. Congratulations Drew!"
Drew will compete in the region tournament tomorrow, September 23rd beginning at 8:00am. We wish Drew the best and know that he will make Nashville Christian proud.