Coronavirus (COVID-19) Information
Monday, August 24
Dear NCS Families,
School has gotten off to a good start, and we have been so impressed with how the students are following the guidelines by completing the screening, wearing their face coverings, staying apart, and cleaning and disinfecting their areas. As you know, we have established very rigorous practices for social distancing and other safety precautions. We wanted to update you on the NCS COVID-19 Mitigation Plan to reduce exposure, monitor students, faculty and staff for signs and symptoms, and manage cases of exposure as well as individuals that have tested positive. We also hope to highlight some of the more important steps we are taking to keep our campus safe. This plan was adopted under the direction of the NCS COVID-19 Task Force which includes a planning committee of School Administrators, Operations, and Health Services team members working in conjunction with the NCS Medical Advisory Team and guidance provided by the Centers for Disease Control and Prevention (CDC) and the Health Department. Below we have included some of the points addressed in the NCS COVID-19 Mitigation Plan:
Parents should contact our school nurse if your student has tested positive for or had a known exposure to COVID-19.
Any student, faculty, or staff member who has been diagnosed with COVID-19 or exhibits COVID-19 symptoms will be asked to isolate or quarantine from the school. The school nurse will communicate with each family about the requirements and length of the stay at home.
Parents are asked to keep their child(ren) at home if they are ill or exhibiting COVID-19 symptoms. Faculty and staff will also remain home if they are ill or exhibiting COVID-19 symptoms.
If a student becomes ill or begins exhibiting COVID-19 symptoms while at school, he or she will be directed to the school's Health Services clinic where they can be taken to a separate location from others until they can be picked up from school.
We have taken extreme measures with mandated seating charts, limiting student groups, working through cohorts and other safety precautions to limit the exposures for each student. This provides us a clear picture for contact tracing methods and monitoring of exposure risks on campus. Based on this, we can provide a clear picture of risk in the event that we have a positive test result from one of our community members.
Based on these measures, parents will be notified individually if it is determined that their child has had a direct risk exposure to another student, faculty or staff member who tests positive for COVID-19. Not all parents will be notified every time there is a COVID-19 risk exposure at Nashville Christian School. According to HIPAA and FERPA regulations, individuals will not specifically be identified in a risk exposure case unless permission is given directly by the individual(s) to do so.
NCS asks all parents to notify the school concerning any student who exhibits COVID-19 symptoms or who have had a known direct risk exposure outside the school to someone COVID-19 positive, e.g., "We were at an event and someone there notified us they tested positive."
We are striving to reduce the risk with our guidelines, cleaning, mitigation, etc.; however, we realize that, even with all of these measures in place, we will likely still have some cases within our community. NCS is firmly committed to the health and well-being of all our students, faculty and staff, and will continue to do everything we can to keep our students safe at school. We understand that everyone's situation is unique, and we want to do everything possible to support you while continuing to provide the best educational experience for your children. We would appreciate your continued prayers and support as we all navigate a new experience and learn new information daily.
Thank you,
NCS COVID Task Force
Tuesday, August 11
Dear NCS Families,
As the first day of school is fast approaching, we wanted to give you an update on the most recent measures we are taking to prepare to return to campus safely. Our first priority always has been and always will be providing a safe educational environment for our students, faculty and staff. Whether in the classroom, on the field, or in between, we want you to know that we are constantly reviewing our safety measures from all perspectives and adapting our plans.
Because this situation is so fluid, it is impossible to give you a final answer on every point, because we already know that there will be changes to come. The decisions we make today will have to be re-evaluated tomorrow, and that may result in yet another updated plan. But you can rest assured that we are always diligently pursuing that moving target and consulting with the appropriate experts so that we can make the best possible decisions, and changes, as needed.
We've had a COVID-19 Task Force working for months on re-entry plans for preschool to 12th grade, and we have now assembled a Medical Advisory Team. The Medical Advisory Team consists of the following members:
Dianna Cobb MSN, RN - Division Vice President of Cardiovascular and Robotics Service Lines at HCA and Nashville Christian parent
Dr. Andrew Gregory - Associate Professor of Orthopaedics, Neurosurgery and Pediatrics at Vanderbilt University, Team Physician at Nashville Christian School, Team Physician at Vanderbilt University, Team Physician for the Nashville Sounds, and Team Physician for the USA Volleyball National Team
Suzanne Hurley, RN, APRN-BC and Nashville Christian parent
Kim Walters - NCS Athletic Trainer, Supervisor for all athletic trainers at Vanderbilt Sports Medicine
Carroll Boatman, RN - NCS Health Services and Nashville Christian parent
Natalie Bonds, RN - Center for Women's Health at Vanderbilt Hospital. NCS Clinic Coordinator for the past six years, and Nashville Christian parent
We are blessed to have the advantage of being a small, private school with resources that enable us to implement extraordinary measures that allow us to continue with on-campus learning, extracurriculars and athletics. With that in mind, the NCS Board of Directors has decided we are moving forward with athletic practices and competitions with extra measures to keep everyone safe.
Face Coverings - We have updated our campus re-entry plans to include masks for all students 6-12 throughout the entire school day, masks for Kindergarten through 5th grade during arrival and dismissal, and face shields for Kindergarten through 5th grade the rest of the day with the exception of recess, lunch, and PE.
Social Distancing - We have been able to adjust class sizes and adapt room setups to allow for social distancing in all of our buildings. Our floors have been measured, and our desks are spaced appropriately. We have added plastic dividing walls to science room tabletops to provide an additional protective layer between students. We have also purchased 20 picnic tables and will have three large tents outside for classroom and/or food service use when weather permits. We will utilize every inch of our campus for instruction and social distancing, including all outdoor spaces when appropriate.
We appreciate your support and patience as we navigate these difficult times. Your encouragement and trust has been invaluable these past few months. We know our plans will continue to evolve and change as we learn more about this virus and how to safely educate and support our students. Our faculty and staff are so excited to see your children on campus next week. Our love for and commitment to them is what is keeping us all going.
We covet your prayers for our entire school community, and we thank God for you every day. You are family to us, and we're so glad you chose NCS!
Connie Jo Shelton
President
Nashville Christian School
Tuesday, July 14
Dear NCS Families,
The COVID-19 Planning Committee has worked countless hours to bring our students back on campus safely this fall. That Committee is made up of:
Board of Directors, Daryl Demonbreun
President, Connie Jo Shelton
Operations and Logistics - Jeff Brothers
Student Experience - Principals Lauren Brasel (LS), Anissa Demonbreun (MS), Brian Bishop HS), Assistant Principals Kevin Quinn (MS) Dan Wilkerson (HS)
Finance and Personnel - Mark Cobb, CFO
Communications - Tracy Brothers
I am excited to finally be sharing our NCS Camps Re-Entry Plan with you. Last month we shared our three basic levels for returning to campus (see below).

We will be returning to campus as planned beginning August 12th at Level II - Cautionary. This means increased cleaning, social distancing and screening practices, and adjusted learning plans with accommodations for families forced to quarantine. Keep in mind, these levels represent a basic outline of what will really be a sliding scale of adjustments we will need to make as we go.
The Campus Re-Entry Plan contains too many details to share in an email, so we have provided this printable pdf for your reference. In that document, you will find information about our new cleaning and sanitizing measures, school day guidelines (arrival, dismissal, lunch, athletics, etc.), our new health screening app, social distancing, face coverings, attendance policies, COVID-19 protocols and more.
You will notice that we have staggered the registration process much like we implemented the check-out procedure at the end of the year. To learn when your family will register, click here. More details will be coming soon.
We also wanted you to know we are in the process of hiring an additional medical care professional to be on campus full time. This individual will not only provide us with student health services, but will oversee the development of healthcare protocols and advise families.
We will continue to share more details through future emails from your principals, weekly announcements and videos demonstrations. We know you will have questions, so feel free to contact one of your student's administrators for more information:
Grades K-5 - Lauren Brasel, Elementary Principal, brasell@nashvillechristian.org
Grades 6-8 - Anissa Demonbreun, Middle School Principal, demonbreuna@nashvillechristian.org
Grades 9-12 - Brian Bishop, High School Principal, bishopb@nashvillechristian.org
Your support has been incredible, and we appreciate the opportunity to serve your family. We can't wait to see you again!
Connie Jo Shelton
President
Nashville Christian School
Thursday, June 18
Dear NCS Families,
As I write this, we are excitedly preparing to finally gather with the class of 2020 on June 27th to celebrate graduation together. While we have had to limit the attendance to six family members per student to allow for social distancing, we are excited to be able to still meet at First Church for this event and see our graduates walk across stage to receive their diplomas and other honors in person.
I also wanted you to know that our preschool (considered an essential service as a daycare) has remained open since March 12th, and with new guidelines in place, it has continued to run successfully. We are now hosting Camp Big Blue for our rising kindergartners and Camp Eagle Pride on campus for rising 1st through 8th graders. We were again able to make adjustments to the logistics and day-to-day operations, and we continue to provide a safe and fun experience.
Our athletic teams are currently working within strict guidelines to allow on-campus summer workouts and interactions with our coaches. They have implemented new screening protocols and are following best practices of social distancing, limited group size, and detailed cleaning/disinfecting procedures.
This pandemic has provided a multitude of opportunities for collaboration with entities like the National Christian School Association (NCSA) of which we are accredited members. As a school administrator, I am incredibly thankful for the guidance, support, and wisdom of the NCSA as well as organizations like the TN Department of Health, Department of Education, and the CDC to ensure the safety of our community. Support from the above mentioned agencies has allowed us to safely continue to have students present on campus.
We are still moving forward with our plans to reopen this fall and be back on campus for all K - 12th grade classes and activities. Our Campus Reopening Task Force is implementing new guidelines to keep our students, staff and community as safe as possible. Social distancing and enhanced safety procedures will be part of the new normal. While we can't possibly prepare for every potential situation, we are working hard this summer to make updates to our facilities and create consistent and cohesive strategies that will allow us to respond and adjust quickly regardless of the challenges that arise. It is impossible to know exactly what lies ahead, but we feel confident that as a community we will rise to meet any challenges and fulfill our mission to be a Christian, authentic, dynamic school equipping students to be global leaders.
Our plan will be fluid as we continue to align with recommended guidelines, but we want you to know that we will always prioritize your student's full educational experience. We will communicate more of the details of our plan to you as we move into July. Though we have outlined our overall response plan in the three basic levels below (NCS), we encourage you to think of it as a sliding scale of possibilities between the three.
Normal (Level I) - Back to School as Normal with pre-pandemic routines for classes, athletics, cleaning/disinfecting, meeting, etc.

Cautionary (Level II) - Increased cleaning, social distancing and screening practices, adjusted learning plan with accommodations for families forced to quarantine

Strictly Online (Level III) - Distance Learning
We are preparing to begin school as originally planned with 9th - 12th starting with a full day on August 12th (no school for K - 8th), K - 8th starting with a half day on August 13th (no school for 9th - 12th) and everyone together for our first full day for K - 12th on Friday, August 14th. We will need to modify registration to ensure a safe environment and will share those plans with you soon.
While it is our hope that the alternative plans we are working on will not be necessary, we know we must be prepared, and we are so grateful for the trust you have put in Nashville Christian School. This has been a difficult time for families around the world, and we want you to know how much we value you. We take our calling to provide your children with the best educational experience very seriously.
I hope that your family will have an opportunity to spend your summer doing what you love with those you love. I miss you all and can't wait to see you again soon.
Connie Jo Shelton
President
Nashville Christian School
Wednesday, May 13
It's the final week of distance learning, and I know we are all ready to celebrate all of our students' accomplishments and the graduation of the class of 2020. I know we are also all looking forward to a break from school and what this summer will bring.
We wanted you to know that our board and administrators are already making plans for the fall reopening of Nashville Christian School. Though our plan is to be back on campus for all classes and activities, we know some things will certainly have to look different. We are in the process of forming a Campus Reopening Task Force to implement new safety guidelines to keep our students, staff and community as safe as possible. Social distancing and enhanced safety procedures will be part of the new normal. We will be communicating all summer long to keep you updated as we develop new processes and procedures, and continue to monitor local, state and federal guidelines.
We are thankful to have had a bit of practice with running a school during a pandemic with all of the changes we've implemented in our preschool. With daycare being considered an essential service, we have continued to keep our preschool open this spring and have learned a great deal as we have put new procedures into effect. We will also be moving forward with childcare this summer through Camp Eagle Pride and have spent a great deal of time developing strategies to maintain all recommended safety measures. Both our preschool and Camp Eagle Pride are helping prepare us for a smooth transition to on-campus learning in the fall.
I am so proud of our students, faculty and staff for persevering through what has certainly been one of the most trying times in our school and our nation's history. I'm also thankful for everyone who is committed to working hard all summer long to creatively and carefully prepare us to be back on campus in August.
While we don't know exactly what the future holds, our goal is to continue to fulfill our mission to be a Christian, authentic, dynamic school equipping students to be global leaders. We love you, and we miss you, and we will continue to be in touch with you throughout the summer.
Connie Jo Shelton
President
Nashville Christian School
Wednesday, April 29
Dear NCS Families,
I wanted to thank you once again for taking the time to complete the distance learning surveys. As always, the NCS community continues to work together to provide the best possible opportunities for our students, even during such trying times. We could not have implemented such a successful distance learning program without your support and feedback. We learned a lot, and we wanted to highlight what is going well and share our plan to address some of your concerns. You expressed an appreciation for how quickly we transitioned to distance learning. You also indicated the overall communication has been good and that your teachers have been accessible and flexible. Regarding structure, it appears that a mixture of methods is good for most. Live classes and office hours with teachers have allowed for real time questions, discussions and peer interaction, while recorded lessons allow students to proceed at their own pace and review material if needed. Additional online platforms have provided ways for students to practice skills.
Regarding specific, individual concerns, we have reached out to everyone who gave us their contact information and said they wanted to speak to someone. There were a few areas that some of you felt needed improvement, and we wanted to let you know specifically how we are working to strengthen those areas.
Socially - Many parents felt that their child was struggling socially, and our student surveys indicated that more than half were struggling socially. While it's impossible to connect in the same way that face-to-face interactions allow, we have been more intentional in our efforts to find different ways to help our students feel more connected.
Our elementary students are now all receiving a social/emotional check-in call from one of their specials teachers. As we complete these calls, we should have a grasp on who needs extra encouragement and time with a counselor or favorite teacher. Additionally, the 4th and 5th grade teachers have added live classroom times specifically for social interaction and have implemented some fun games.
In middle school, we have begun specific social activities and integration within our Bible classes, and we have provided Google Meets and hangout times for students to connect socially. For those students who have been specifically identified as struggling socially, we have assigned a faculty member whom the student has a good relationship with to check in and provide more individual attention.
In high school, Mrs. Lee organized 9th and 10th grade social meetings, and Mrs. King arranged them for 11th and 12th grade. 10-15 students have been invited each day to have time to talk and socialize. Our campus minister Landry Smith has been involved in those as well.
Some of you also indicated you were not sure how to reach school counselors. If you need your counselor for anything at all, you can contact them at the emails below:
Kathy Gupton, Elementary Counselor guptonk@nashvillechristian.org
Melissa King, Middle School Counselor kingm@nashvillechristian.org
Katherine Lee, High School Counselor (9th/10th grade) leek@nashvillechristian.org
Janet King, High School Counselor (11th/12th grade) kingj@nashvillechristian.org
Falling Behind - Some parents and students indicated that they feel they are falling behind in at least one subject area. As a first course of action, please encourage your student to contact their teacher during office hours for some one-on-one help. We also plan to address these concerns by using the week of May 18th - 22nd for 6th-12th grade students who have not sufficiently completed their work for the fourth nine weeks. This could include students with failing grades, LIFE students, and students who have grades far below their normal performance. Administrators and counselors will communicate directly with students and their parents about who will be required to attend this week. We are also looking at the possibility of offering some free, bridge-the-gap learning opportunities during the summer.
Exams - Several survey answers indicated concern about exams. In response, we made the decision to forego any exams or nine-weeks tests at the end of the year, with the exception of AP and Dual Enrollment exams. Mrs. King, Mr. Bishop and our AP teachers have shared the exam times, information about the format, and links to other AP help resources.
Screen Time - It is no surprise that we are all concerned about the amount of screen time that distance learning requires. Many of us working from home have those concerns for ourselves as well. While more screen time is a byproduct of the need to transition to distance learning, our teachers have tried to offer lessons in a variety of ways, and even assigned some lessons to get students away from the computer and often outside in nature. We encourage everyone to step away from the screens when school is done for the day and enjoy the many other opportunities this family time allows for.
Workload - Although the majority of you indicated the students have the "just right" amount of school time and tasks, some find it to be too much or too little. We recognize that "just right" varies with class, age, and developmental readiness. Our administrators and teachers are working to determine where there is "too much" or "too little" and come up with a plan to address the different levels of independence in our students.
When the decision to move to distance learning was made in March, I never thought the school year would end this way. While it has been an incredible opportunity for families to slow down, gather around the dinner table, and push pause on busy schedules, we continue to be thankful for the blessings of relationship. I can't wait to be with you all again to tell you in person how much you mean to us.
Finally, I would like to share a little look behind the scenes of distance learning. This short video below is just a small snapshot of the many facets of distance learning at Nashville Christian, and I hope you enjoy a few laughs at some "bloopers" as well. Have a great night and God bless!
Connie Jo Shelton
President
Nashville Christian School
VIDEO NEW-2020 Distance Learning-Behind the Scenes (BLOOPERS) from Nashville Christian on Vimeo.
Thursday, April 23
Dear NCS Students and Families,
As the fifth week of distance learning comes to an end, I find myself missing our students, teachers, parents, and the energy from connecting on our campus. I am thankful for the NCS community and how you have collectively worked to support the continued education of our students. We could not have quickly made this transition for our students without you.
This pandemic has caused many hardships for families and students. We are grieving the loss of the best time of the school year when we celebrate our students and their accomplishments. To the class of 2020, we are committed to celebrating them in creative ways and hope for opportunities and timelines that allow us to gather once again. With the TSSAA's announcement to cancel all spring sports, we are grieving with our student- athletes who have lost their opportunity to compete this season. Traditional events occurring during the last nine weeks of school have been rescheduled, cancelled, and/or revised to virtual experiences. It is my prayer that through this time we cherish the opportunities that have been provided within your individual homes and that your faith has stood firm.
As Governor Lee announced last week that public schools should remain closed through the remainder of the school year, we sought your feedback while we continue to meet administratively and with our Board of Directors to make the best decision for the safety of our students. As an independent school, we are blessed to be able to continue learning in our virtual environment. Therefore, Nashville Christian School will continue with distance learning for the remainder of the year with the last day of classes on Friday, May 15th.
You may be wondering about other significant events and activities planned for Nashville Christian School. These events will look different than times in the past; however, it is our goal that the NCS spirit rises through the opportunities before us.
During this historic time in our world, the values of Christian education and family have never been more evident. The amount of dedication to this process has increased exponentially for teachers, students, and parents. I am amazed at your perseverance, discipline, and commitment. It is my prayer that as a school family we can look back on 2020 and understand more fully God's purpose in our lives, appreciate things we have taken for granted, and cling to our faith for the strength only He provides.

May God bless you,

Connie Jo Shelton
President
Nashville Christian School
Surveys
Thank you so much for taking the time to complete the Distance Learning surveys. We got 158 student responses, and 317 parent responses. We learned a lot and are considering the ways we can better meet your needs. While most of you indicated that the overall communication, structure, technology, and extra family time has been a positive, we also heard that many students are struggling socially. The amount of screen time and the different levels of independence in our student body are also challenges we plan to address, as well as helping those of you who feel you are falling behind. We are still reviewing the data from your surveys, and will be addressing your concerns as soon as possible. While we recognize that it is impossible to expect the transition to be smooth for everyone, we were thankful to learn that overall, most of you are satisfied with our Distance Learning Plan.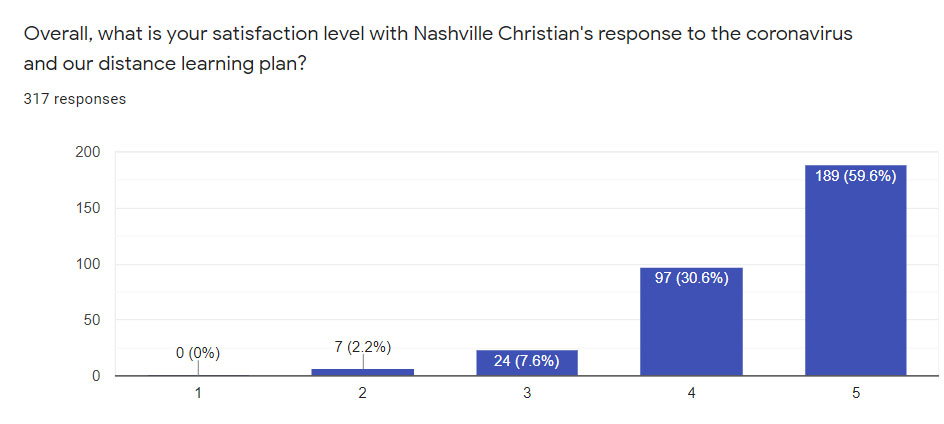 Hardship
This is an unprecedented time, and the economic and psychological impacts have been highlighted daily in the news. I want you to know you are family to us, and we want to help you. If your family is experiencing hardship as a result of the COVID-19 pandemic, please email us at info@nashvilllechristian.org so we know who to connect you with. We want to come around all of our families in need and help facilitate support and aid.
---
We have set some dates that we are sharing below, and have alternate dates in mind for many events as well. Of course, all of our plans will depend on the gathering restrictions for Davidson County at that time. We will keep you posted of any changes or updates as we go.
Be the Light
On Monday, April 27th we have special plans to "Be the Light" for the Class of 2020. All our campus and stadium lights will be turned on at 8:20pm (20:20 military time) for 20 minutes. We invite you to join us at home by turning on your porch light and posting a photo of your family "being the light" with the hashtag #NCSbethelight. You could even hold a sign wishing them congratulations or letting them know you are thinking of them.
Newsies
Unlike almost every other school, we have not cancelled our spring musical Newsies. Our cast has worked very hard to rehearse and prepare for this production, and since many of the cast members are seniors, we are hopeful we can perform over a weekend this summer. We are working with our cast to check for availability, and depending on gathering regulations, we will let you know show dates and times as soon as possible.
Elementary School
Awards
A 1st-4th grade Awards Day video will be shared with students and parents on May 15th. Actual awards will be distributed to students on their designated supply return and pick-up day, to be announced.
5th Grade Farewell
5th Grade Farewell will be a virtual event shared by video on May 15th.
Kindergarten Graduation
Kindergarten graduation is scheduled for May 17th with an alternate format. We will have more information coming soon.
Frozen
Our spring elementary musical production of Frozen will be rescheduled for Fall 2020. That date is TBD.
Summer Celebrations
We are planning grade-level summer celebrations for the elementary students. As restrictions change and plans can be made, we will communicate about these events.
Middle School
Exams
There will be no middle school semester exams or 9-weeks tests.
Awards
We will host a virtual Academic Awards ceremony for 6th and 7th Grade on May 15th.
The awards and certificates will be distributed to students on their designated supply return and pick-up day, to be announced.
8th Grade Renewal
To celebrate our 8th graders, May 14th will be their last school day! As of right now, we plan to have 8th Grade Renewal on Sunday, May 24th. It is possible the format will be altered based on the guidelines for gatherings at that time. We will have more details coming soon.
High School
Exams
There will be no semester exams for any classes other than Dual Enrollment and AP classes.

AP Exams
Each subject's exam will be taken on the same day at the same time, worldwide. See below for the AP exam schedule:
AP Calculus – May 12th, 1:00pm
AP Human Geography – May 12th, 3:00pm
AP Physics I – May 14th, 3:00pm
AP American History – May 15th, 1:00pm
AP Biology – May 18th, 1:00pm
Students will be able to take exams on any device they have access to – computer, tablet, or smartphone. They will be able to type and upload their responses or write responses by hand and submit a photo via their cell phones. For most subjects, the exams will be 45 minutes long, plus an additional five minutes for uploading. Students will need to access the online testing system 30 minutes early to get set up. Click here for more information.
Junior/Senior Banquet
We have reserved June 16th with our venue as a potential date for the Junior/Senior Banquet in the hopes that we can share this moment with our students. However, depending on the potential gathering guidelines at that time, this may not be possible. We will continue to assess the opportunities for this event as we move into May.
Candle Passing
We are planning to host a virtual Candle Passing on Friday, May 8th. This will be recorded and then shared with our community.
Awards
All Awards Ceremonies will be held virtually. More details coming soon. Actual awards will be distributed to students on their designated supply return and pick-up day, to be announced.
Academic Awards program will be on Thursday, May 7th
Athletic Awards program will be on Thursday, April 30th
High School Graduation
Right now we plan to have graduation on our original date, May 23rd. It is possible that we will have an altered format based on the guidelines for gatherings at that time. We will have more details coming soon. If, for some reason we are not permitted to meet on May 23rd, we have an alternate graduation date of June 27th. Graduation rehearsal for seniors will be on the Friday preceding graduation.
Friday, April 17
Like you, we have been closely following the recommendations and plans of our local, state, and national government officials regarding COVID-19. Our administration has had lengthy conversations, including conversations with other independent schools, and met today with the NCS Board Education Committee. We expect to hear specifics soon about where Davidson County stands in relation to the nationally recommended multi-phase reopening process. We are hopeful that some restrictions will be lifted in time to allow us to celebrate our students and have some gatherings.
Our administrators and Education Committee will meet with the NCS Board of Directors early next week to finalize decisions about the remainder of our school year. It is very important to us that we hear your feedback as we consider the possibilities and make plans to be creative in executing our end-of-year events. Please check your email for a short survey about distance learning and how we can continue to move forward. We want to know how everything is going, how we can best serve you, and what your hopes are for the days ahead. Please complete the survey by this Sunday, April 19th.
I have found through these unprecedented times that my daily Bible reading has brought me to the book of Psalms. Psalm 91 says, "I will rescue those who love me. I will protect those who trust in my name. When they call on me, I will answer; I will be with them in trouble." Throughout its many pages, the book of Psalms encourages its readers to praise God for who He is and what He has done. It also magnifies the greatness of our God, affirms His faithfulness to us in times of trouble, and reminds us of the importance of His word. I have found peace in the quiet moments, and I am thankful for the solace of His word.
We are so thankful for everyone's dedication to making distance learning work during these trying and unpredictable times. Your support and patience has been incredible. We love you, we miss you, and we want you to know we are doing everything in our power to best serve you. We hope to be with you again soon.
Connie Jo Shelton
President
Nashville Christian School
Friday, April 3 - K-12
We will continue distance learning through April 30th. Next week we will take a break from distance learning on Thursday, April 9th and Friday, April 10th for Grandparents' Day and Good Friday. No distance learning next Thursday or Friday! Enjoy your long weekend!
Friday, March 27 - K-12
At this time we will continue distance learning until further notice. We will communicate any changes to that plan as soon as we are able. Thank you for your patience and flexibility in this fluid situation.
Monday, March 23 - K-12
In response to Mayor Cooper issuing the "Safer at Home" order, we will extend distance learning through April 3, 2020. We will continue to keep you informed.
Sunday, March 22 - Preschool
As you are probably aware, today Mayor Cooper asked all non-essential businesses to close for the next 14 days with a Safer At Home Order. You can find the full description of that order here. We understand that childcare is considered an essential service, and he has directed daycares to prioritize children of parents in other essential industries. Out of concern for our teachers who are heroically putting their own health at risk, and because we will not be able to adhere to the six-foot distance rule in caring for your children, we respectfully ask that those of you working in non-essential industries keep your children home with you if at all possible.
As recommended by health and government agencies, we plan to continue serving these families Wednesday, March 25th through April 4th. Our new operating hours during this time will be 7:00am – 5:00pm. We will comply with the recommendation to not have children and staff members in groups larger than 10. In order to plan and staff appropriately for the next two weeks, we would like to know how many of you are planning to use our services. You can reserve your child's spot by emailing me directly at dunnc@nashvillechristian.org.
Once you have reserved your spot, you will receive an email with instructions about our new arrival and dismissal procedures and other special precautions we are taking.
Your payment for the month of March will carry you through April 3rd. We will address our plans for tuition and payment after April 3rd in as timely a manner as possible.
You are an important part of the NCS family, and we will do our best to serve you well during these difficult and uncertain times. Please RSVP to reserve your spot for the next two weeks by 3:00pm tomorrow.
Christine Dunn
Director of Preschool
Nashville Christian School
Wednesdy, March 18 - Preschool
Thank you for your continued support of our teachers and administration during this season of uncertainty. The Nashville Christian Board of Trustee's Executive Committee met yesterday to discuss Governor Lee's recommendations for childcare facilities. They agree with the Governor's recommendations that we continue to provide support to our working families and practice all CDC recommendations, including guidelines for creating groups of ten or less.
To facilitate the request, the preschool will only be closed from 3/20 - 3/24 for planning/preparation and will reopen for childcare service on Wednesday, March 25th. Christine Dunn will send detailed information about new procedures that will be put into place so that our available staff continues to provide excellent, safe care for our children.
Again, I want to thank you for your patience and support as we navigate these difficult decisions with our children's best interests and how we can best support you as a family in mind.
Monday, March 16
As directed by Governor Lee, we will begin distance learning for K-12 on Tuesday, March 24 and continue through at least March 31. We will have more details to share coming soon. I am thankful for all of you and pray for health and rest as we continue to prepare for and navigate the challenges ahead.
Thursday, March 12
There will be NO SCHOOL, after school activities, practices, events or aftercare for K-12 students, Friday, March 13th or Monday, March 23rd. Teachers and staff will meet for inservice training and planning for distance learning tomorrow, March 13th 8:00am - 12:00pm. We have asked our students to take home their books so as to be prepared in the event that we enact our distance learning curriculum. Our principals will send you and our families an email with more grade specific details later today. We understand there will be questions about aftercare and other extra-curricular activities through spring break and in the weeks to follow. We are in contact with other private schools in the Nashville area and sharing information about how we decide to handle academics and after-school activities moving forward.
Preschool will close at 2:00pm on Friday for deep cleaning. All families should have a backup plan for childcare in the event that we have to close.
As this situation rapidly continues to develop, we will communicate any changes to school activities or additional closings in as timely a manner as possible.
To date, no confirmed cases related to COVID-19 have been reported to Nashville Christian School, nor have significant risks been identified within our school community.
Considerations from the Tennessee Department of Health if you are traveling over spring break:
If you travel, the chance of your getting sick is still fairly low as of today; however, this is a rapidly changing situation.
If you travel nationally or internationally, the chance you could end up in quarantine is NOT low. If you can't afford to extend your vacation by another 14+ days you may want to consider a staycation.
The only way to get this situation under control is with social distancing and self-imposed isolation or quarantine. If your planned vacation involves crowds, lines, close quarters with recirculated air, etc., you may want to opt for hiking and beaches instead.
You can't go wrong with cancelling your trip. Though disappointing, this may be the safest option.
As stated earlier, we will communicate any changes in activities or closings in as timely a manner as possible. Above all, we can trust that God is still sovereign, and we ask you to join us in prayer, asking Him for wisdom, protection and unity in the days ahead.
In the event a school closure decision is made at the last minute, we will use our emergency alert system (NCS Alert: text, email, voicemail) to share the latest information. Please check your family's emergency contact information in FACTS to make sure it is up to date in case we need to contact you with an urgent school message. K - 12 can email updates to Carrie White at whitec@nashvillechristian.org. Preschool families email updates to contact info to Erin Holt at holte@nashvillechristian.org.
If there is a positive test for coronavirus in your immediate family, please notify the school immediately.
The safety and well-being of your student is of utmost importance. Planning and preparing for instances like this is something that we do continually, and you can rest assured that we are working hard to respond appropriately.
Policies and Procedures
Additional Resources