Eclipse - August 21, 2017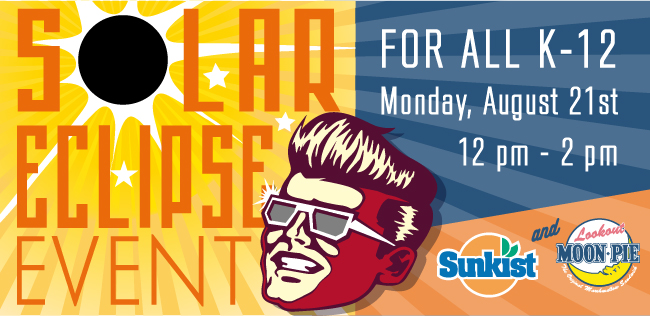 To celebrate the Eclipse on Monday, August 21st we will have a K - 12 picnic! Parents are welcome to join us for the festivities. Students can bring their own lunch or purchase hamburgers and hotdogs prepared by the cafeteria.
All K - 12 students will head to the football field for some fun activities from 12:00pm - 1:20pm. The "watch time" for the eclipse is 1:20pm - 1:40pm with viewing glasses provided by the Eagles Parent Association. Following the eclipse, we will have Moon Pies and Sunkist to enjoy!
Please note that sending your child to school on August 21st means they will participate in all eclipse activities. (There will not be an option to stay inside during the eclipse.
The preschool will stay inside between 11:00am and 2:30pm.