Kids Rock Marathon 2018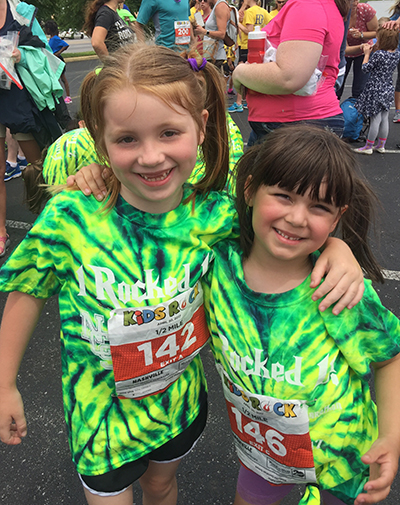 Dear NCS Elementary and Middle School Parents,
NCS Kindergarten-7th graders can join the NCS team to participate in the Kids Rock Nashville marathon on Sunday, April 29, 2018 at LP Field, with the first wave starting at 2:00PM. The children that register to participate will begin working towards their goal of 26.2 mile during the months of March and April. They will complete the last mile of their race at the event on April 29, 2018 where they will be awarded a marathon medal when they cross the finish line!
Here is how the program works:
If you want your child to participate, you go to http://www.runrocknroll.com/nashville/register/ and register them. The last question on the registration page is "What school does your child attend? Please select Nashville Christian School to make sure your child gets put on our team. The price for registration is $25.99 before December 31, 2017 and $30 from January 1, 2018 through sell out. The earlier you register, the better, as they may sell out by the end of February, and your child will need to start logging their miles in March.
There will be a small additional fee for an optional team t-shirt that we are going to design. While there is a t-shirt included in the registration, we have learned that it is beneficial to have a team t-shirt so that it is easier to keep track of all the kids affiliated with a particular school. More information about this will come in late winter. The kids can also wear these shirts on Fridays to school.
We have a training guide provided by Kids Rock Marathon that we will use with the kids to train for the race. During the months of March and April, the PE teachers will assist us by helping your child to reach the goal of running 25.2 miles before April 29, 2018 during their PE classes. An after-school running program will also be offered in the spring. If your child doesn't do the running club, I will provide you with information on what they need to do each week. If they participate in a spring sport such as track, soccer or baseball, they are not required to do additional running outside of PE provided that they are running during practices and games.
On April 29, 2018, the children will meet at LP field to run the last mile of the race (1/2 mile for kindergarteners). They will receive an official race number, t-shirt, and a medal. I am the team captain and can pick up the entire team's t-shirts and race numbers. They will receive their medal when they cross the finish line.
Children will run by grade and in groups of girls or boys (kindergarten will run all together). There needs to be at least one adult as the point person at the starting line for each grade. I will need volunteers to run with different grades. Parents will need to be at the finish line to meet their children.
Parent's responsibilities:
Register your child online and email me after you register.
Keep track of any weekend exercise that your child does in the months of March and April. They can use this to work towards their goal!
Pick up your child's race number and t-shirt from me prior to the race (I will have more information on this as it gets closer).
Bring your child to LP field on the day of the race. There will be THOUSANDS of children running, so please allow plenty of time (I will email you your child's start time when it gets closer).
Get your child to the point person at the start of the race.
Pick your child up at the end of the race.
***you also have the option of running with your child in the race (this does not cost you anything)***
We had a great time running last year! I am very excited about the race and am looking forward to seeing all of our children working hard, having fun and feeling the great accomplishment of crossing the finish line!
If you have any questions, please feel free to email me at guptonk@employees.nashvillechristian.org.
Thank you,
Kathy Gupton