Top News Stories
Warm up With a Good Book and Author Linda Ragsdale
January 23, 2020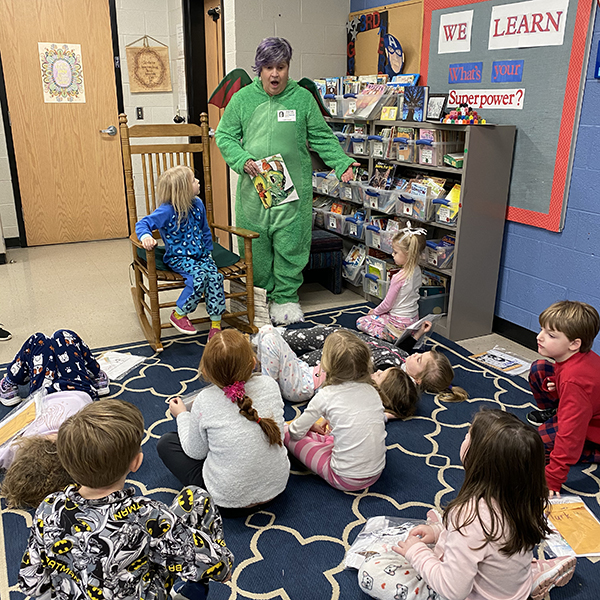 It was such an honor to have author Linda Ragsdale on campus to read her book The Peace Dragon to all of our elementary students during "Warm up With a Good Book Day." This is a special day each year when elementary students come to school in cozy pajamas and rotate through each elementary classroom for a read-aloud and fun activity. The fun goes on all day long, and the kids really enjoy learning new things and meeting amazing authors like Linda Ragsdale.
Mrs. Ragsdale is a survivor of the 2008 Mumbai terrorist attack. She had plans to teach a young friend named Naomi how to draw a dragon later that day. Naomi and her father were killed in the attack, and the dragon they planned to draw became the inspiration for Mrs. Ragsdale's book The Peace Dragon. The dragon in the book spreads a message of peace and teaches children about the power of their words and the importance of accepting others with an open heart.
Mrs. Ragsdale came ready to entertain and inspire, and the kids were enamored with her bright purple hair and adorable dragon costume. As a special reminder, Mrs. Ragsdale left each class with their own paper dragon that they could name to watch over their class and remind them they always have the choice to speak words of peace and love instead of spewing fiery ones.
Our special thanks to Linda Ragsdale for making "Warm up With a Good Book Day" extra special, and for sharing her special message of peace with our students!
Learn more about the author and The Peace Project at thepeacedragon.com.