Top News Stories
Guys and Dolls Rolls the Dice and Comes out a Winner
March 27, 2017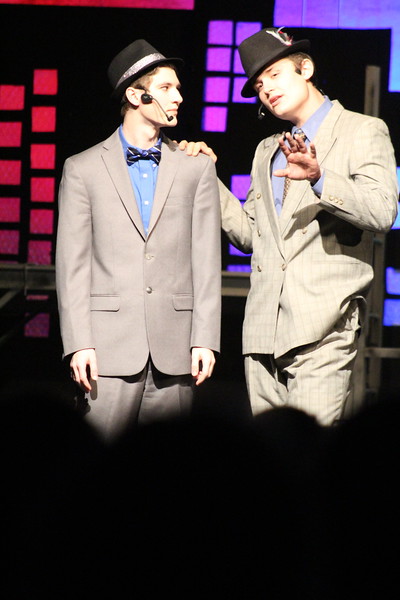 Once again, the NCS drama department produced a fantastic show with Guys and Dolls, an award-winning musical based on two short stories of Damon Runyon written in the 20's and 30's about some lovable hustlers, gamblers and showgirls in historic New York City.
The plot highlights the lives of these characters with a storyline based around the romances of two oddball couples. One comedic couple is nightclub performer Adelaide who has been engaged for 14 years to Nathan Detroit who runs "the oldest established, permanent floating crap game in New York." The other couple is big-time gambler Sky Masterson and innocent mission worker, Sister Sarah Brown.
Leading the well-cast ensemble were seasoned NCS performer Jack Forte as Nathan Detroit and newcomer to the stage, Bryce Pemberton as Sky Masterson. Bryce is regularly recognized as Nashville Christian's starting quarterback; however, he showed he is multi-talented with his sly, charming and loveable portrayal of the Bible-quoting gambler. Many other first-time performers stepped off the ball fields and gym floors, and ultimately out of their comfort zones, to try the stage.
"It was great to step out of my comfort zone and see another side of NCS besides athletics. It was cool to see the actors in their element and how they carried themselves. Also the amount of work that they put in to put on a show is insane." - Will Irwin
"It was very different from what I'm used to, but very fun and funny. It was definitely a good experience!" - Slater Howard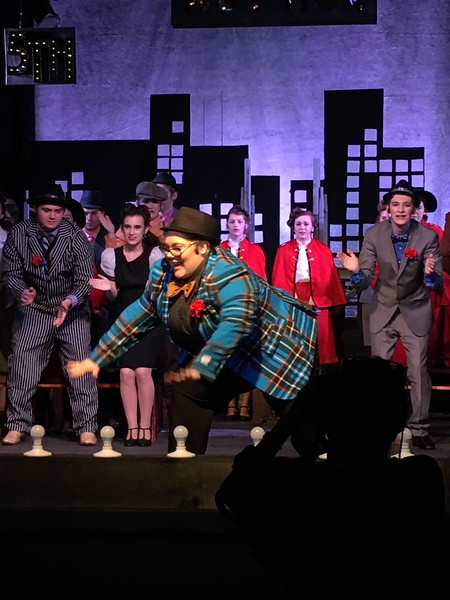 Maggie Shivers (Nicely-Nicely Johnson) and Annmarie Alexander (Benny Southstreet) played the sidekicks to Nathan Detroit with charm and moxie. Leading lady Abby Shivers played the stiff then liberated missionary, Sarah Brown, so believably, and Tollie Boone was perfect as the ever-frustrated and long-engaged Adelaide. Another newcomer to the stage was Tanner Goodman as Big Jule, a serious gambler from Chicago. Tanner was a great combination of grouchy gangster and gentle giant against stage veteran Justin Littrell's hilarious performance as Harry the Horse. All the guys and dolls are too numerous to name, but they brought the laughs and wowed the audience like never before.
Here's what Fine Arts Director Joey Boone had to say about the show:
"Once in a while a show comes along where it feels like God smiled a little extra on you, and things just fall into place. While it still takes LOTS of hard work on everyone's part, it just seems like everyone is in the right role both on and off stage. Well, in my opinion, that was Guys and Dolls. From the costumes to the cast to the students working backstage…the set, the lights, the parents helping behind the scenes at rehearsals, I just could not be more pleased. In the twelve years I have been here, that was the smoothest running show to date. Everyone put their best foot forward, and it paid off. I am proud of them all." - Joey Boone
Kayce Greene directed the show and was proud as well. This is Kayce's first year in the drama program, and she has helped take it to another level. Here's what she had to say about her first run directing an NCS production:
"I wanted to personally thank everyone for being involved in the show, whether you were in it, came to see it, you donated, you helped labor a little bit or a lot…I can't tell you how much you made a huge impact on the show and these kids' lives. The show came off better than I think any of us could've imagined, and I am extremely grateful to the kids and to all of you. I dream of a school filled with athletic and arts programs that span all grade levels and grow a REAL sense of community! These kids and everyone involved helped that come to light. This particular production will live in my memory forever for so many reasons. I can't wait for the next one!" – Kayce Green
Enjoy these photos from the show and stay tuned for "Luck Be A Lady" at the end.
Guys and Dolls from Nashville Christian on Vimeo.
Here are some fun facts about the production. Did you know?
Number of people in the cast and crew = 65

Number of 6th graders = 6
Number of 7th graders = 10
Number of 8th graders = 4
Number of Freshmen = 4
Number of Sophomores = 9
Number of Juniors = 7
Number of Seniors = 11

Students working behind the scenes during the show = 9
Number of lights on the stage = 358
Number of costumes originally built = 37
Number of costumes "pulled" = 104
Number of buttons sewn = 127
Man hours to create a Mission Cape = 4
Mission Capes and Jackets created = 14
Props in the show = 32
Man hours to make the Roxy sign = 10
Number of batteries used in the show = 1,632
Average time to block a scene = 2.5 hours
Hours of rehearsals = 122