Top News Stories
NCS Gives Again
April 04, 2017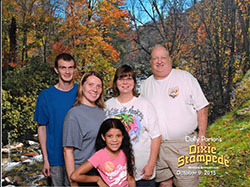 We recently spread the word about Nancy and Charlie Goad and the loss of their house in a fire. The Goads are family to Nashville Christian 5th grade teacher Anissa Demonbreun. They lost everything but the clothes on their backs, even losing a beloved pet to the devastating fire.
Once again, the Nashville Christian family showed their generous hearts and sent in gift cards to help the Goads - the final count was $5602! We wanted to let you know they cried tears of joy and were in awe of the generosity you have shown. Here is a special thank you note from Mrs. Demonbreun and the Goads.
Dear NCS Family,
Words cannot express the gratitude we feel for the love and support my family received during their time of need. As you may have heard by now, we received over $5,600 in donations along with some personal items for the Goad family. We were and continue to be speechless and thankful for the generosity, love, support, and prayers that everyone has offered during the past week. I am thankful to work at a place where Christ's love is demonstrated in so many ways. I am honored to be a part of our NCS family, and I thank you for sharing your children with us. Thank you again for your thoughtfulness. We are NC!
Thank you,
Anissa Demonbreun and Family